As you guys may have seen in
this past thread
, I recently scored a black OFR7 on the cheap. The Lo-TRS7 in my Ibanez RG7420BP (dubbed Blackbeard) must be replaced.
A lot of you may know that the Original Floyd Rose 7 is a drop-in replacement for quite a few older Ibanez tremolos. One thing that would have to be done, in this particular case, though, is a stud insert switch.
The studs in the cheaper Lo-TRS7 trems are slimmer and made of inferior steel. So in this tutorial, I will run us all through removing those stud and installing the Original Floyd Rose replacements; along with the tremolo unit itself.
I usually like to work with my guitar across my lap, but for this particular procedure, I think we'll lay it across the desk. There's going to be a lot of tools and parts floating around, and I want to keep them organized.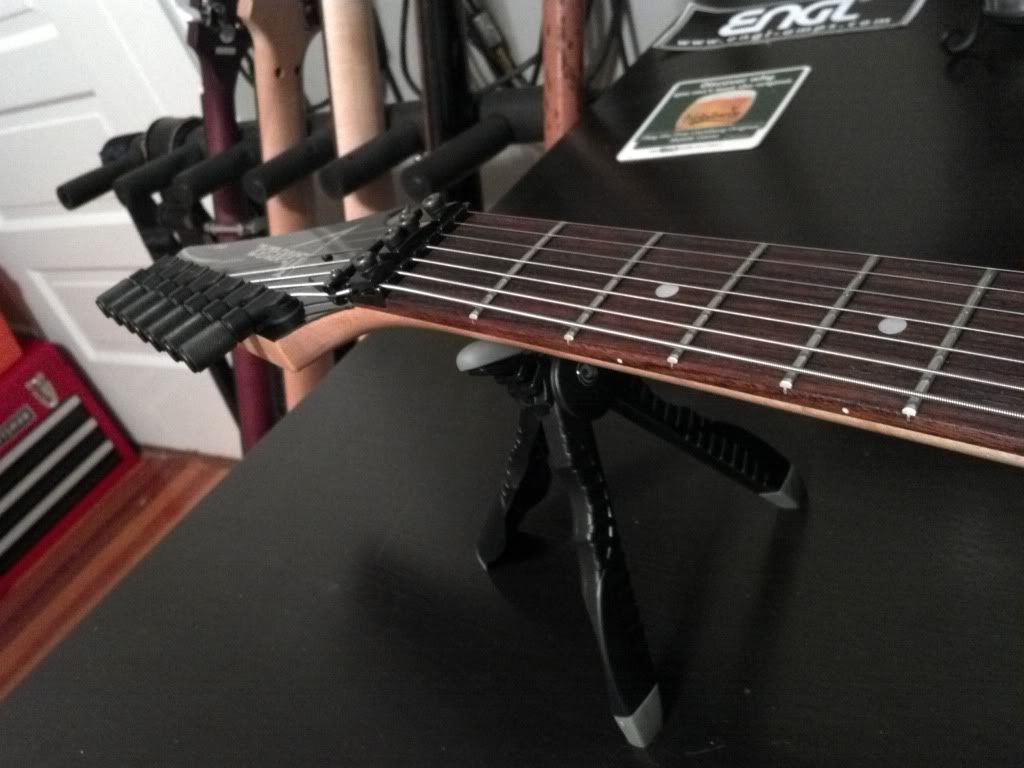 Here's the old tremolo that we'll be removing.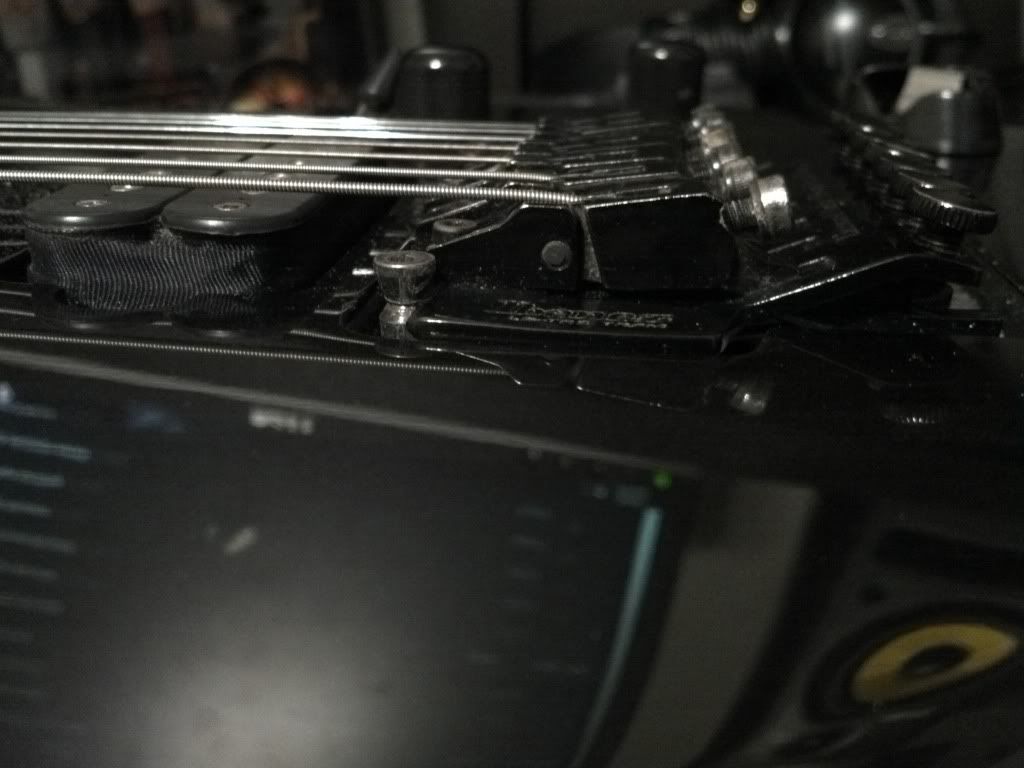 Let's loosen those strings a bunch.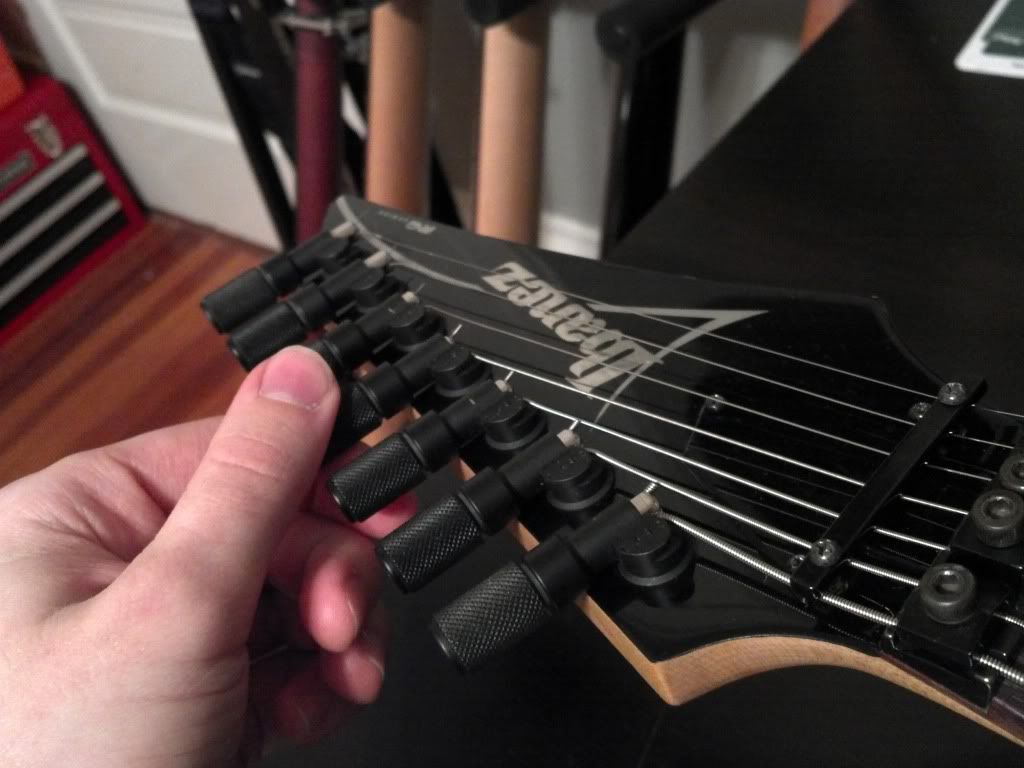 We're going to have to get them off the guitar. I'm very comfortable with setting up all sorts of floating tremolos, so I don't mind completely removing the strings all at once.
Now let's flip that guitfiddle over and WHILE NOT WEARING SANDALS AND HOLDING THE TREM TO THE BODY, remove the springs from the back of the trem block.
The tremolo unit should fall right into your hand after that.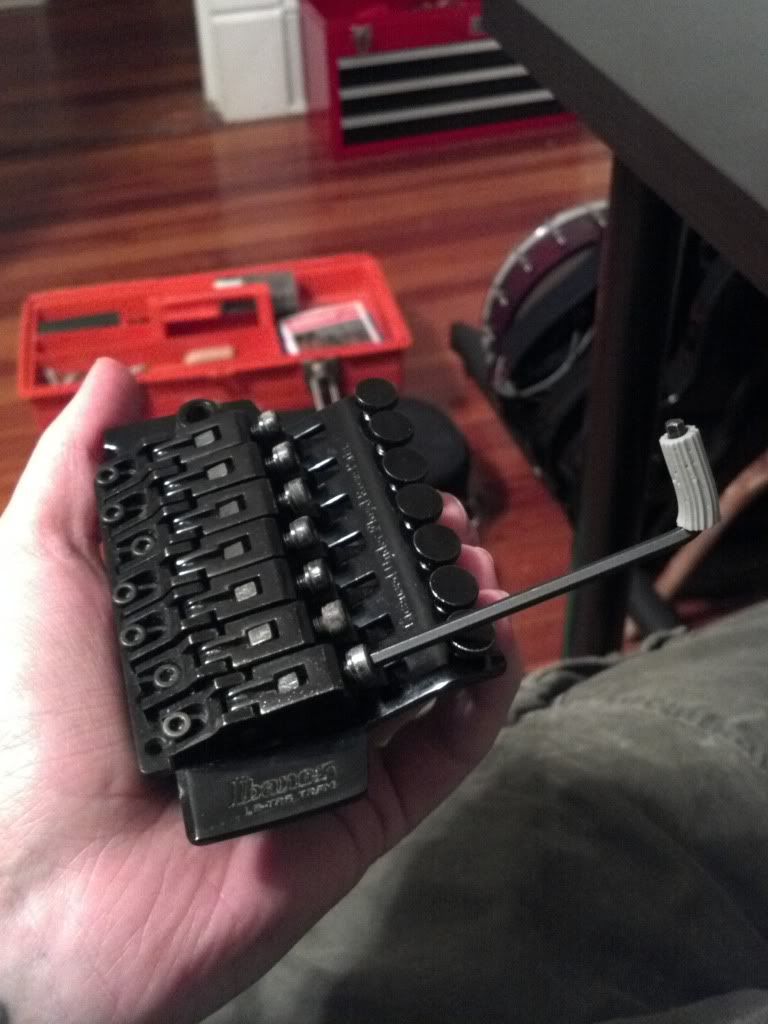 Now this next part is where a lot of people decide "Nah, the old posts are good enough for me."
As long as you take your time and be careful, there's no reason why this next procedure shouldn't be a snap. Grab yourself a piece of foam/cloth/something to protect the guitar body from the force of the hammer pulling up on the post.
Slip the claw end of the hammer onto the post, and SLOWLY pull it out of the guitar.
You will reach a point where you have to reposition the foam and hammer to finish pulling the stud and stud insert out of the body.
If you did this right, it will look nice and clean and still round
And here are the Ibanez Lo-TRS7 studs and inserts after being extracted.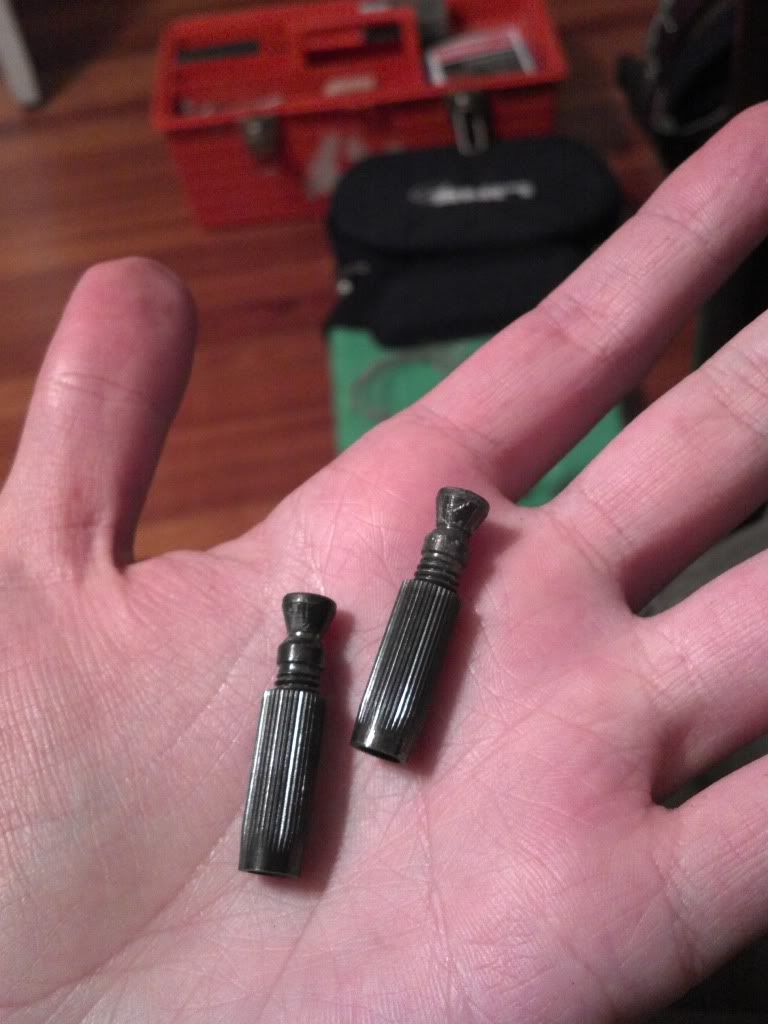 Let's bust this box open real quick.
Grab the little loose goodies from the bottom of the box.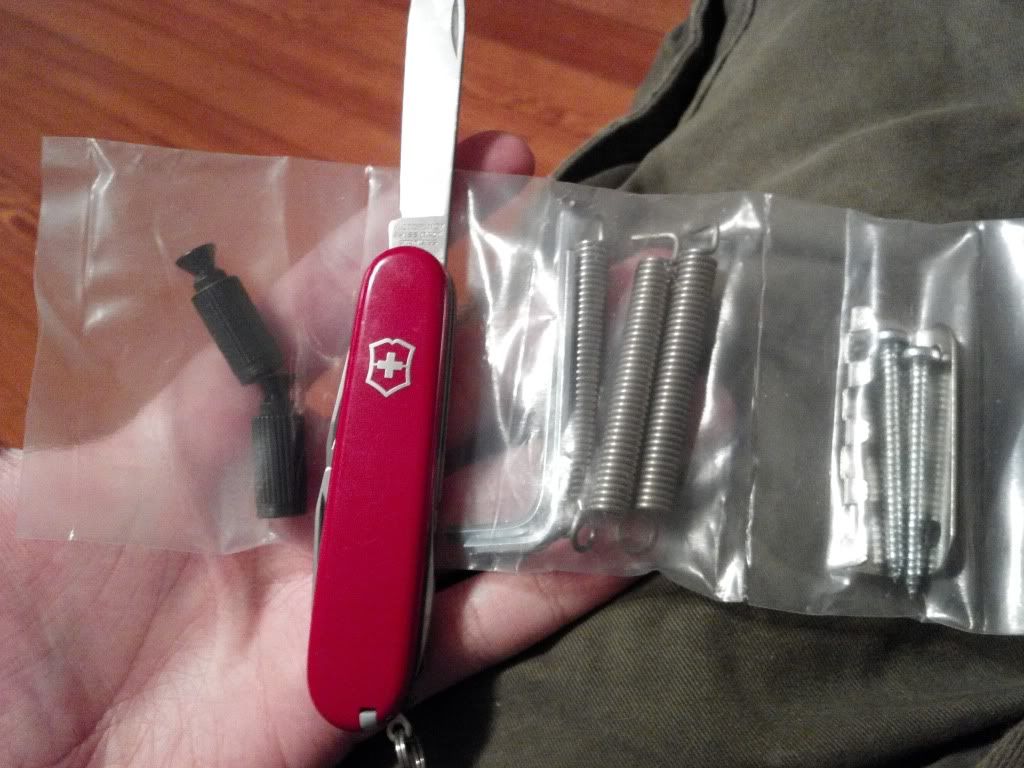 Check out how much more bulky and ..STUDLY (lol) the OFR7 stud inserts are.
Now lets grab that drill and stick a 10mm bit in there
It's always good to tape the bit to make sure you dont drill into your desk through the guitar
Yeah there's no tape on this bit, but I'm a pro. Hater's gonna hate.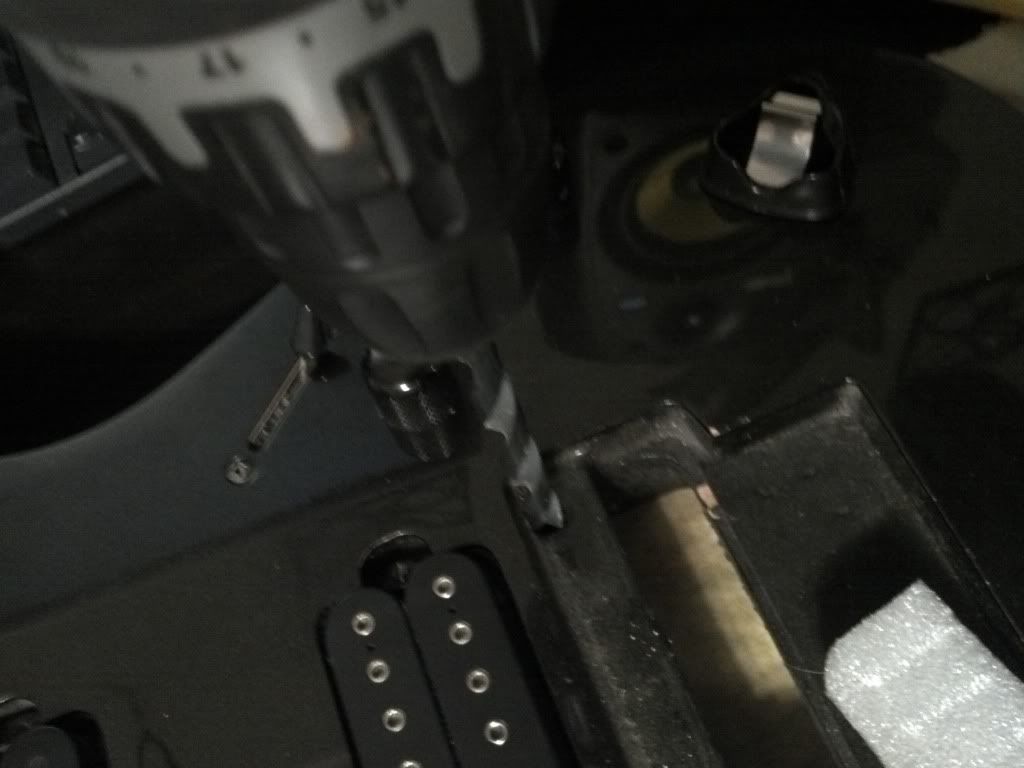 Now, I don't think there's anything really
wrong
with the existing locking nut, but I do have a fresh-ass one right out of the OFR7 box. Soooo why not?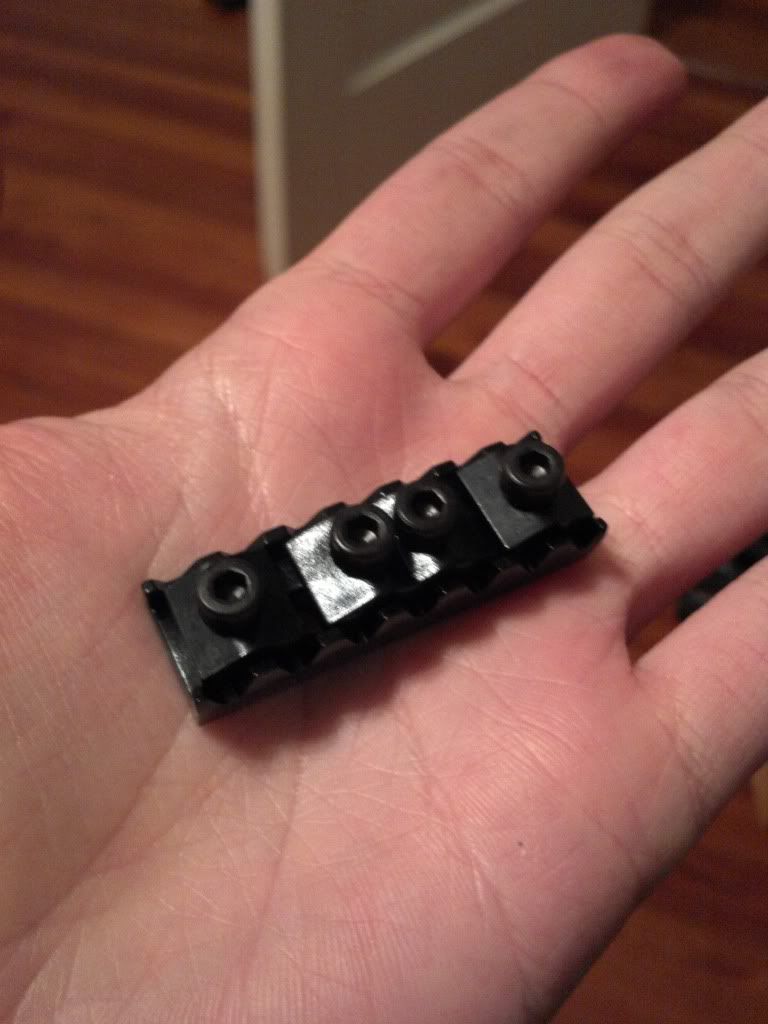 One thing I've noticed is that all the OFR parts are A LOT heavier and more bulky than the budget trem parts that came on the guitar.
So, let's get out the hex wrench and start unscrewing that Ibby locking nut.
Annnnd screw that new one on.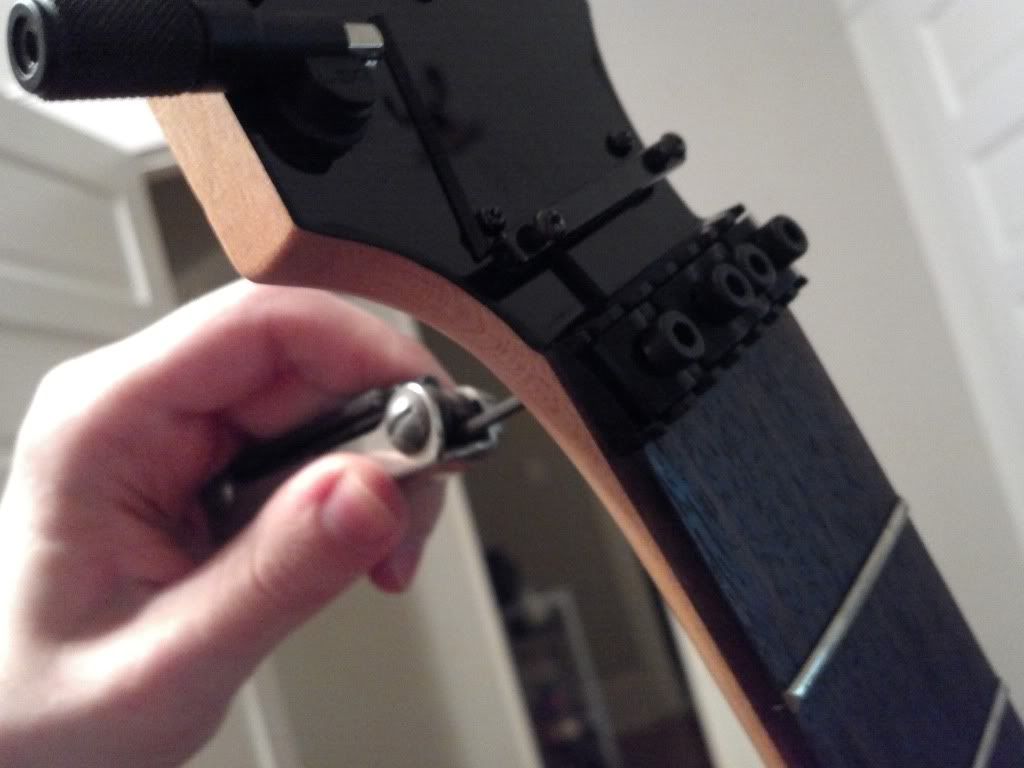 Tighten it down real nice.
Taking off the Ibanez string retainer..
Annnd adding the fatter more sexy OFR7 one.
All said and done, the headstock should look like so: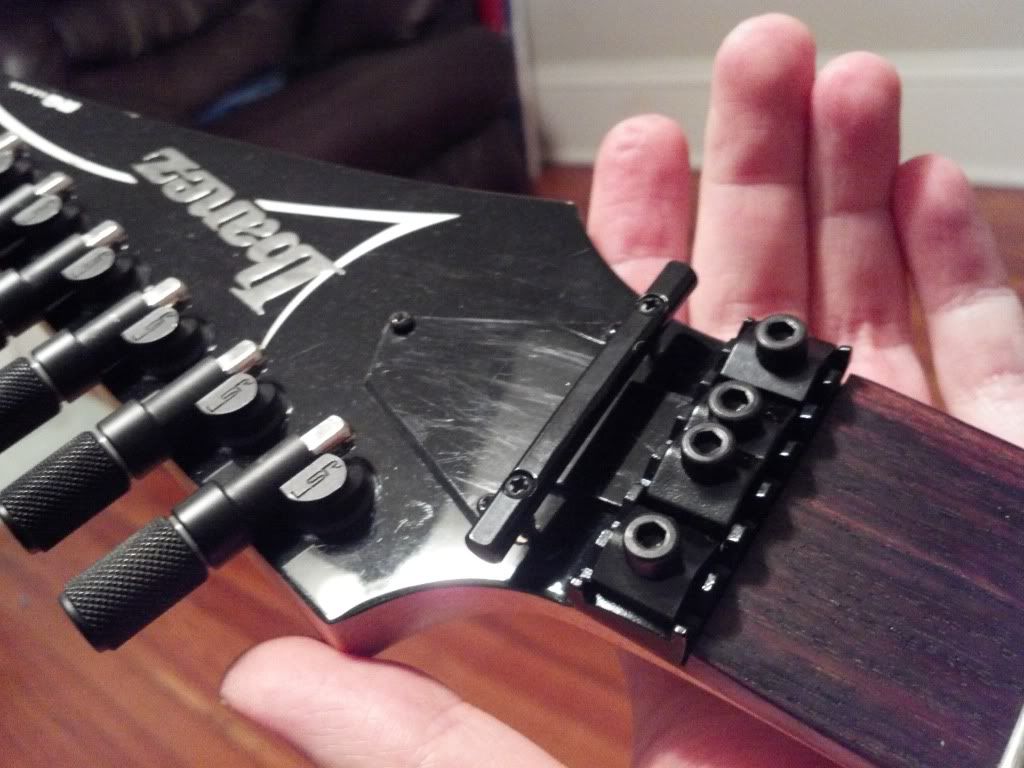 So back to those stud inserts.
After drilling, you can't just push the studs in with your thumb. If you can, you have a whole new set of problems
No, you're going to have to bludgeon the insert into the body using your viking hammer. But, before you start swingin', go grab a small piece of wood to act as an intermediary between the stud insert and the hammer.
I use this Jenga block that Leon used to block his Xiphos tremolo with.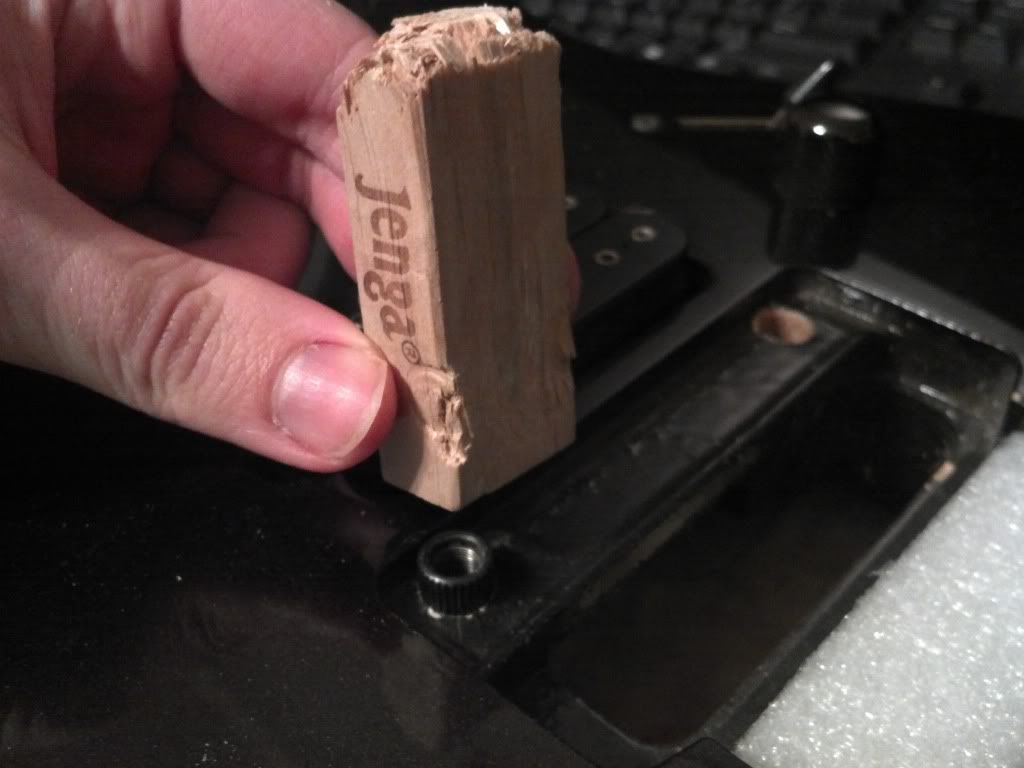 Since I'm a real man that flexes and cancels setting up a floating trem, that's about all I'll ever use that block for
You want that bushing nice and flush with the body.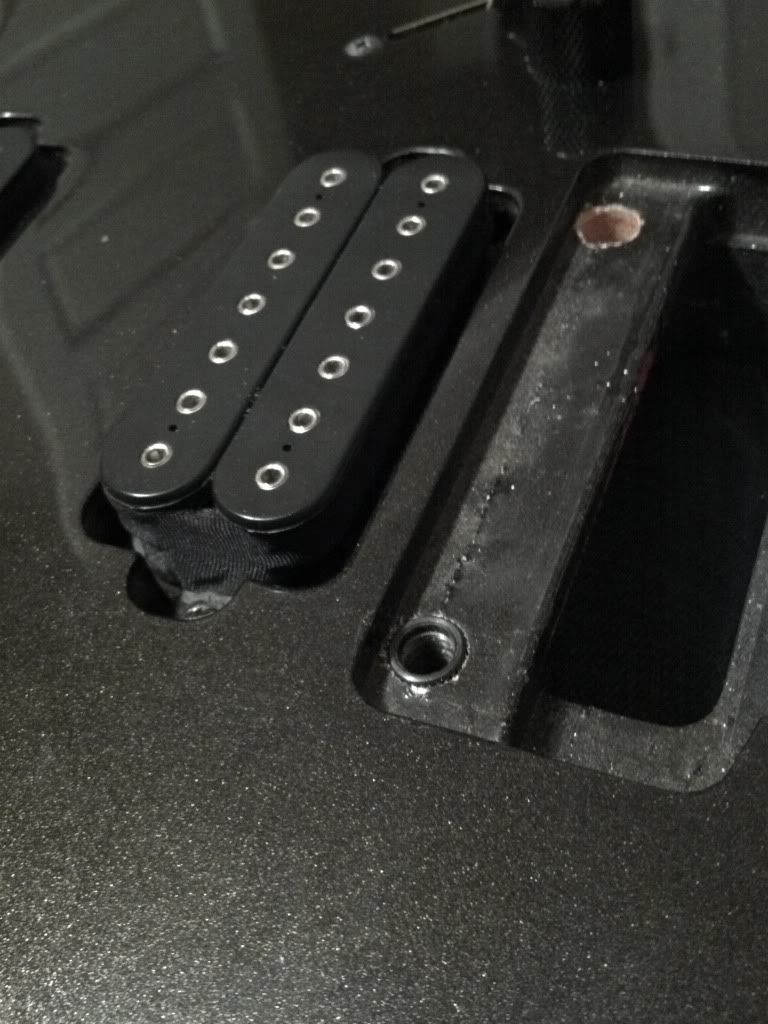 Now I'll take the new trem, and sort of in the same manner I removed the old one, slip in into the guitar body and put the springs on to secure it into the tremolo cavity.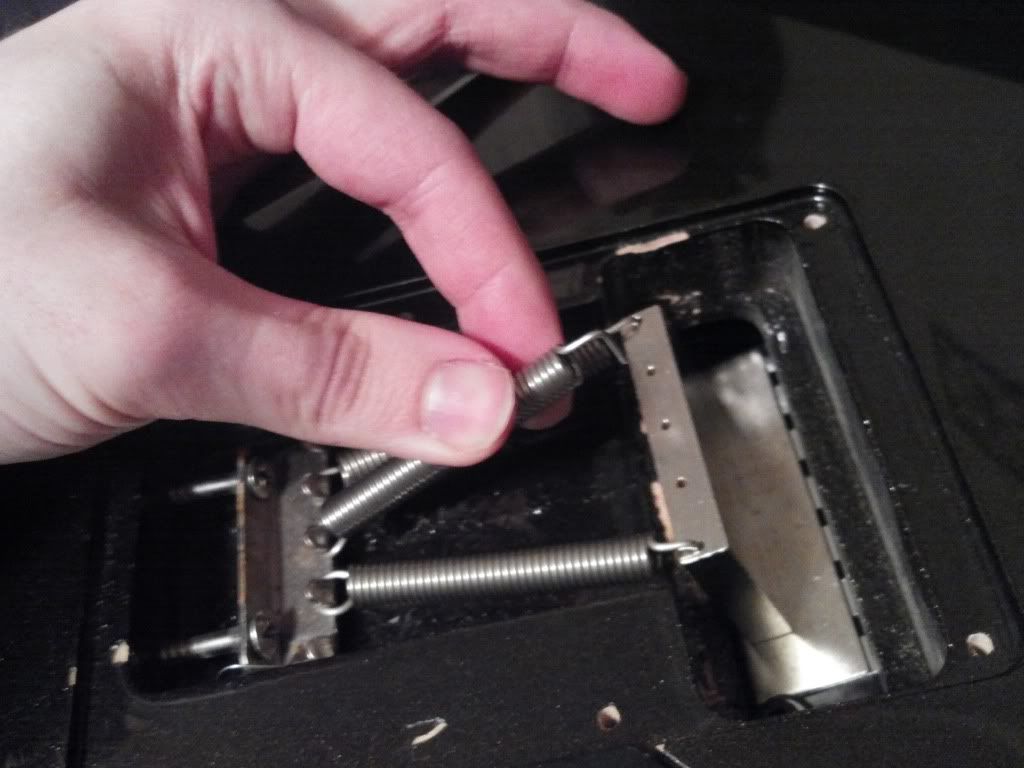 It looks like we're just about finished!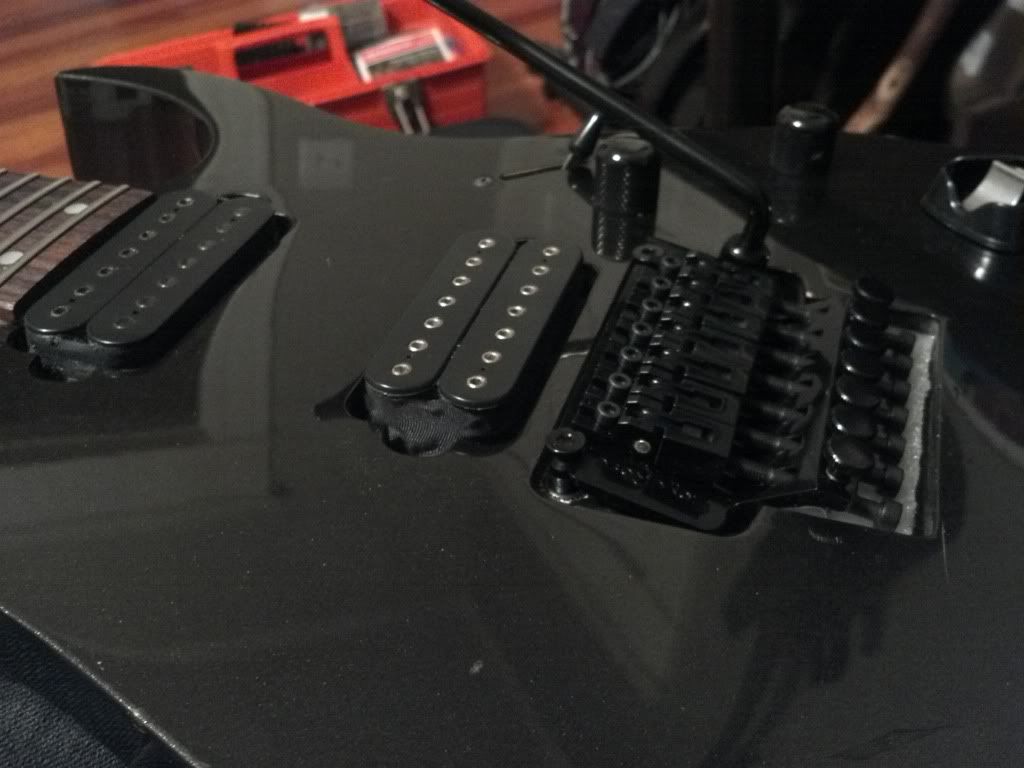 Now let's start stringing Blackbeard back up.
I'll skip all the fun of bringing the trem up to tune with a level trem angle.
We should really make a TECH article on that someday.
And now the intonation for my chosen tuning which is Drop A.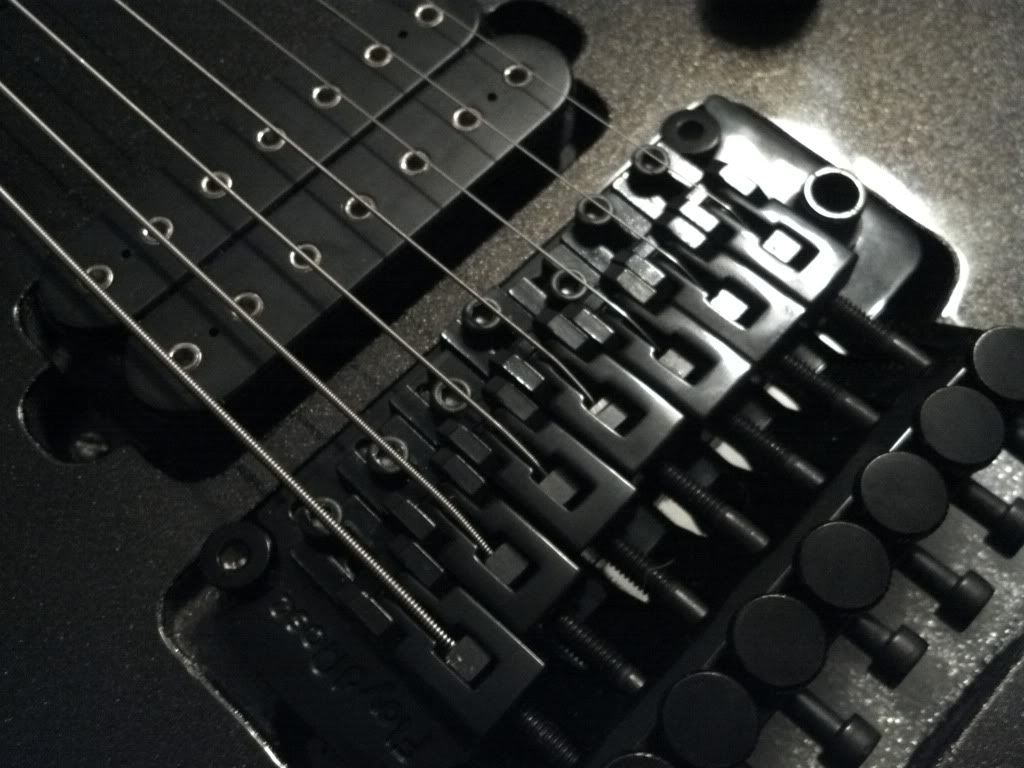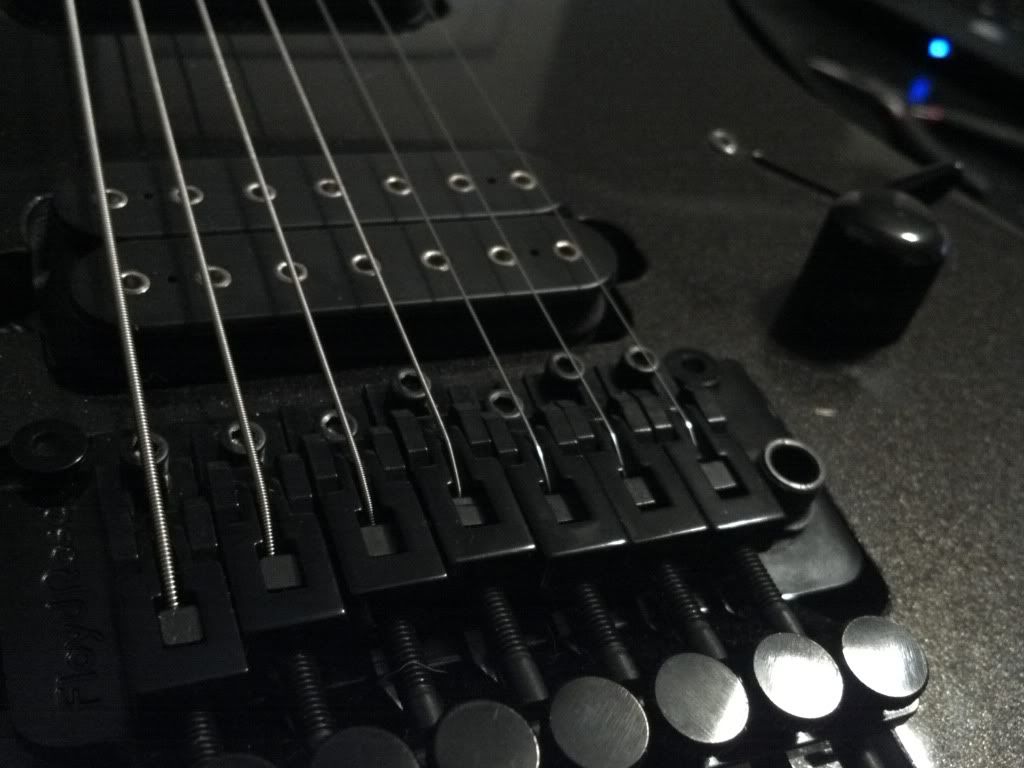 A little string stretching and fine tuning, and we're ready to rock the hell out. Pretty sure this tremolo unit added about 5 lbs to my guitars weight. I hope it adds some kick to that ass too.