So, pretty much every guitar and bass i own needs some love, ranging from a good setup to a fretboard replacement. I thought Id document it all here. Not to mention, I'll get it done A) better and B) faster if people are watching
We'll start with the patients, and what they need. This is also pretty much an inventory of my current herd
Charvel SoCal
This guy sees the most play time these days. It was a gift from Lee for getting him in on the 7 string anderson run. Standard USA Charvel SoCal, that i put a new pick guard on, as well as a pair of texas specials (also from lee) and a Suhr doug aldrich. The texas specials were swapped into my start, so this has Dimarzio VV Heavy Blues (the originals, not HB2s), but the specials are getting swapped back in, and these are going somewhere or something. Fo Sale Fo Real. It also just needs a setup. The neck has been stable as a rock since i got it 2 or so years ago, but it finally needs an adjustment. I'll rewire it while I'm at it, since it really needs it. The current wiring was done in a hurry.
1997 S540LTD
This was a gift from my mom and my Girlfriend. It came in to work a week before christmas a few years ago, for way too cheap ($150), but i just didn't have the money. I was lamenting the fact to my girlfriend, and while cash was tight for all of us, they got together and came up with $150, and bought me the guitar for christmas. i can't tell you how much i love this thing. The thicker neck on the Charvel has me playing that more often as of late, but this will never go anywhere. Came with surprisingly decent QM stock pickups, but those are still long gone. Now has a Dimarzio Superdistortion from the late 70s in the bridge, and a Rio Grande Fat Bastard in the neck. The neck pickup is too tall for the cavity, so unless i wanna pretend the guitar has a top mount floyd, i need to route the neck pup cavity down a hair. Ive got a bit over a half an inch to work with, and need to take not about a quarter inch out, so i'll take a hair more just so i have room for adjustment. The frets could stand to be levelled and crowned as well as it gets a bit buzzy in the upper registers on the bass side of the neck. Also, the control cavity is a huge mess, and the switch doesn't fit (just a 3 way, the middle pickup is unwired) so thats all getting cleaned up as well.
1978 (?) Guild S300D
These were what guild started doing after gibson shut down their SG clones. Its an SG in everything but shape. A hair thicker as well, but otherwise, yeah. I got this from my boss at the shop for $50. It had been abandoned as a repair, and we found it out in a metal trailer, having been stored for not quite 20 years, unconditioned in the tucson weather. The super distortion in the S came from this, and i originally took the neck pickup (a 70s dimarzio pay) into the S as well, but its back in here now. Bridge pickup is getting replaced with a vintage Duncan JBJ i got from Joe. Also, going to paint it or stain it, but I'm not sure of the colour. Surprisingly, considering the storage, the neck is in immaculate condition (bar serious finish checking). Playability is perfect, and not a single lifted fret. Not even a little warped. Oddly enough, the guy who it belonged to carved his social security number into it in 3 places: under the serial number on the back of the headstock, on the bottom edge where it would sit on your leg, and on the tailpiece (which these are HARD to find replacements of). If i can find a replacement tail piece i will replace that, otherwise, meh. Already has schallers on it
ibanez RGR Mutt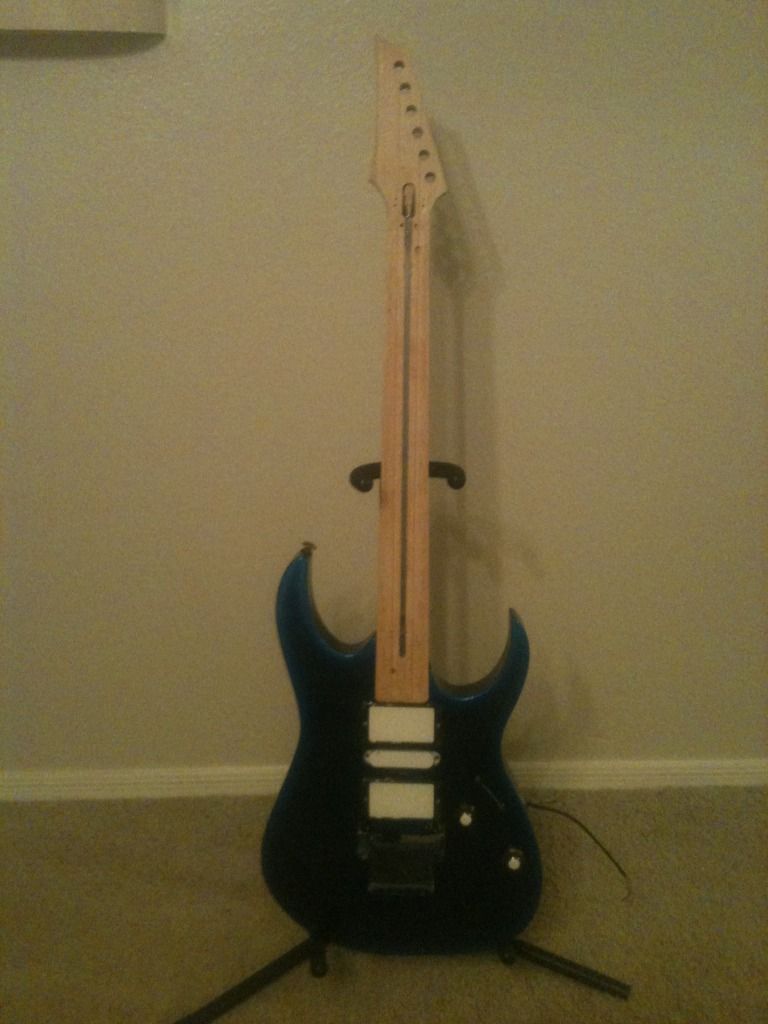 This fuckin thing
This is how i found Sevenstring.org, and you cuntbags. 892834 iterations ago, this was my first parts guitar. It had a different neck (a straight up super wizard i picked up off ebay), a lo pro (need to find an original edge for it srs), and white pickups instead of white covers, but its still the first one. Body is of an old school RGR480 (or so its stamped, it appears the RGR580s had the exact same bodies). Pickups are a Norton in the bridge, dead middle again, and a Paf Pro in the neck. All with White EMG style covers. I got the neck as part of a complete guitar, a hacked up RGR1570 prestige that some dude on ss.org butchered up. Beveled the headstock, along with the body (including the trem route? Seriously what the fuck). Sold the pickups, and burned the body, and kept the rest. pulled the fretboard (clearly) and I have 2 replacements for it. The first was one i got from stewmac, and it was well cut, but it looked like shit, so they sent me another. Nice, very good looking piece of rift sawn maple, to match the back of the neck. Currently putting an edge pro in it until i can be assed to find and install an original edge. Have a chrome logo for it, but i think i wanna find a blue one. Gonna do blue petrucci dots on it. Also have cosmo knobs with white tops, to match the thing.
This thing is how i found ss.org. I was looking into painting hardware white, and found Allen's thread about installing a ghost system in a 7321 and he had painted some hardware white. Blame allen for my presence
MIM Strat
Yes I am aware the neck is crooked, its not bolted up
Basic MIM Strat, maple board, 3ts. Picked up cheap at a pawn shop. Heavy as fuck, but resonant too. Needs new pickups (might actually put in something stratty!!! zomg), and the neck was getting warpy. currently in the middle of surfacing the board, and then a slight reprofile, and stripping and oiling. Replacing the inlays while I'm at it. Had some upgrades that i removed when i was gonna sell it, but i'll be reinstalling, including schaller locking tuners (made for fender), an upgraded set of bridge saddles (Tusq FTW), and a few other things. Thinking of maybe a DG20 setup
Fretless Telecaster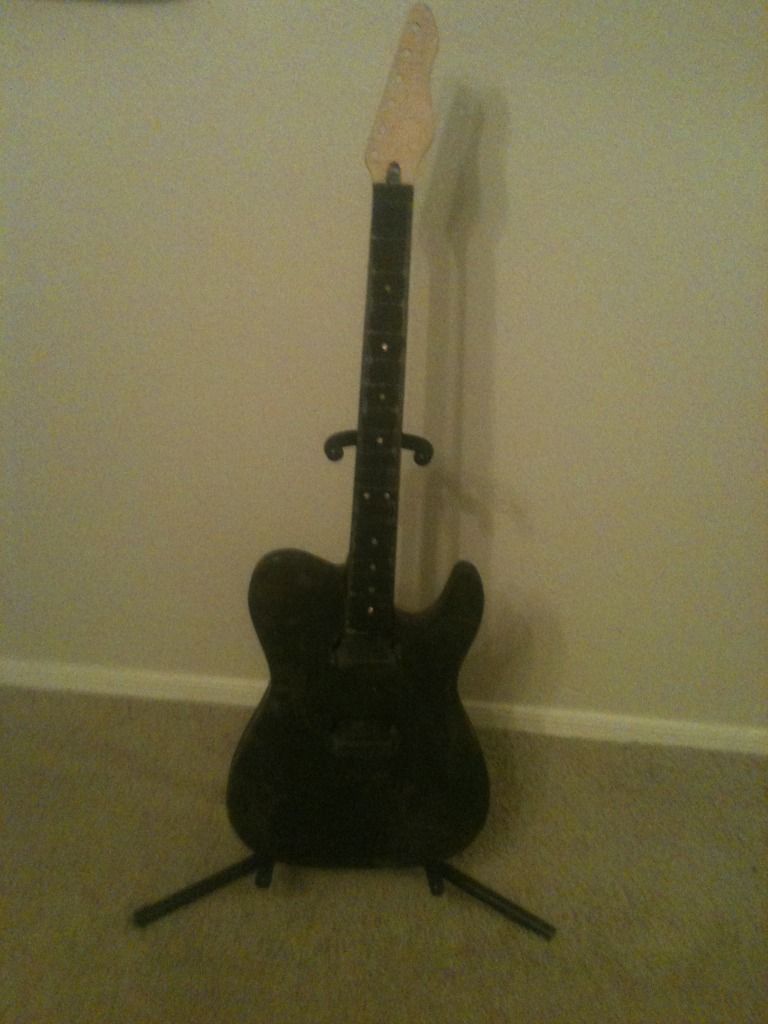 When i was building my last tele, I got this neck from a friend in exchange for some guitar work. Comes from a USA Peavey millennium thing. Oddball 2 piece very flamed maple, clearly ith an ebony board. Body again came from lee. He'd tried burning a vine of life thing in it. I did the natural thing, and i poured old blood from some grocery meat on it, burned it, and buried it in the mud for a few days. rinsed it off with acetone and here it is!. Fretslots need some more filling (Done with liquid nails LOL for maximum derp). Gonna throw a set of those Entwhistle HDN thingers in here, as well as a car vin guitar pre i have kicking around. I have an acoustic bridge with a brass saddle I'm installing as well, cause why the fuck not.
Taylor Big Baby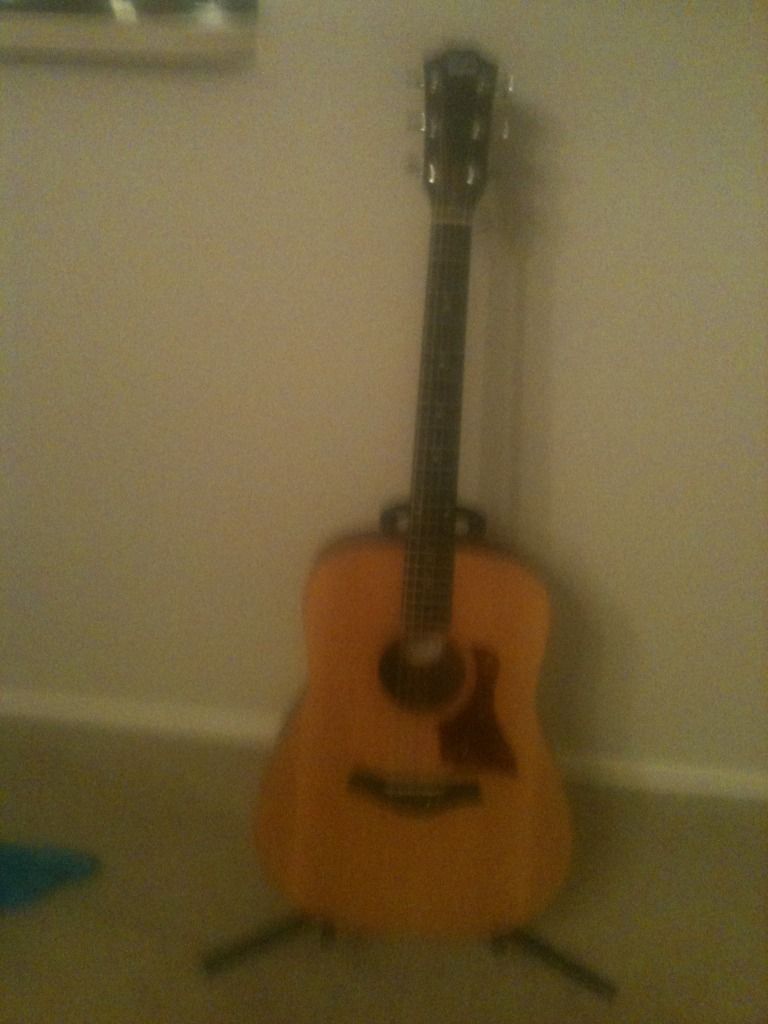 My first guitar. Been through hell, and will go through more. I recently cut a new nut and saddle for it out of bone, as id installed an under saddle and a clip on condenser. As i was thicknessing the nut, it snapped in half, and as i thinned out the saddle just a hair too much. So currently, it plays like ass as the action is straight up slide status. Will be fixing that shit stat. Thats all it really needs.
MIM Jazz Bass.
This belonged to my sisters conman of an ex boyfriend, who sold it to my brothers friend, who sold it to my other brother for my niece, who gave it to me. Neck has twisted just enough to cause problems, so ill be giving it a fret level, as well as installing a random DTuner i have kicking around. If the neck has gotten worse since i last looked at it, I'll probably just replace it with a rosewood neck from warmoth since they seem to get them on sale fairly often. I'll replace the pickups at some point, but honestly it sounds fine so thats not a priority.
Mutt Fretless
This neck (and body, but thats irrelevant) had been kicking around the shop for years. Turns out its an old anderson neck from waaay back when anderson first started out on his own after leaving schecter, making replacement necks only. Was in a permanent state of back bow, so I got it for $25. Turns out, as i was about to steam the board off, the truss rod came loose. The rod had been stuck, despite loosening the nut. So turns out, for $25, i got a perfectly fine Anderson JBass neck
The body is just a MIM fender, which is an old crappy one at that, so i think it will be getting replaced, probably with a warmoth Jazzmaster IV body in white. I have a set of fralins i got off tony for it as well, and a badass 3 bridge.
Theres the list. I'll start posting up the work in progress in a minute.