First lets order a fucking ton of parts.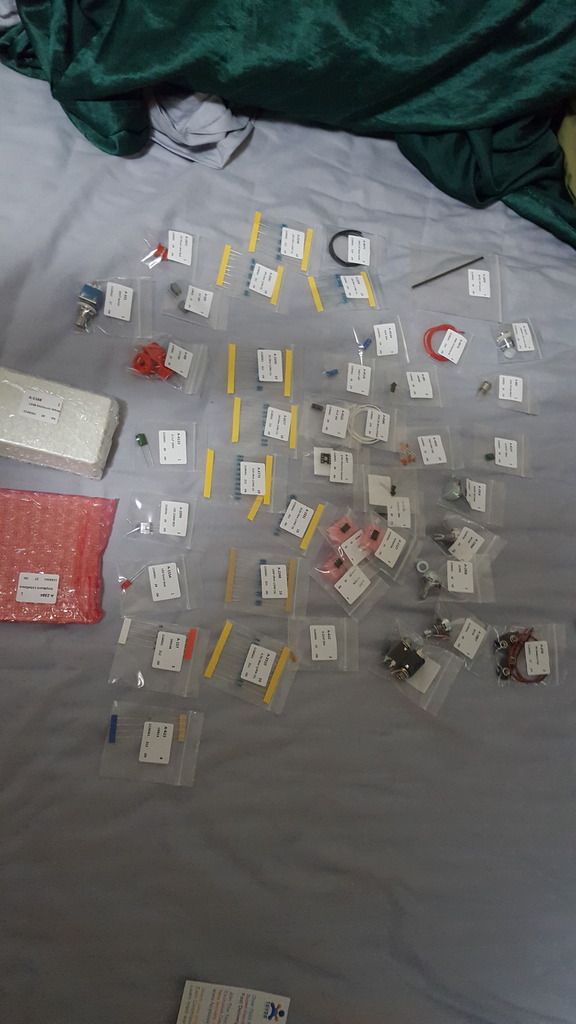 This was $20 shipped from Tayda electronics with a 15% off code I found on their facebook page, took a hot minute to get here, but its all in nice little baggies and was super cheap.
Now lets put the cart before the horse and start marking out how we're going to drill the enclosure.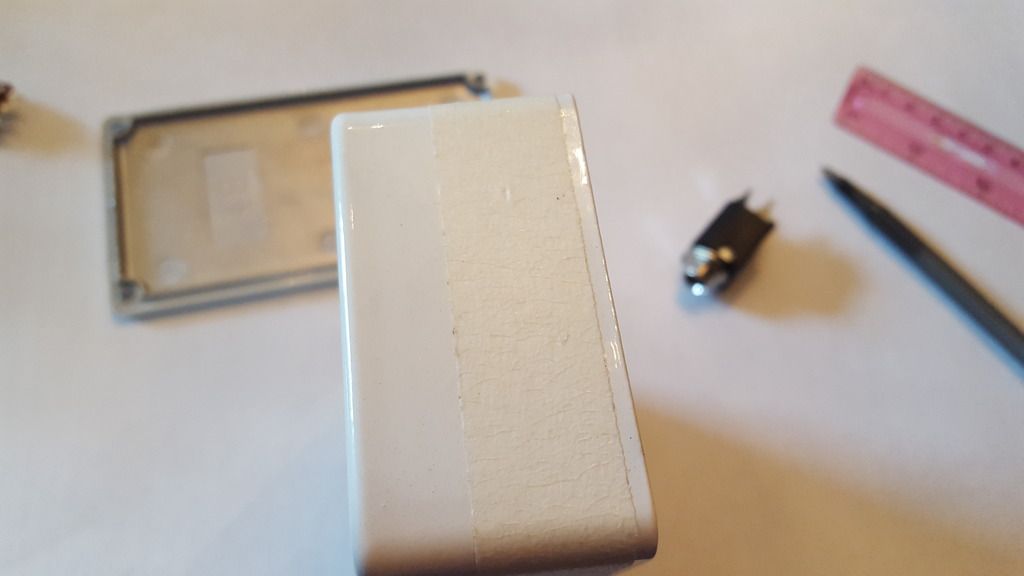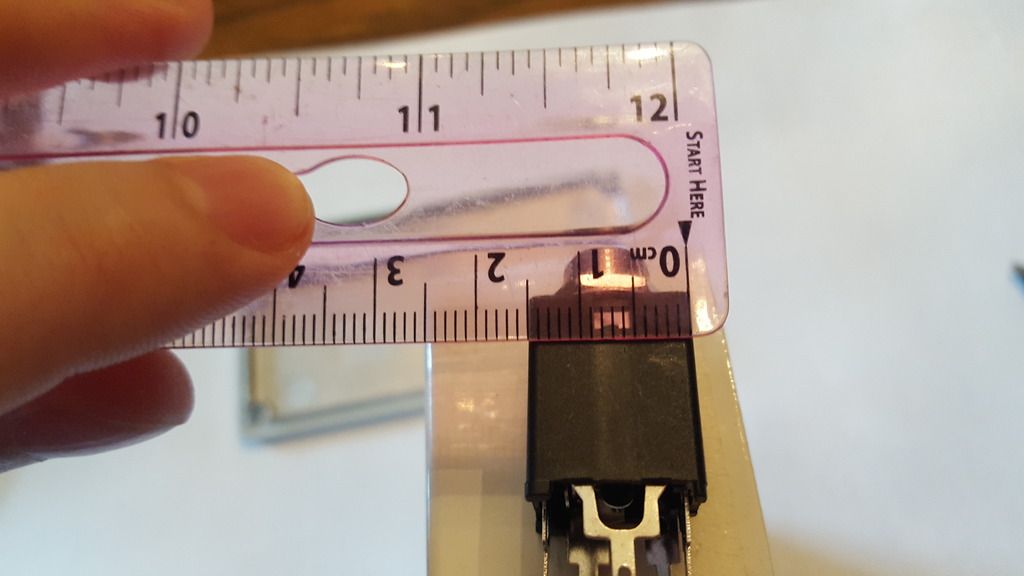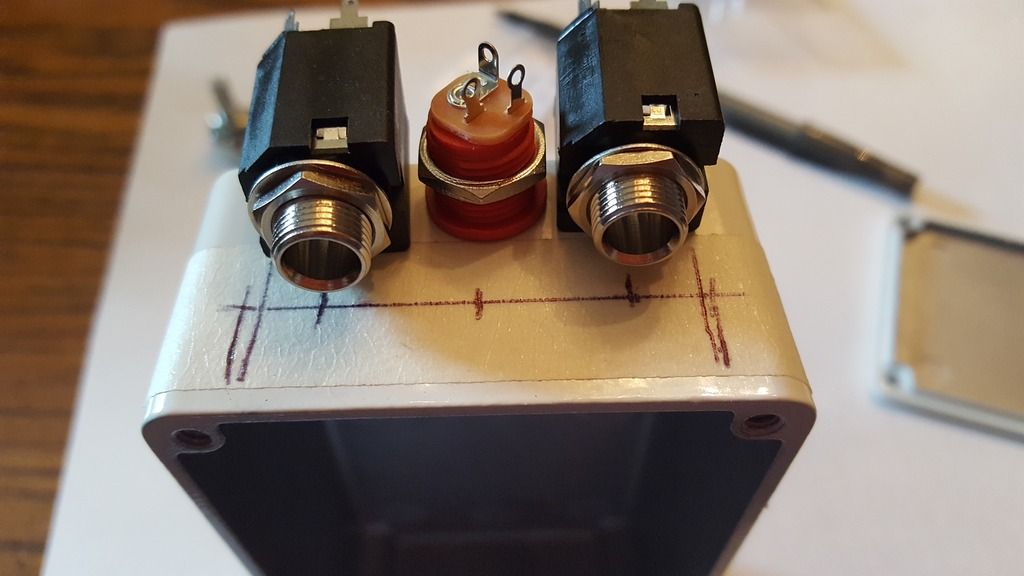 Have to make sure they are spaced in enough to not hit the screw holes for the backplate, and wide enough to not hit the DC jack when front mounting the 125b size enclosure. I like the jacks on the front and more room to work, so thats why I went 125b instead of the standard 1590b.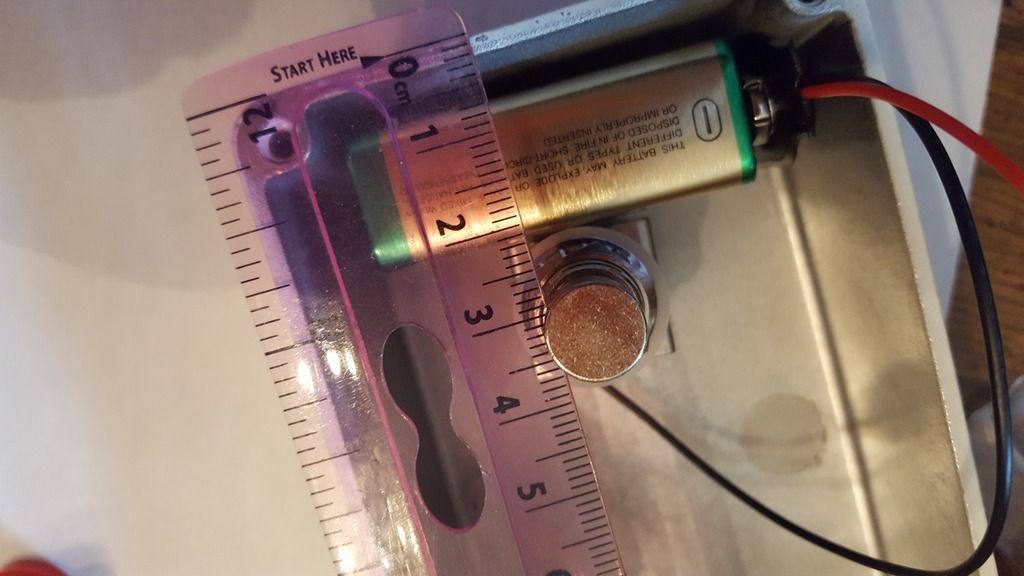 I made sure to leave room for the battery. The footswitch will more or less hold it in place down here.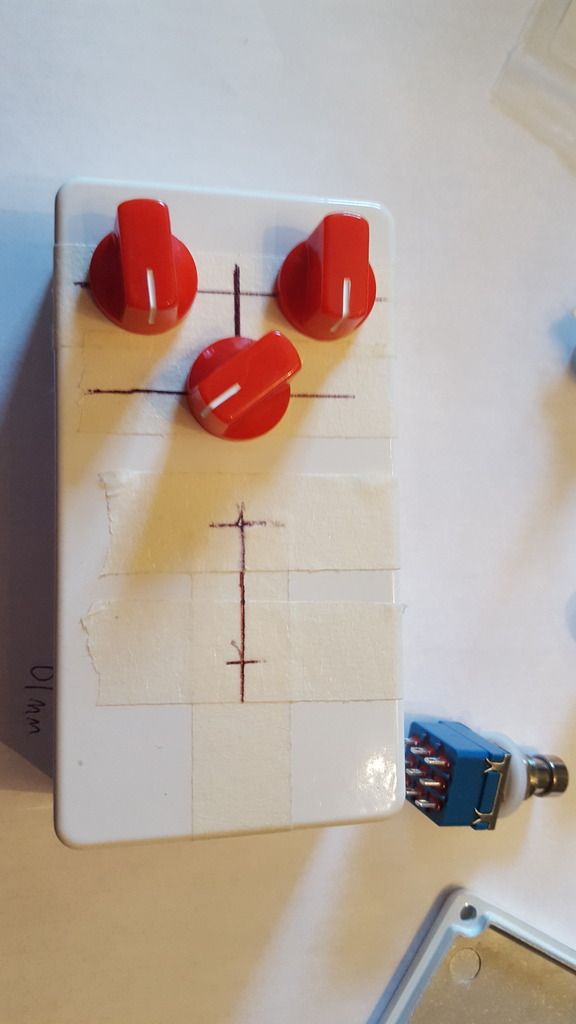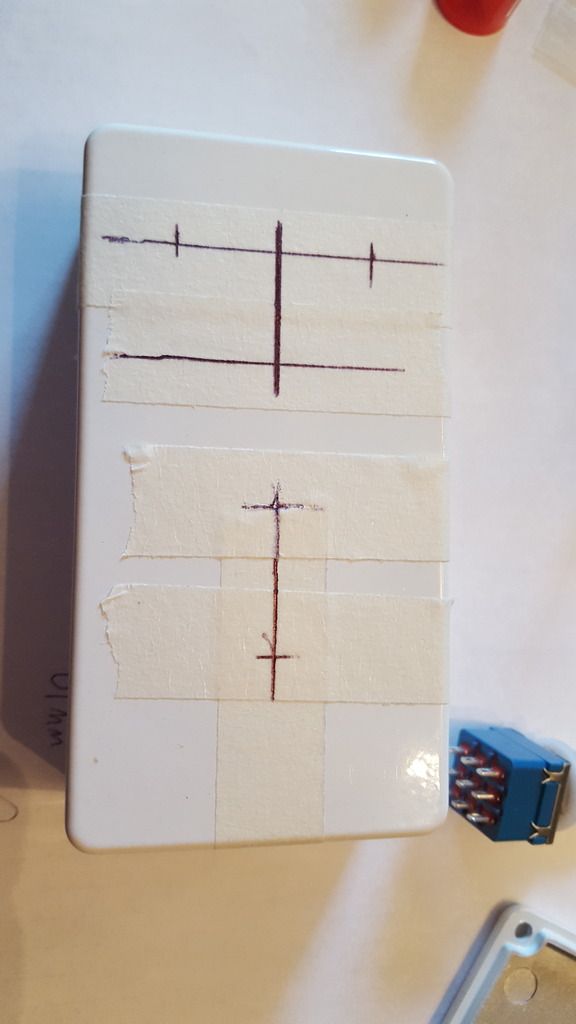 Placed the knobs about where I wanted and measured them to be as evenly spaced as I could get, then I marked a hole between the footswitch and bottom knob for the LED.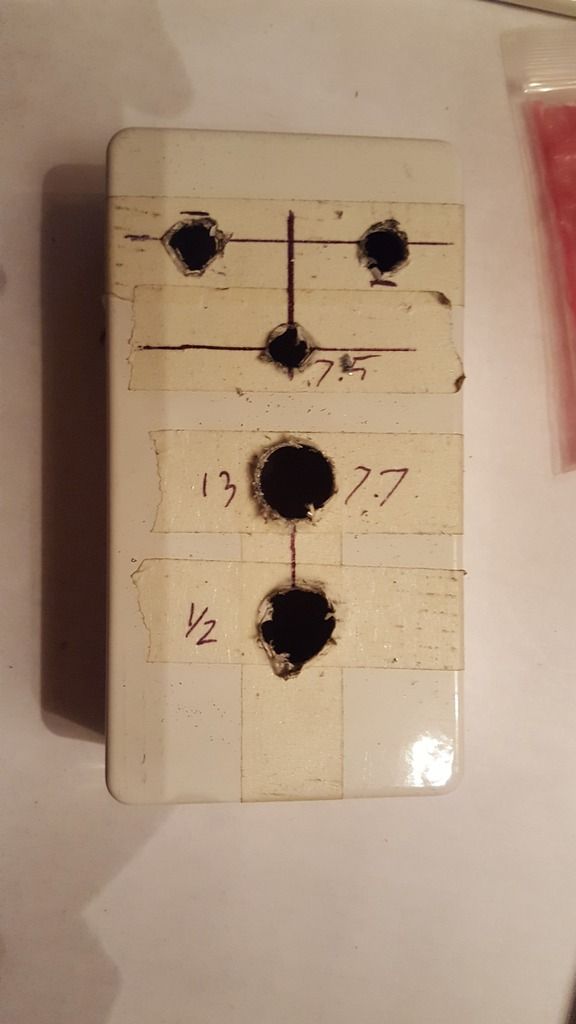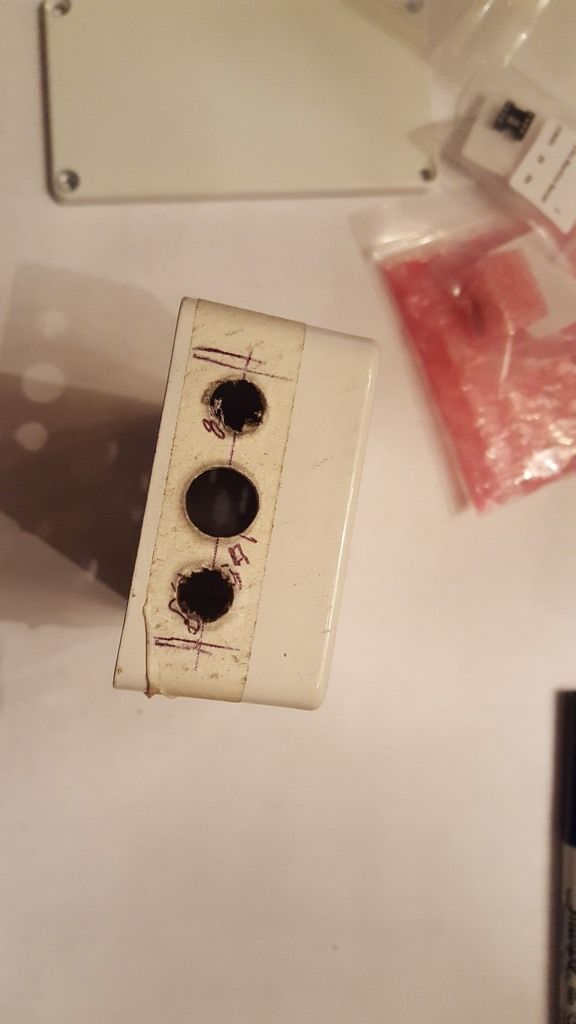 Then I went ahead and drilled the holes. It was kinda tricky to drill the 7.5mm and 10.3mm holes with the 1/4 inch bit i had, but I reamed it with a triangle file to size, and that worked ok. I felt like rocka doing it though.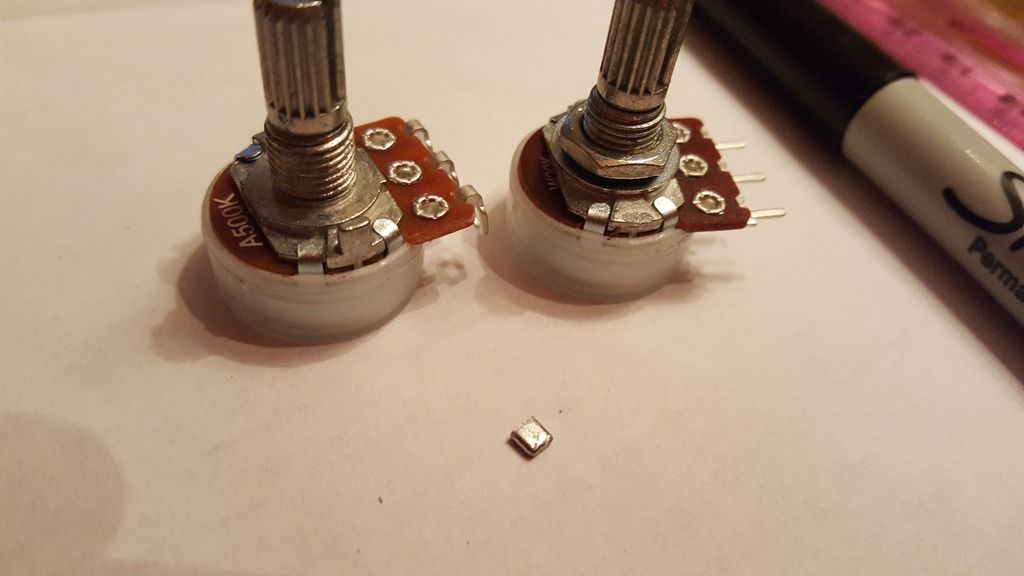 I then test fitted all the parts. It went well, all the measuring paid off, but I'm pretty sure the left knob is 0.1mm too high.
Also note that you have to break off those little tabs on the potentiometers.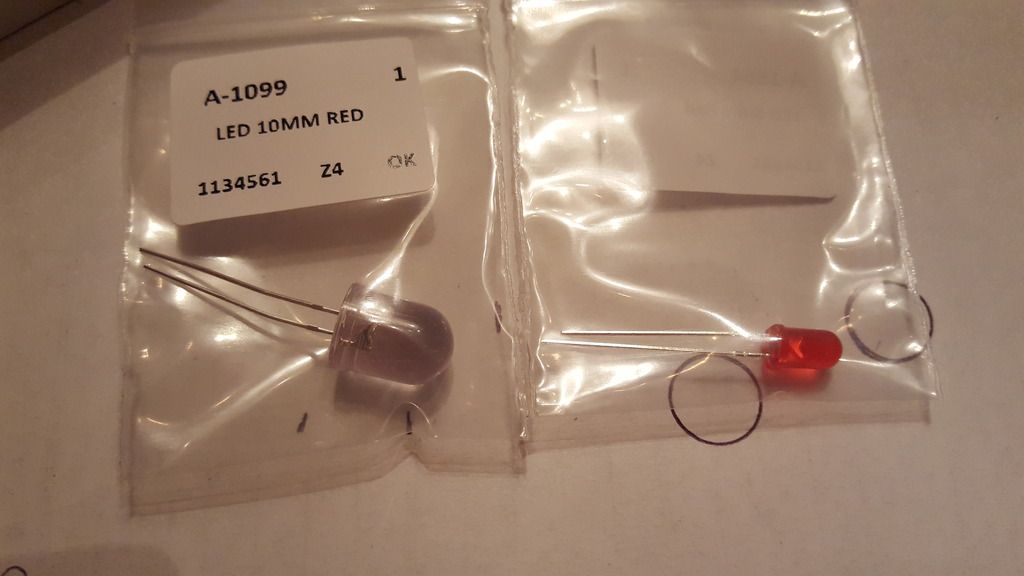 This big ass LED was 10 cents so I bought it, I can tell when the pedal is on.
Part 2: Time to actually build a pedal. Like 3 days after I ordered from tadya they started stocking tube screamer PCBs, so I didn't get in on that. I might have spent the $8 instead of the $1 or whatever this garbage costs.(I wouldn't, I'm that cheap.)
Guitar FX Layouts: Ibanez TS5 Tube Screamer
This is the diagram for a TS5, which is a TS9, which is what I was building. This website is amazing and has a ton of options.
Guitar FX Layouts: Offboard wiring
This is how to do the wiring not included in the above link.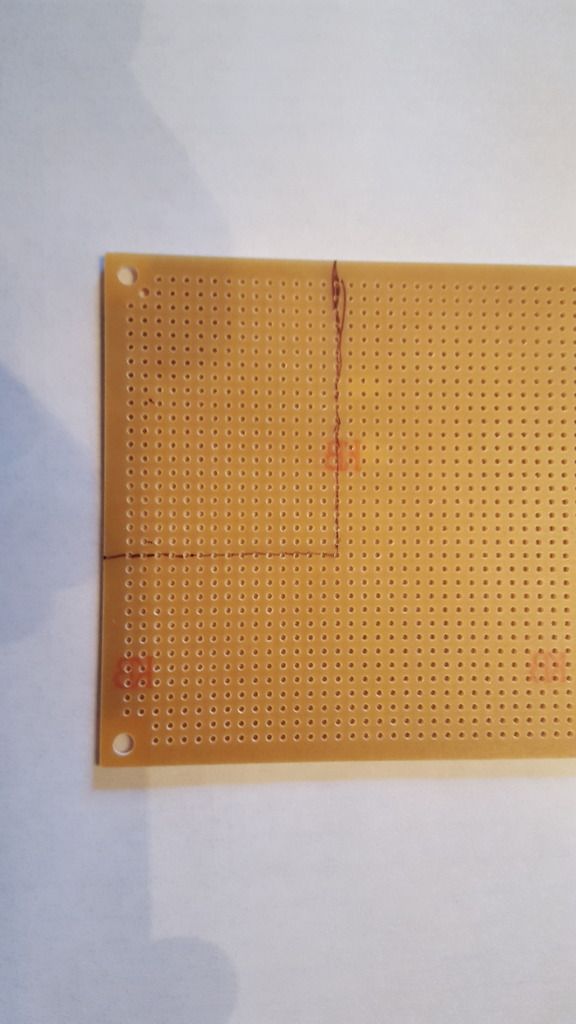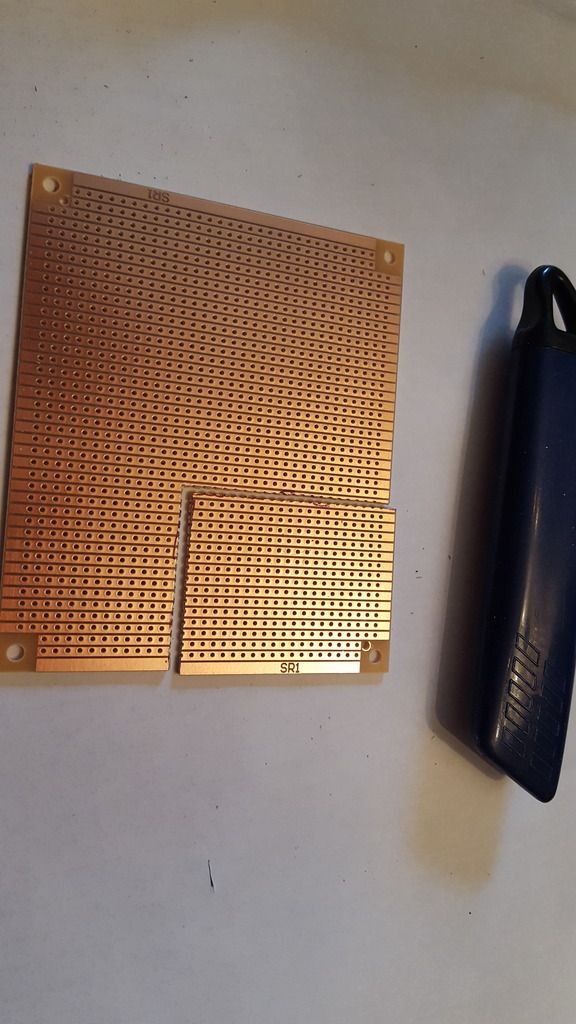 I score the board with a box cutter on both sides along the line I want and then slowly work it, bending it back and forth until it breaks along the line.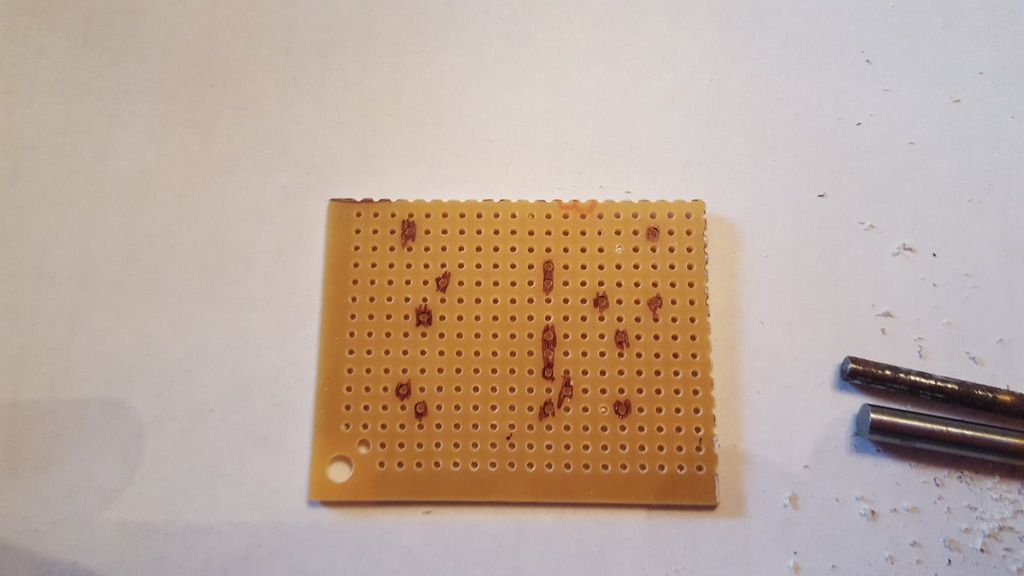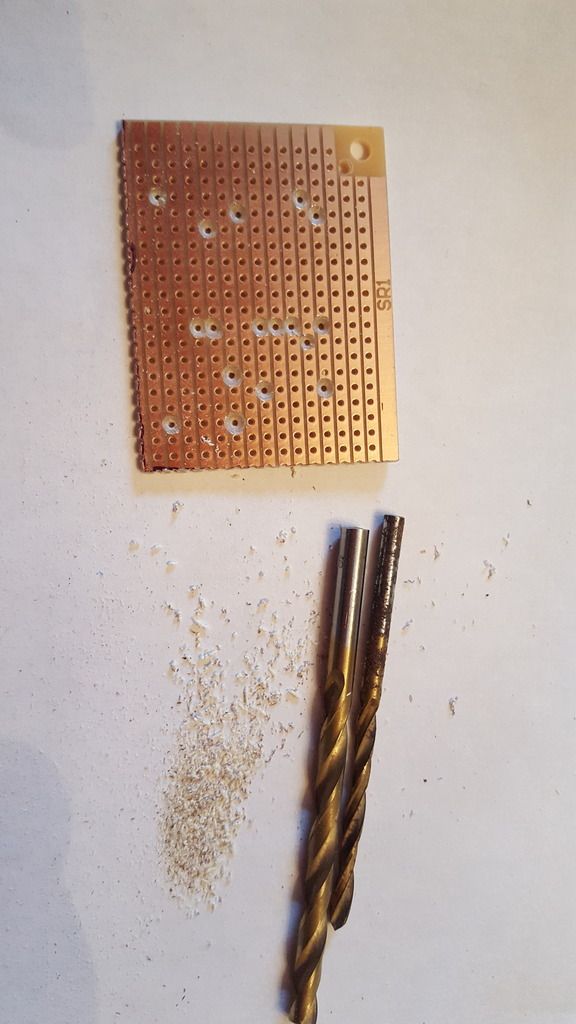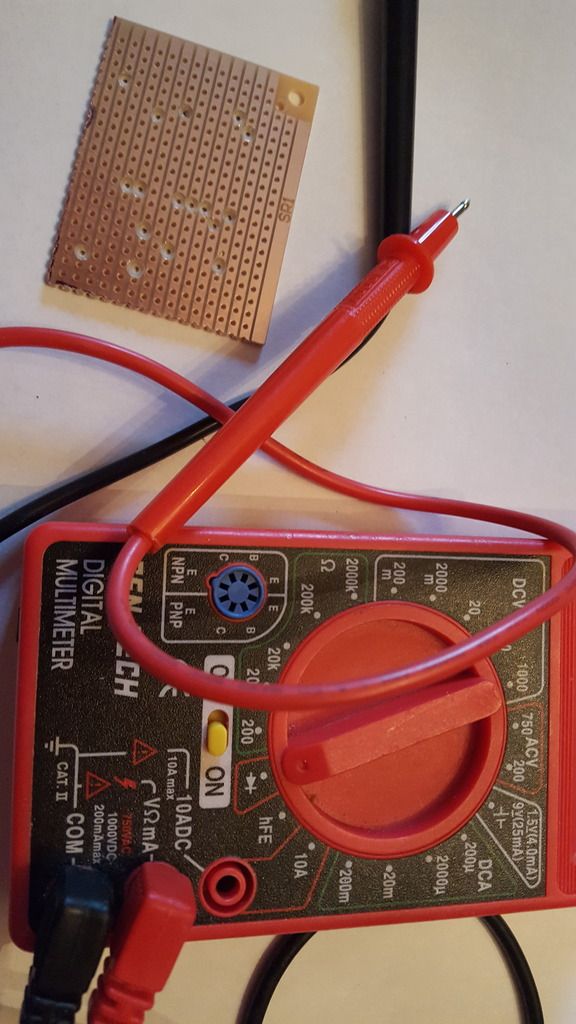 Then you have to make the cuts so that the board isn't connected all the way across. The layout would be much bigger if every connection used its own line. To do this I marked it on the back, pushed a little wire through, noted its location on the front and gave it a little wrist action with a drill bit. The reason I marked it on the back is because the diagram I followed is marked from the component side. If you're smarter than me you can just open paint and flip the diagram to do your cuts on the copper side.
Make sure you test each cut with a multimeter or similar to confirm you've cut it all the way and there isn't a copper micron fucking you.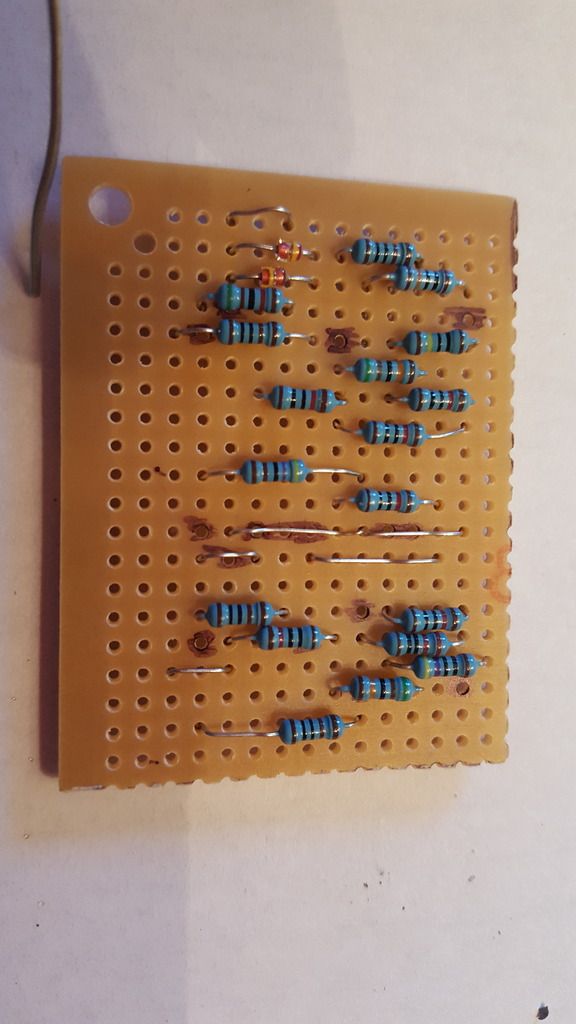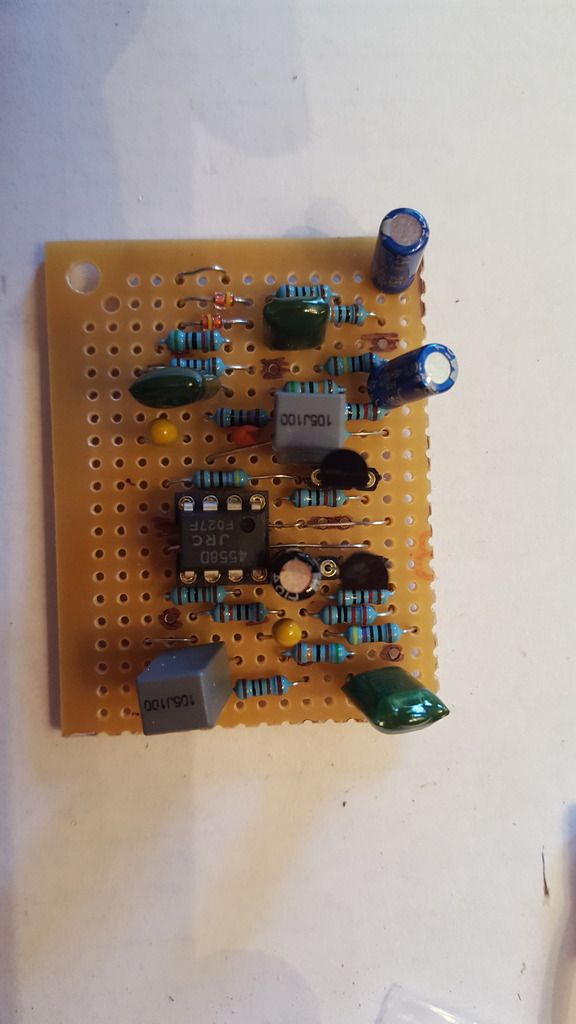 We assemble by height. First we put in the jumpers, then we put in the diodes and resistors, then we move onto the capacitors, sockets, transistors, etc. I soldered between each one, but I bet if you're good you could do each group at a time.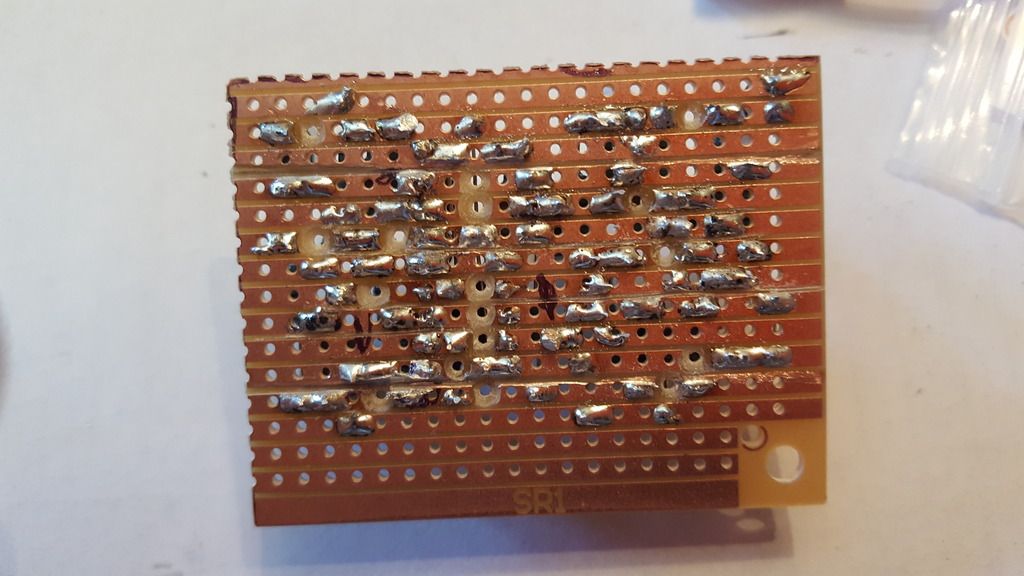 Its actually really hard to make this look nice I swear.
Next up is wiring your completed board to the other components. I don't have any pics of this, but you just go step by step attaching stuff to where it goes. It almost certainly easier to remove everything from the enclosure and wire it up, except for the DC jack, which you have to wire from the inside.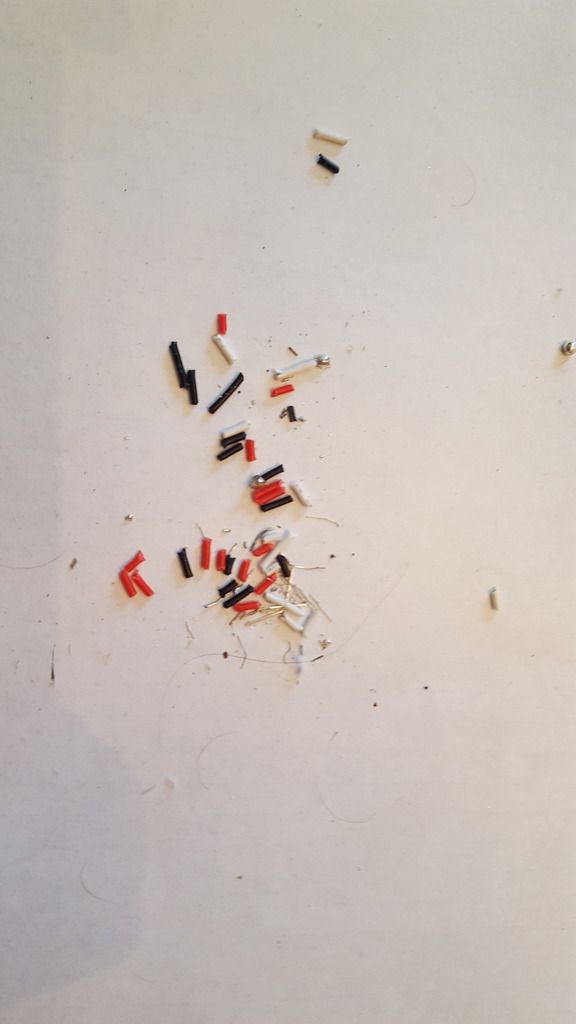 Lots of stripping.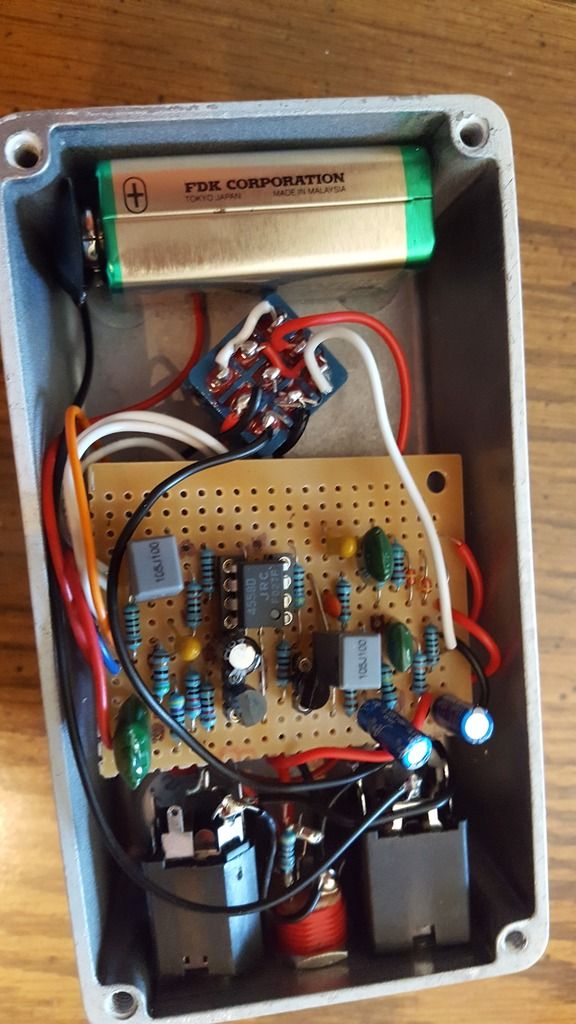 Here is the completed innards, its not super clean, but thats ok because its a dirt pedal.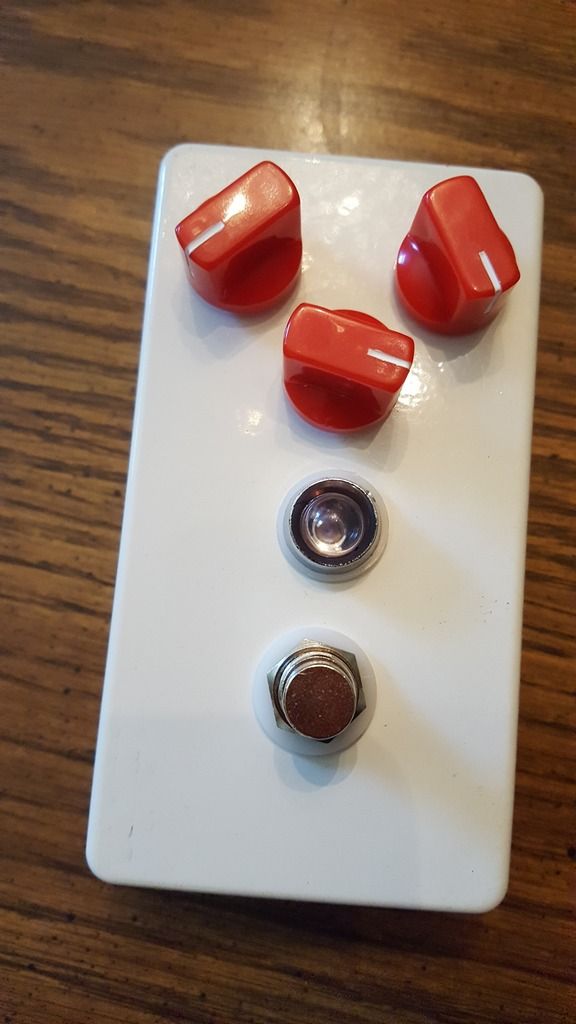 Does it work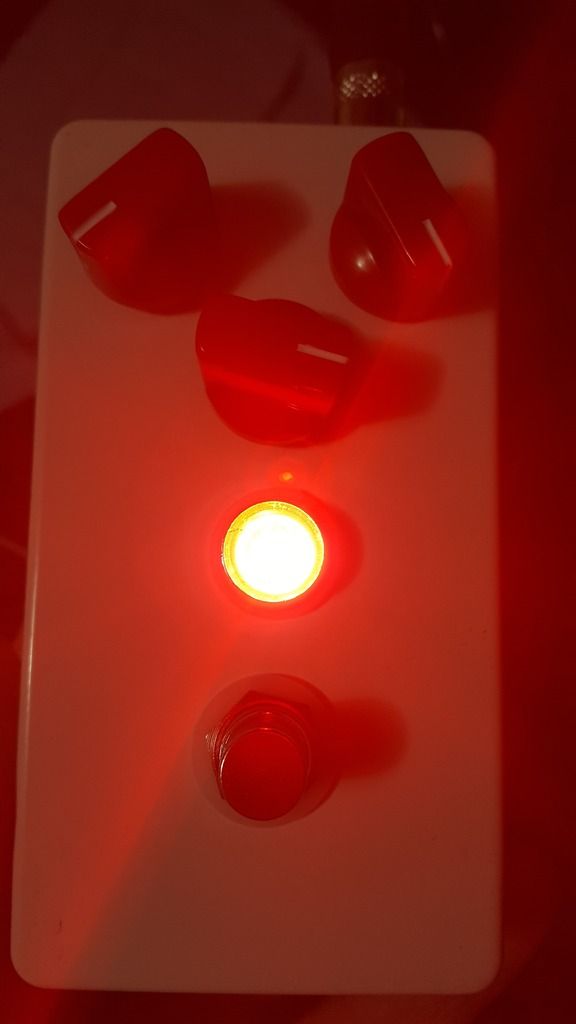 Yep.