Let me just start this by saying this beats the SHIT out of the file-and-sharpie leveling system. Compared to the sharpie and file method, this is faster, cheaper, takes material off the frets evenly and is capable of fixing way, way bigger issues. A leveling file can't fix issues bigger than its own length.
Tools Required for Leveling:
- Truss Rod: it doesn't even have to be particularly nice. I bought mine for 10 GBP
from Ebay. It must have a flat side to put self-adhesive sandpaper on. I used a 44cm truss rod, but I should have bought 46cm or 48cm.
- Self-adhesive sandpaper: I used 320 grit, which is plenty aggressive enough, but you can go 200 or 600 if you want to. Lower grit means more time spent on polishing!
- Metal Nuts: for matching the curve of the neck with the truss rod. I used 5mm end-caps, but any 3 nuts that are equal in size will do the job.
- Rubber Eraser: for keeping the strings out of the way.
- New Strings: the fret buzz test will ruin your existing strings.
Tools Required for Crowning and Polishing (read if you haven't done fretwork before):
Lots Of Masking Tape
Crowning File - Concave or triangular, but I prefer triangular. It cuts precisely, easily, and works on ALL fret sizes.
Sandpaper - 600 grit and 2000 grit
Micromesh 8000 grit OR Steel Wool #0000
Metal Polish, optional
Step one: The ambitious setup:
The basic idea here is that we set up the guitar first, THEN we fix all the fret buzzes. Action is measured at the last fret, you'll see why in a second.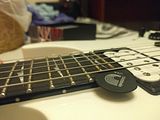 Setup for 9 gauge strings in E standard (or equivalent):
Action on high E at last fret: 1.5mm
Action on low E at last fret: 1.5mm
Relief: 0.3mm, measured on the low E
Setup for 10 gauge strings in E standard (or equivalent):
Action on high E at last fret: 1.2mm
Action on low E at last fret: 1.2mm
Relief: 0.3mm, measured on the low E
With this setup, action at the 12th fret is irrelevant! It's always going to be effortless.
Most guitars can be made to play with this setup, even Squiers and JS-series Jacksons. My guitar is an LTD M-1000, with 11s in D standard. This is equivalent to 10s in E standard. Because it had decent fretwork to begin with, I wanted to push it and set the action at only 1.1mm at the last fret. Before leveling, it only failed to play one fret on one string, but it did have buzzes in many many spots.
I eventually set it up to 1.5mm on the high E and 2.0mm on the low E, for tone reasons.
If you KNOW your action preference, just set up the guitar to that, so that you can remove less material from the frets.
Step two: Level each string
2.1. Matching the curve of the neck.
Place the 3 metal nuts at far away from each other as possible. From mathematics, we know that 3 points will completely describe a curve. I realize you haven't all taken advanced math, but trust me on this.
The further they are, the less error you will have. I placed mine on the 3rd, 9th and 20th fret.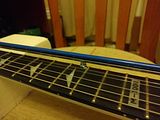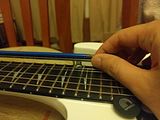 2.2. Move the string out of the way, at the nut. Slacken off the strings if you have to. You will probably break a high E string.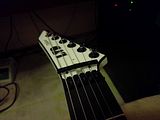 2.3. Cut a groove into the rubber and use it to pinch the slackened string to another string, hence completely clearing the path for the sandy-sandy truss rod.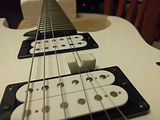 2.4. Sand using the truss rod, up and down the frets, trying to cut material evenly from the frets as possible. You will probably need to re-adjust the truss rod during this process. You will be able to feel where it's taking material away. Do not use force, just lightly hold the ends of the truss rod, and its weight will do the job.
It's possible to do this in the playing position, but it works just fine with the guitar laying down.
After 10 or so strokes, stop and inspect where it's cutting - if it's only in the center, you need to loosen. If the center frets are untouched, you need to tighten. Small adjustments go a long way.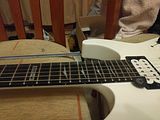 2.5. After you've removed enough material, and trust me, you don't need the sandpaper to touch every single fret, tune the string back up and test every fret by PLAYING IT. This is by far the coolest part of the process - being able to test, instead of removing gobs of material.
2.6. You will probably need to do 2 or 3 tests before all the frets play without buzzing. Go back for step 2.1.
Factory fretjobs are the most uneven at their ends. So if your low E feels like a struggle, this is normal and expected. The outer strings will need 1 or 2 extra passes of sanding and testing.
When the guitar is done it will look 100 years old.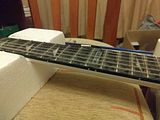 Step three: Test the bends
Test every bend on every fret on every string. Do it now, before polishing the frets. This is the beauty of this method, you can test everything painlessly and without extra effort. Geometrically, bends tend to choke out 5-7 frets above the one being played, so should you run into any issues, that is where you should focus your attention.
I didn't have to do any work in this step, because the frets are a 14" radius, and I managed to sand evenly. It's best to test, because polishing is an incredible pain.
Step four: Clean the fretboard.
Then mask off the fretboard. Throw away the strings that you ruined with the bending test. I did say you were going to need another set of strings!
Step five: Crowning
Just watch
StewMac's excellent video on crowning with triangular files
. Because I live in Europe, I used a Crimson Guitars tri-corner file, which leaves a smooth finish (for a file) and cuts easily without chatter.
Step five: Polishing
I'm still working on my polishing method, so I don't feel confident sharing it. Look up one of the many other guides on polishing frets. I'll say one thing, though. Before you put your strings on, test the smoothness of your frets with a piece of high E string. It should feel frictionless. There definitely shouldn't be any deep scratches for the string to get stuck in!
Step six: Put on your new strings.
Notes:
- The ends of a truss rod, get warped when it's welded together at the factory! Avoid putting sandpaper within 1cm of its ends and you'll be just fine.
- The truss rod tends to untighten itself during leveling, so keep a hand on that adjustment nut and re-adjust it often. You will feel exactly where it's cutting, so don't worry.
- If you have a Floyd, the best time to match the bridge radius to the fret radius is BEFORE you start this procedure, but you can postpone all that bother by setting the string height for each string, so that it sits at 1.5mm while it's being tested.
- The leveling takes around 15 minutes, and the crowning & polishing took me 4 hours. I hate polishing. Next time I should get a luthier to do that.
A curious note about inexpensive guitars:
If your fretboard wasn't planed under simulated string tension, as inexpensive guitars tend not to be, leveling without string tension will leave you with a slight S-curve. The result is a hump at the 5th-8th fret when string tension is finally added.
This is because, as Euler not only discovered, but mathematically proved, you can't completely straighten a beam under tension with force, such as that provided by a truss rod. You will always get an S-curve. This method eliminates the S-curve, solely because it levels under string tension.
THE END.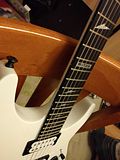 Credits:
This is a ghetto ripoff of the KATANA fret leveling system. I learned it from Sam Deeks aka Reloved Guitars. The dude buys POS guitars and makes them play awesome and stay in tune. Check him out if you're in the UK. He also works on customers' guitars. The dude records a full length video of every guitar he does, so you can see what exactly has been done to it.
I learned the system from this video.