Here's something I made a week ago and it's still holding up so I feel okay with posting it. The amounts of wood and the big holes in them make this project very fragile.
It consists of two parts - the Anchor and the Block. The Anchor is glued to the guitar, the Block goes over it and it's bolted into place.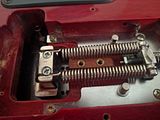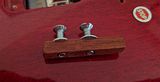 Together, they stop the tremolo from going up.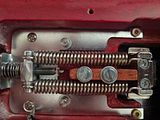 The Anchor has 2 brass inserts, M4, the smallest I could find. It's required because on this S-series there's only 3mm of wood between the bridge pickup and the springs. An RG wouldn't need an Anchor, you could get away with hammering the inserts straight into the guitar. The Anchor is small, at only 8mm wide. It has to be, because the space is small.
The Block has 2 washers slightly countersunk with a vice and superglued to the top of it. The washers are to prevent the bolts from splitting the wood. Both the Block and the Anchor are finished with superglue. No pants were harmed in the making of this.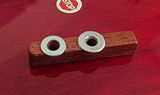 The hardest part was gluing the Anchor to the guitar and positioning it correctly. As you can see, it's off by a millimeter, but the trem works fine. When the Block is installed, it interferes with deep dives, but because superglue is such a hard finish, the spring just glides across it and I can't really feel it through the bar.
When the Block is removed, the Anchor interferes a little with large up-bends. It doesn't interfere with dives or flutter, but I still might re-do this. I used a clamp, but next time I would drill holes through the bridge pickup cavity, bolt the anchor through them, and then chisel off parts of the Anchor until it fits. Clamps aren't precise.
These parts are delicate. I had to take all sort of precautions to avoid splitting them while making this thing. It's a fun project, and the guitar stays in tune better and I can drop-tune it in seconds. I'm calling it a win.