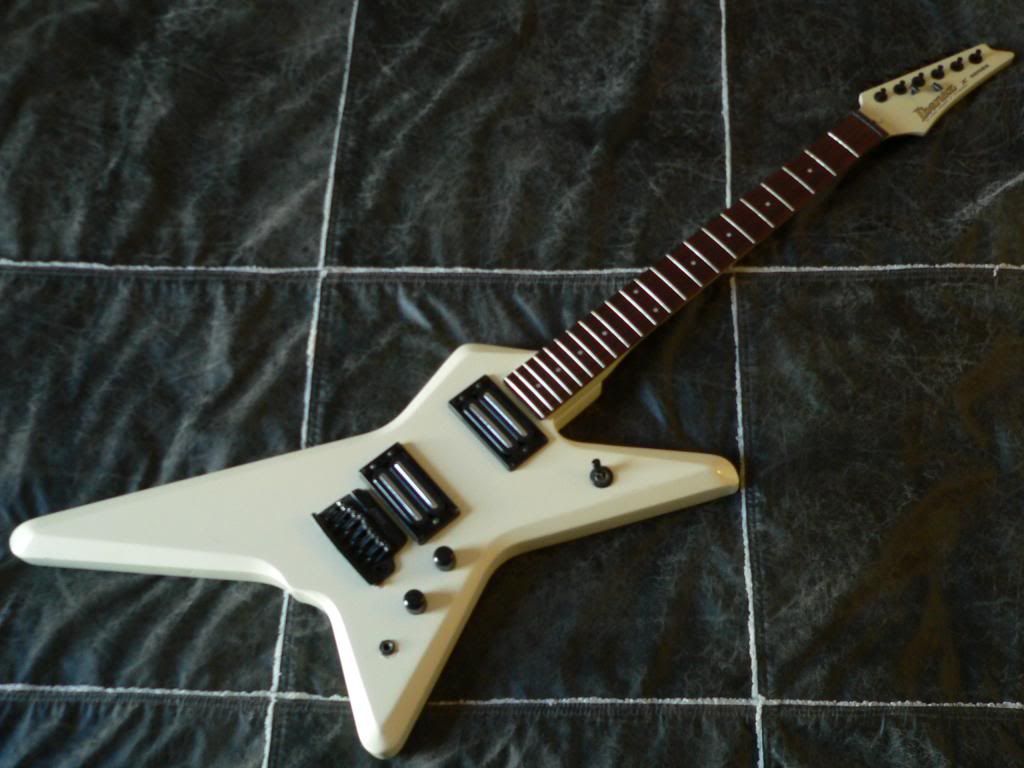 Bought this off a pawn shop on ebay less than a year ago for $250. Wasn't satisfied at all with it for the price I paid for it, but due to various reasons I never went through the hassle of returning it. You almost never see these in white (they don't pop up all too often to begin with), though of course as soon as I said that it turns out another semi local guy has a white one too.
Asking $130 shipped CONUS. Inquire as to rates for other shipping destinations.
Issues *I* feel it has.
-Generally looks like a used guitar from '85. Nicks and dings. Checking. Finish has yellowed nicely. (These both actually look really cool) Visible seams on the skunk stripe on the neck (these necks are painted skunk stripes).
-Neck pocket generally sloppy.
-Stamped with a blue "3" within a circle in the neck pocket. I don't know what this means, but there is obviously every probability that this means it's a factory third. Obviously not disclosed to me when I bought it, though to be fair I've had two other destroyers without the "3" and in my opinion there is no noticeable difference.
-The big one, and the reason I keep selling these guitars. Ibanez neck spacing. Do a quick google image search for ANY ibanez bolt on guitar from like 82-85 and you will see the low E is WAY too close to the edge of the neck. Some guitars are better than others, but they all suck. This one isn't as bad as some I have seen, but it is quite bad. You can try and wrench the neck around in the pocket all you like, but you will, at best, only make it marginally better. Might be able to fix it with filling the holes and redrilling, but who knows. Honestly shame on Ibanez for being that fucking sloppy. It looks like shit. Doesn't really affect playability since you won't be bending the low E up.
-The strap buttons and cavity covers are at home. I'll ship them later during Christmas break. No additional charge.
-No strings.
If any of these are huge issues you can refer to the fact I am selling it for $130 shipped and proceed to go fuck yourself.
I don't expect anyone on this site to make a big deal out of it, but I am technically listing this as a "project".
Cool guitar though. Definitely playable. Sexiest star shape out there too. Shame Ibanez couldn't be bothered to get the necks alignment not shitty on the guitars they put out during this era. On the plus side, the rosewood on all the Ibanezs from this era that I have personally owned is quite nice, and other than my huge complaint with the necks they are quite nice for the money.