Hey guys, been a while since I posted but I've recently come into a bit of financial distress and have no choice but to offload a couple of my favorite instruments. Located in Port Moody, British Columbia (Vancouver basically)
Up first is a US built Schecter custom shop 7 string. Only mod being the pickup swap, emg's to soapbar mount Lundgren M7's. This guitar would run you upwards of $3500 brand new with a 2 year wait, save yourself the wait and a ton of cash!
-26.5" scale, 20 inch fretboard radius, SS frets, INSANE Birdseye fretboard on a quartersawn maple neck through, Ash wings, Matte black finish, raw neck, locking sperzels, tune-o-matic bridge with a redundant battery box from the EMG's. Volume control is pull-push for pickup selection, no tone knob. I have it set up in drop G currently, but if you prefer I'll swap gauges and tuning to your preference. Comes with OHSC and partial candy from Drum City Guitarland.
*There is one small ding in the body visible in the album link below, regular sized pick included for scale*
Find the rest of the pictures here \/
Schecter USA Masterbuilt 7 Story by Bryan Gobbi (Gobbitron) | Photobucket
$1600 USD Cash sale, trade value $1900 USD
Next is an MIJ Lakland Skyline. This particular bass was made exclusively for the Japanese market by ESP. Fetch this puppy for less than what the Indonesian made ones go for used. Basically mint with brand new generic hard case.
-4 string, 34" maple on maple neck, quilt maple top over alder body. J/H pickup combo, Fishman pre-amp with 3 band active eq, tap toggle for the bridge bucker, light weight Hipshot tuners
Here's the manufacturer info page:
ESP | LAKLAND | Skyline Japan Series | SK-4DX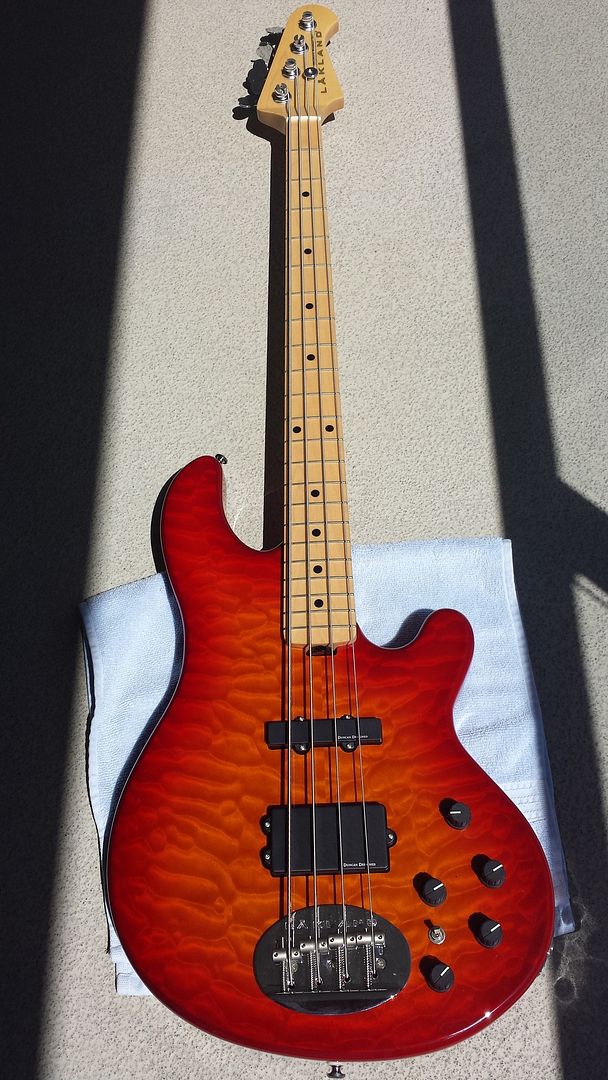 More photos here :
Lakland SK-4DX Story by Bryan Gobbi (Gobbitron) | Photobucket
$800 USD Cash, $1000 USD Trade
Squidbeard can vouch for me, I have feedback on SS.org, bought pickups off Elysian, tons of stellar references on Facebook Gear Exchange.