So I just got this bass from Matt @ EMAC studios here in london. It's a fucking beater. Dear god. It took me and hour to clean the beer off of it, i had to take EVERYTHING apart a clean under it. The control cavity was okay though. Frets are still decent, and after the fretboard was cleaned of beer and re-oiled it looks pretty good too. It needs one HELL of a truss rod adjustment and the nut that was on it was held on with painter's tape acting like a shim, so I'm on the process of re-shimming with a sliver of hardwood from an old table and re-gluing the nut, then I'll be out to tape off the neck and polish the frets with some steel wool. The plastic headstock cap was busted off and lost to the ages and one of the control pots was rubbing against the body. Buckle rash like CRAZY...like, right through the finish.
There was also one little sticker on it, which i removed, and like an idiot, i proceeded to clean the residue off with one of those dish pan scrubbing cloths. so not there's a dull circle on the bass where the sticker used to be. Any ideas how I can polish that back up?
I also removed and pulled an EVH and boiled those fuckers since I can't be bothered to spend $30 a set experimenting with a comfortable string gauge. If any of you bass guys want to give some advice as to what I can put on my bass to tune it UP, that'd be killer. A place that sells custom string gauges would be nice too.
More info when I get to play the bass for a bit. Until then, I'll just post some pics to preempt any
comments.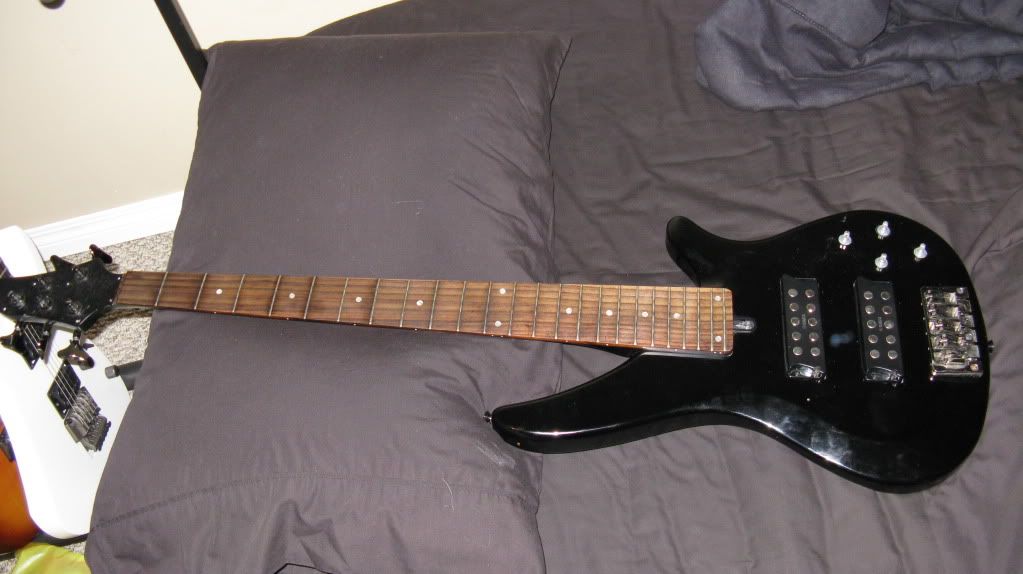 Just after being cleaned (sorta) Reven the neck was caked in beer residue.
pretty much the whole bass looked like this.
The bridge has seen better days too. I'm eventually gonna take it apart and give the whole thing s good scrub down.
you've never seen buckle rash like THIS!
the neck, after cleaning. It's since been oiled.
one more little daylight shot for ya!
So that's my NBD. some sound clips will be posted once i get the strings on and get the neck/action adjusted.