Atomic Music had a used one of these bad boys on sale, so how could I resist? And yes, I sanitized the mouthpiece before using it.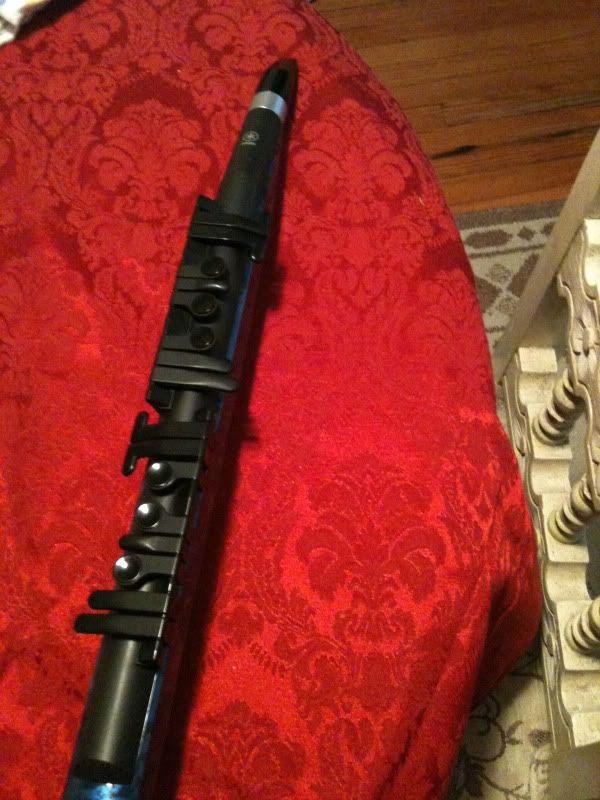 I've been wanting a WX5 for awhile now, and so it was mandatory to buy a used one that came up for sale locally.
Am I a highly experienced wind player? Fuck no! I did play clarinet as a young kid, but that was a long fucking time ago. Nevertheless, I'm already having more fun with this thing than should be allowed by law, going MIDI into my Yamaha Motif. The beauty of an EWI is that you can have the worst embouchure in the world, and it doesn't really matter.
The hardest part for me is getting use to the saxophone-like fingering, which is considerably different from clarinet, and thus not triggering any latent "finger memory" I might have. It'll take a little while to master that, to be sure.
The WX5 normally comes with both "reed" and recorder mouthpieces, but mine didn't come with the reed mouthpiece, which uses a fake plastic reed to simulate the pitch effects that a sax player achieves. I need to get that, because the recorder mouthpiece doesn't allow any vibrato, which is obviously a big part of playing sax (the main reason I got this).
I'm also going to get a Yamaha VL-70m, which is a tone generator specifically designed for EWIs and has a dedicated power/data connection to the WX5 that is a lot more convenient than batteries or a wall wart. A company called Patchman Music makes a replacement chip for the VL-70 that is supposed to be out of this world. Sound samples I've heard are uncanny in sounding like the "real world" instruments. The regular Yamaha patches in my Motif are good, but you can definitely hear a lack of nuance in them.
I'm not giving up guitar, though...