I thought i'd make a new thread in case anyone else was interested in doing this, maybe we could learn together if I get stuck on something.
I will post pics and updates as soon as everything gets delivered. I'm taking the easy route, because I feel it will turn out better, and I won't have to drill any holes or mount anything in the drums themselves (like you see on some sites that have tutorials for this).
For the drums, I grabbed a set of Ddrum Triggers, and Pearl Rhythm Traveler mesh heads. The mesh heads are cheap, and will fit on any acoustic drum, and make it virtually silent.
For the triggers, I opted for the better Ddrum triggers, didn't go for the most expensive because I really didn't see much of a difference. Just got them a few days ago, they are just an armored piezo, but they are built very well and seem like they could take a beating and still last.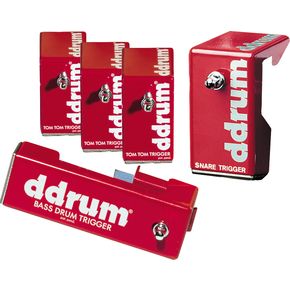 Since I have Superior Drummer, and will be using that for sounds, I grabbed an Alesis I/O USB Brain, which has no sounds, but has a shitload of inputs so I can have as many triggers as I need. Sweetwater has these for $160
For cymbals, I am doing what this guy did (video below) and converting cymbals into triggers. A crash with a choke, dual zone ride (bell and cymbal), and a china. I have not figured out what i'm going to do for a hi hat yet, he has a tutorial for that, but it's just a little bit too much to do IMO.
http://www.youtube.com/watch?v=W6HjxoNGhEU
I already have a cracked crash as my first test subject, and will grab a cheap used wuhan china and a super cheap ride from a pawn shop or something. The top will be coated with a 3M spray to mute them, piezos and stereo jacks mounted on the bottom of the cymbals and protected by a plastic cover of some sort.
So, all together here is what it's costing to make an electronic kit that feels as close as you can possibly get to a real kit:
Ddrum triggers: $199
Alesis I/O brain: $160
Mesh Heads (4 piece kit): $44
Piezo elements: $8
Cheap Ride/China: $30
3M Adhesive Spray: $10
Total: $451
So, barely more than I paid for my shit Alesis kit that literally fell apart.
Will post updates as soon as more stuff gets delivered.