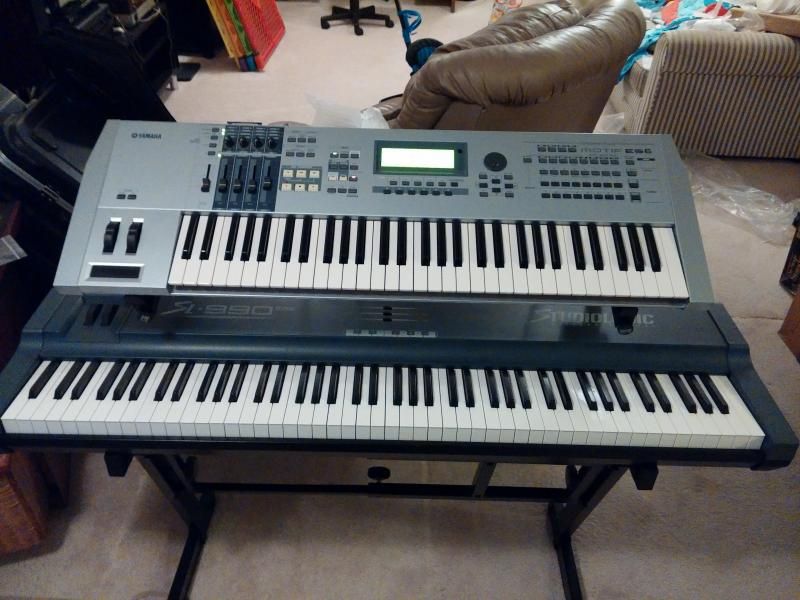 The new keyboard is the bottom one--a Studiologic SL-990 Pro MIDI controller. 88 keys with weighted action.
I've had the Yamaha Motif on top for many years, and the action is great for unweighted feel (not mushy at all), but I've been wanting to get my piano chops in a little better shape for awhile, and I find it tough to get the right feel and phrasing on unweighted keys. Organ and synth stuff is obviously a different matter. In fact, the action on the Yamaha might be a tad too firm for really good organ smears and such.
I got this Studiologic dirt cheap, and the action is way better than most of the weighted controllers I've tried. I originally wanted an Akai MPK-88 with the built-in percussion pads and zillions of knob/fader controllers, but the action on those is terrible--way too heavy and no "bounce back." Very sluggish to play, and fatiguing too.
The Studiologic doesn't feel exactly like real piano keys, but close enough for now. I eventually want to get a Yamaha 'electronic piano' that has more realistic action, as well as built-in sounds and speakers for when I'm 'shedding and when my son starts piano lessons in a few years. As long as it has a MIDI out, it works with my studio. That's a bit more money, though.