first off - i are dunce. please do treat me with kid gloves as i'm really not that good at tech stuff.
got some problems with running battery 3, using DKFH samples, in sonar. for ages i've been using a stock kit which is only either 'room' or 'close' (ie. not both) and i'm bored of it.
recently i was handed a kit which has amazing combined sounds, but...
1.
in the piano roll when programming with MIDI, the sounds are attributed to keys that are all over the place / illogically distributed (as opposed to how other kits are assigned in ascending order, close to eachother)
2.
with something programmed in MIDI to fire the samples, they only play for as long as the MIDI entry is. in other words, the samples are cut short, whereas the standard kit i've been using has the whole sample play even if you've programmed hemi-demi-micro-mini beats in rapid succession
i now need to find out:
a) how can i attribute more than one sample to fire when one key on the piano roll is programmed, as seen here: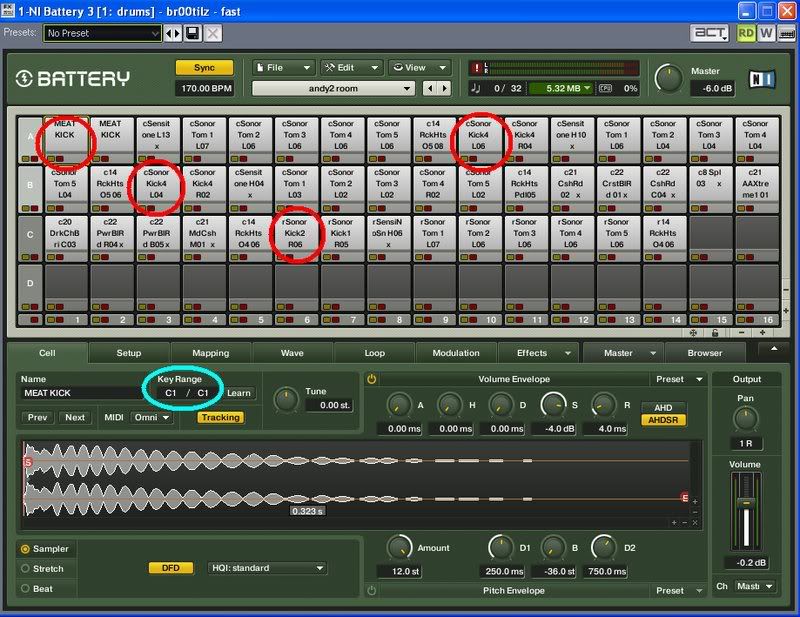 this is the new kit that i love the sounds of, you'll see that the red circles are the combination of samples that fire when you audition the 'MEAT KICK' button. how do i do that on my normal kit?
b) how do i assign said group of samples to 1 particular in key in the piano roll? i thought it was the section in the blue circle, but it's not.
help? please?
thanks guys.
H