Discussion Starter
·
#1
·
Brief & Accurate Description of Guitar: 2004 Ibanez J Custom RG8527VV 7 String Guitar in excellent condition
Modifications (if any): none
Accessories: Original Ibanez UV1000C, tremolo bar, allen wrenches, tags and a certificate of authenticity
Location: Plantation, FL, USA
Contact Info: PM here or at my email:
[email protected]
References Required: ebay user name - jjgator76; gator99 on JP forums, ss.org & Jemsite; Mesh can vouch for me also
Price (include currency and if firm/obo): $1700 USD shipped and PayPal'd to continental USA, price is firm (PM me if it is a local South Florida pickup) - only trade I would consider for a Fractal Audio Axe-FX Ultra for the guitar and cash on my part.
For sale is a 2004 Ibanez J Custom RG8527 VV 7 String electric guitar. It is in excellent condition (some rash & scrapes on the back side - none on the edges or the face of the guitar, no corrosion of). I am the original owner and it has been kept in an air condition/smoke free environment - another case queen. Included are the Ibanez UV1000 case, Ibanez strap locks, tremolo bar, allen wrenches, tags and a certificate of authenticity. As some of you may know, this guitar was never available for sale in the US - I ordered it from Ishibashi Web Store in Japan through the internet and it was shipped directly to my house.
Vintage Violin stained Flamed Maple Top over Mahogany Body
3 Piece neck
Rosewood fingerboard with offset dots
Rosewood headstock overlay
Binding on Headstock and Neck
Edge Pro 7 Tremolo
Factory Installed DiMarzio 7 String Pickups
Pictures: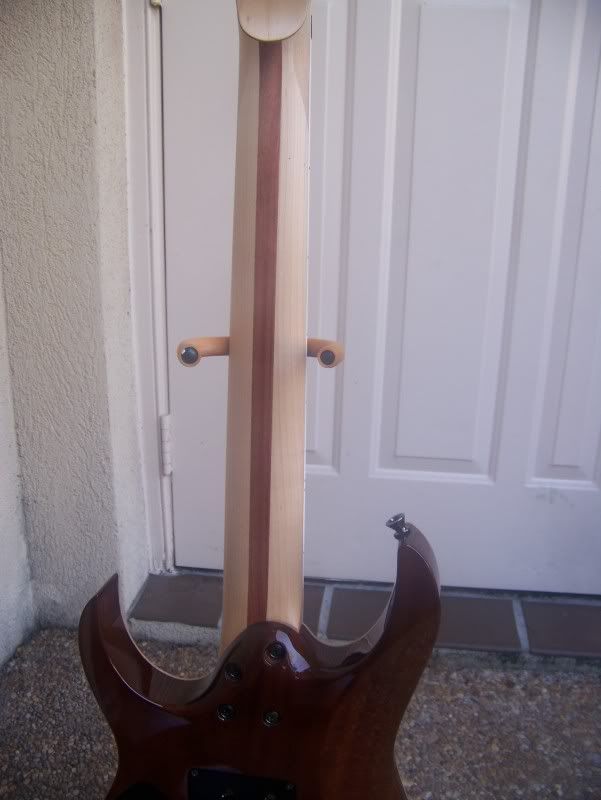 For more pictures, please go to my photobucket folder:
Ibanez J Custom RG8527 pictures by jjgiol - Photobucket
In the photobucket album, there are 2 pictures that show the guitar in a blue lined case. Those pictures were from when Ishibashi was about to send me the guitar and they took pictures for me to see it. That was the original case which I do not have anymore, so the case to be included is the UV1000C with the burgundy lining.
Also, the fret size appear to be jumbo with a width of about 0.11 inches and a height of 0.055 inches. The guitar is currently setup with D'Addario 10 gauge strings and tuned to BEADGBE. The action has been set to 2.5/64ths of an inch (1mm) on the 24th fret on the 1st string and 6/64ths of an inch (2.4mm) on the 24th fret on the 7th string. There is some buzzing on the 1st string with the action this low, but the string does not fret out when bending.
Please let me know if there are any questions or other pictures you would like for me to take of the guitar. Thanks for your interest!
Regards,
Juan (gator99)