So earlier this week (monday) I got a parcel in the mail. No picstory here, just some insights into my new toy, and "TOANZ". So on to the toys. Long boring story short, I picked up a used ENGL e530 from a guy on SS.org and FINALLY got it into my rack today.
I was so stoked on finally getting my all-rack rig going that I even photoshopped myself a picture of the finished rack so that I could look at it while the parts are on order.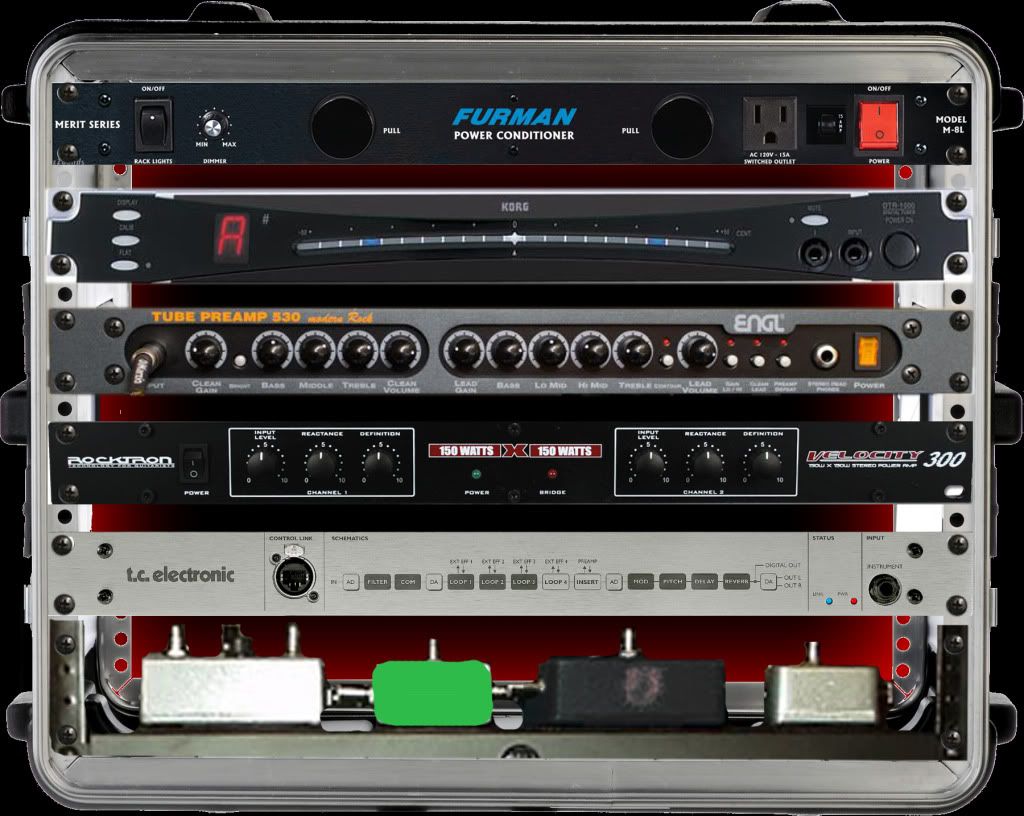 A few things I REALLY like about this pre-amp, is the foot switching system it uses. It's like a match made in heaven for my g-system. The TRS footpedal jacks work like a charm with the g-system relay switchingm allowing me to control my channel switching and hi/low gain settings on the e530, as well as STILL having the second rlay jack open for something else (i might just use it for my tuner, so i can one touch mute/tune right from my pedalboard, instead of walking over to my rig to hit the mute button. I COULD use the second relay with the e530, but all I'd get to control is the preamp defeat, and contour buttons, and honestly, I'd be leaving the contour on all the time anyways. Relay switching the preamp defeat button with my setup is so redundant it's laughable. I have my setup run with the loops in my g-system controlling where each of my pedals and junk are in the signal chain. The chain goes OD808 > e530 > MXR EQ > ISP. I can switch any of those 4 loops on/off at any time at the touch of a button, so why do I need a relay cable to do the same thing? I don't. SHADDAP!
So I cabled everything up (sloppily) and got to testing out a few riffs. It's kinda strange, but the e530 sounds a lot like my XXX did. I'm thinking this is because I'm running through the power section of the XXX, with all the same pedals and gear. I mean, all the XXX did was control how much gain and volume I had, and all my EQ was done in the g-system and with the MXR EQ. I was worried I wouldn't like the tone of the ENGL as much and my head, but so far those worries are completely unfounded. I've still got tone that I dig, even if I'm still chained to that 50lb box of loud. The true test will be when my velocity 300 shows up and I REALLY get to testing things out. If all the hype about the velocity is true to fact, then I should be just about set for awesome tone. But, hype is hype, so we'll see what happens. It's suck balls for this poweramp to sound bad after I bought it new
Since I'm typing this crap and have nothing better to do, I should also mention that I'm looking to add a few things to the rig after I get my power amp, just to complete the functionality of "teh rack". It looks like I have enough space for at least one more pedal in the loop of the g-system, sincethe insert loop (as far as I know) is functionally EXACTLY the same as the 4 other loops that come before it, so I want to throw a line driver/boost pedal in the 2nd last loop so I can have an actual boost in my rig. (before you ask, the boost in the g-system actually attenuates your signal from the get-go, the higher you boost, the more it attenuates. this attenuation sucks tone HARD, so I have it locked to be "boosted" at all times. Activating the boost gives you your original signal level back, and thus, more volume.)
The last piece of gear I'm looking at is the new Line 6 G50 wireless. It's $400US, but from what I've read, and the reveiws and videos I've seen, it's basically the best new wireless out there...period. No license required in other countries, good battery life, no tone sucking at greater ranges, only 12 channels to select from (all of them free, at all times...unless someone else is using your channel, I guess.) It even has cable modelling, to simulate the high end roll-off from long cable runs, if you're used to that. It says it's range is 200ft line of sight, but that still allows for moving between walls and crap, from the youtube videos I've seen. Kids leaving the g30 (100ft range LoS) in their basement and walking up to the send floor of thier house wihtout it cutting out, dudes walking across the street with traffic and all that shit, with no interference, and no tone loss. Seriously impressive, and I've always wanted a wireless. the only reason I'm going with the g50 over the g30 (besides the fact that it has double the channels, range, tuner out, and cable sims) is the all metal housing for the transmitter and reciever. Even if it's hardened, or some special plastic, i don't trust it. I'd rather have metal (wouldn't we all?), and I think that justifies the extra $100.
So yeah, enough with my wall of text. I'll be taking pics of the new rig once the velocity and my rack drawer arrive.
Until then...do....stuff?
TL;DR
Got an e530, sounds baller.
This is further down the page as well. Figured I'd keep everything on the first post if I could.