Discussion Starter
·
#1
·
I've been meaning to make this thread for a while, after getting the ok from Chris. This will be a preface to my website and my own subforum on here, just need to get more material worked up for the site and work with Chris on the subforum thing.
I've got several builds currently in progress, some spoken for, some not. I'll start with the pair of 8 string multiscale guitars I'm building.
Specs of the customers 8:
25.5-27" scale length
Custom made bridge
Nordstrand custom made pickups
Ash body
Maple/Purpleheart neck
Ash headstock
East Indian rosewood fretboard
Asymmetrical neck profile(see here
Off center truss rod
Hipshot tuners(black)
Dunlop recessed straplocks
Neutrik output jack
Single volume
3 way blade switch
Graphtech Black Tusq nut
Grey to black burst
Specs of my 8
25.5-27" scale length
Custom made bridge
Nordstrand custom made pickups
Mahogany body
Very thick quilted maple top with a new concept, forearm contour bent into the edge of the top.
Maple/walnut 5 piece neck
African mahogany headstock
Cocobolo fretboard
Asymmetrical neck profile
Off-center truss rod
Hipshot tuners(black)
Dunlop recessed straplocks
Neutrik output jack
Single volume
3 way blade switch
Graphtech Black Tusq nut
Not sure on finish yet, likely faux natural binding and some kind of burst.
For these builds, I'm building mine first, as the prototype, and building the customers alongside it, though several steps behind. I will likely finish my build before I'm even ready to spray finish on the customers build. I've come up with an individual saddles bridge concept that I am trying out on these builds. Pics: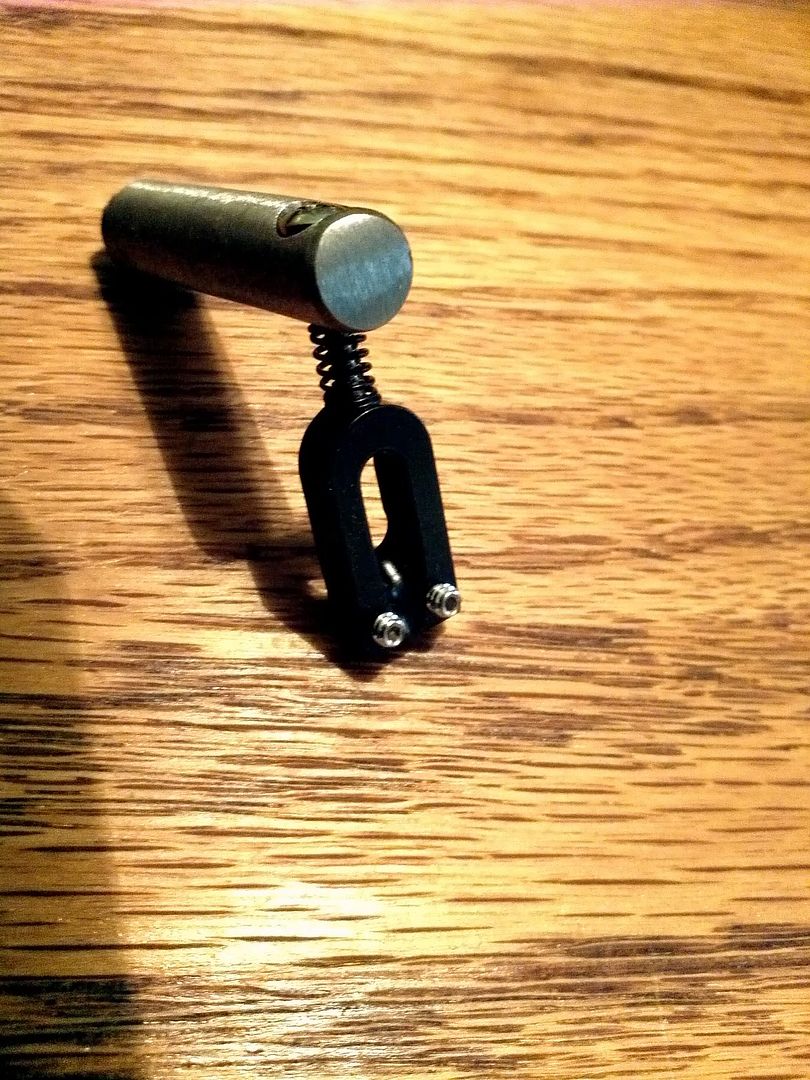 And one of the saddles/posts installed: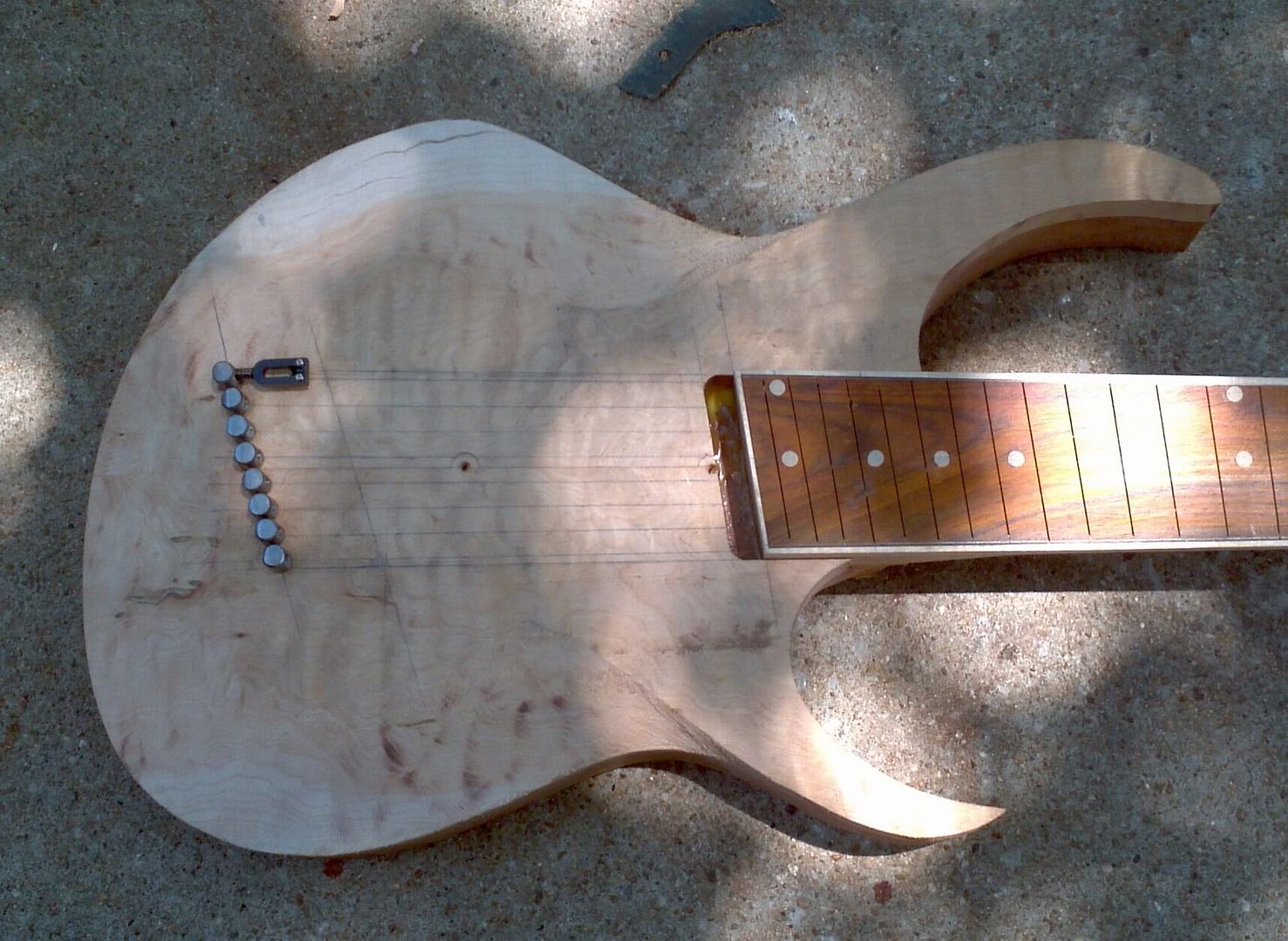 Basically they're pressed in to the body. They're currently made of 3/8" steel rod, as it was the easiest material to attain for prototyping. I may look into using brass in the future.
Here's my drop top carved top: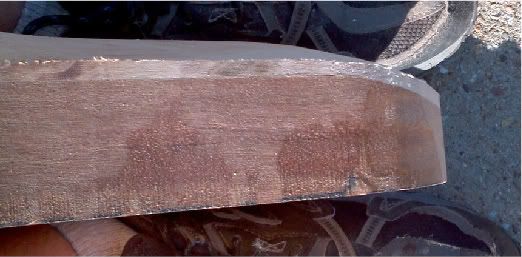 It's very comfortable but the process is anything but finalized. Lots of trial and error, lots of learning, but that's the price one pays for trying something completely new.
Here's where the customers' 8 currently is: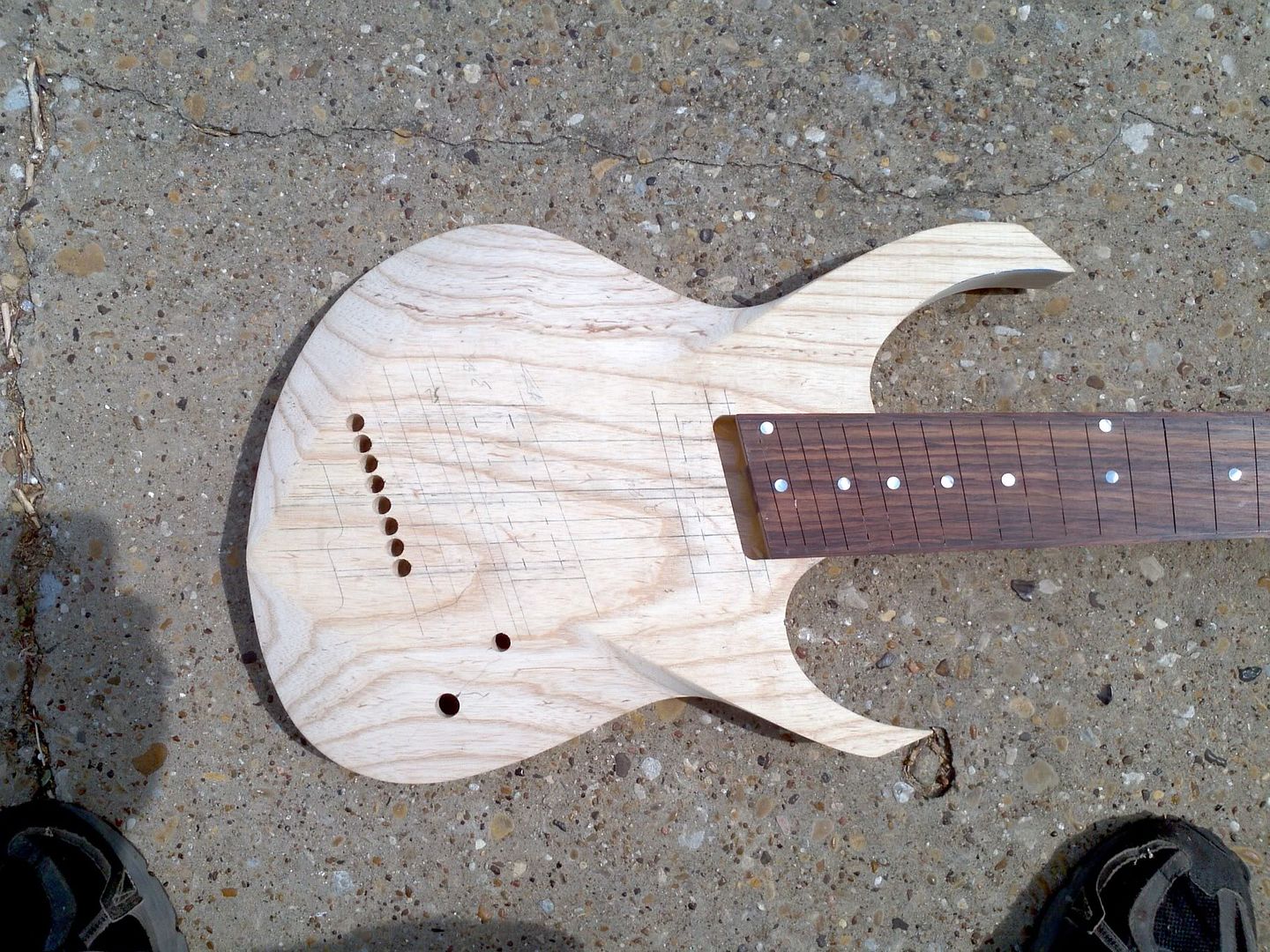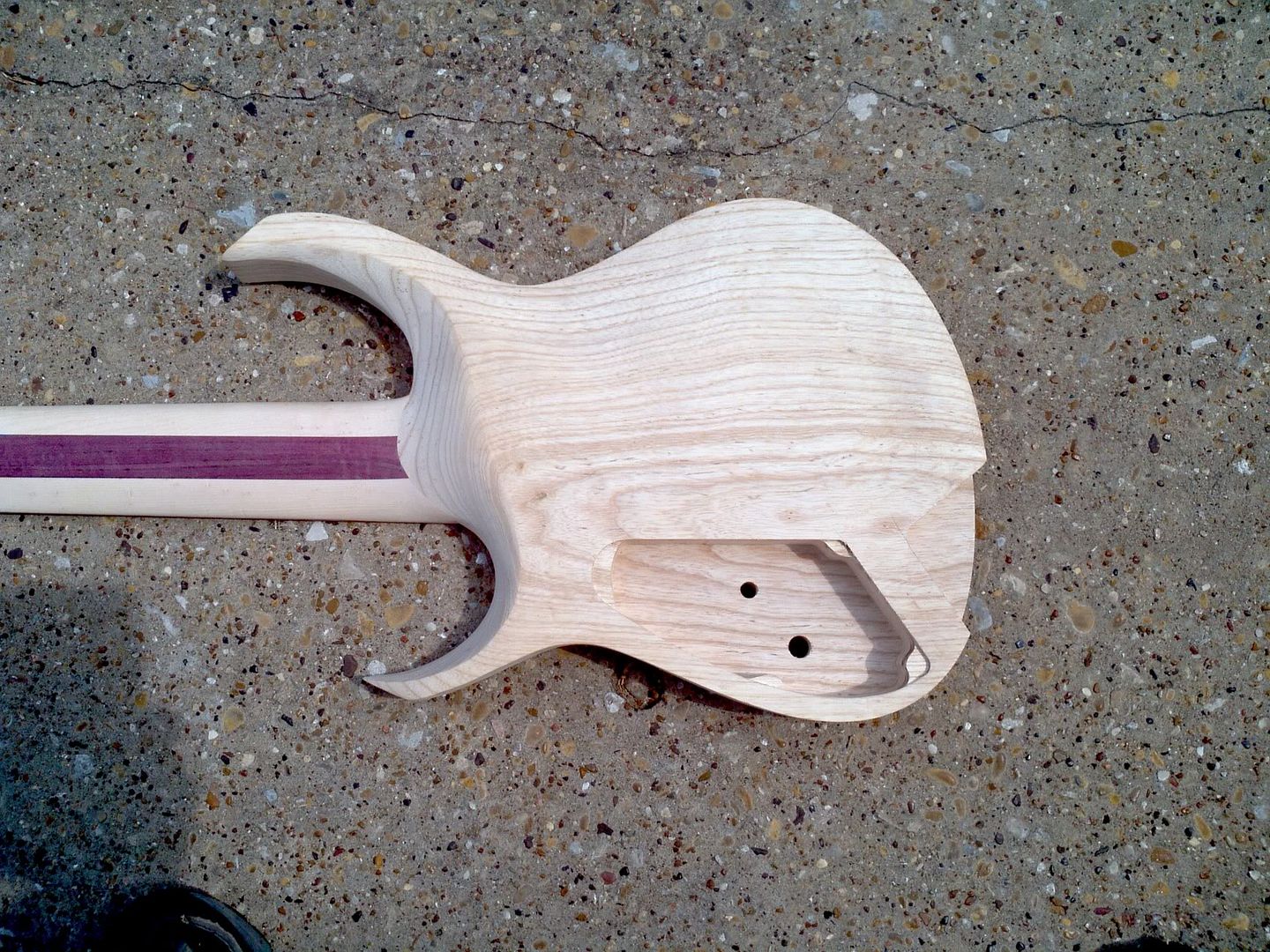 And the heel, inspired by Chris' blackburst Sherman :wub: :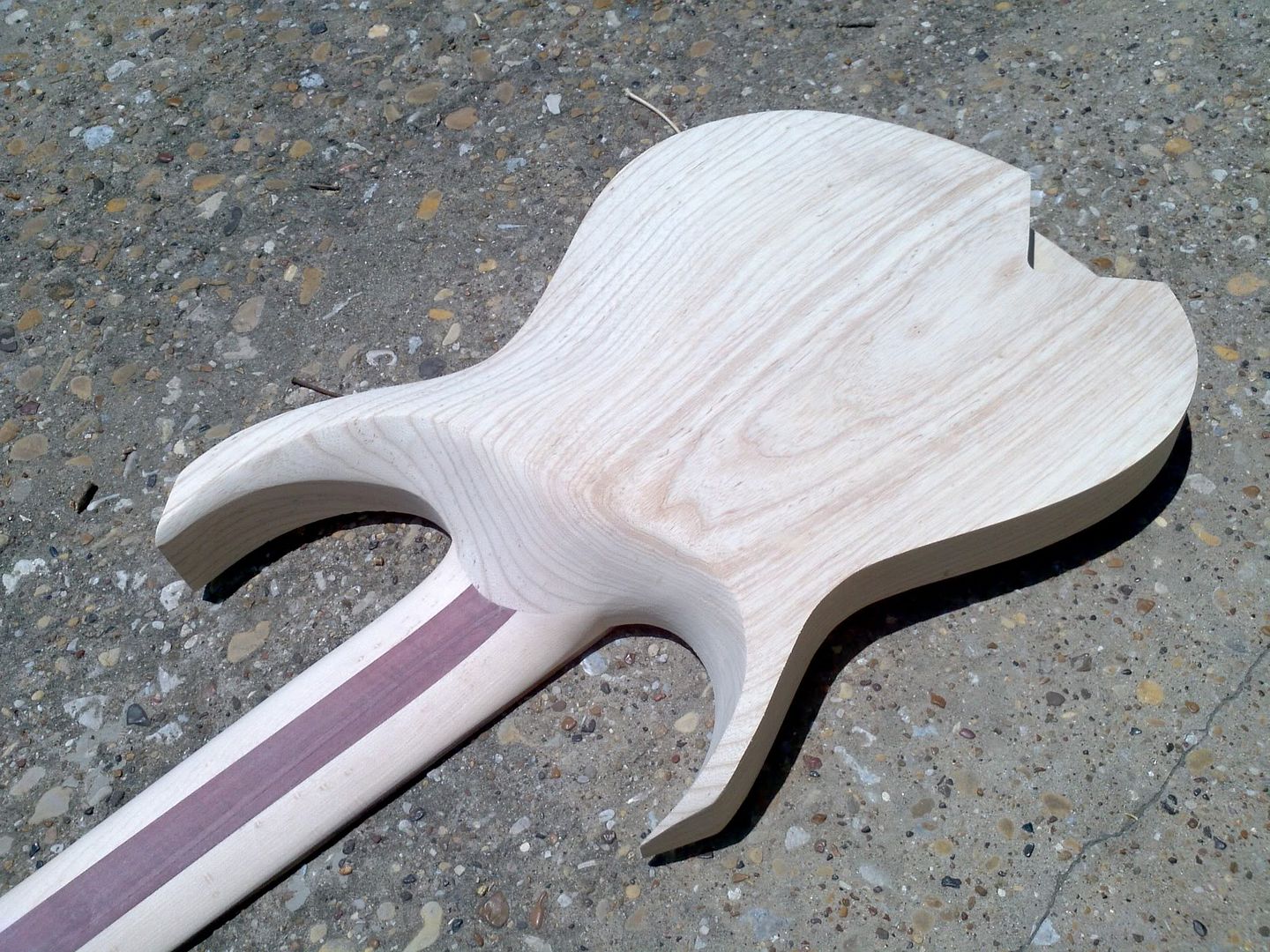 Here's the headstock: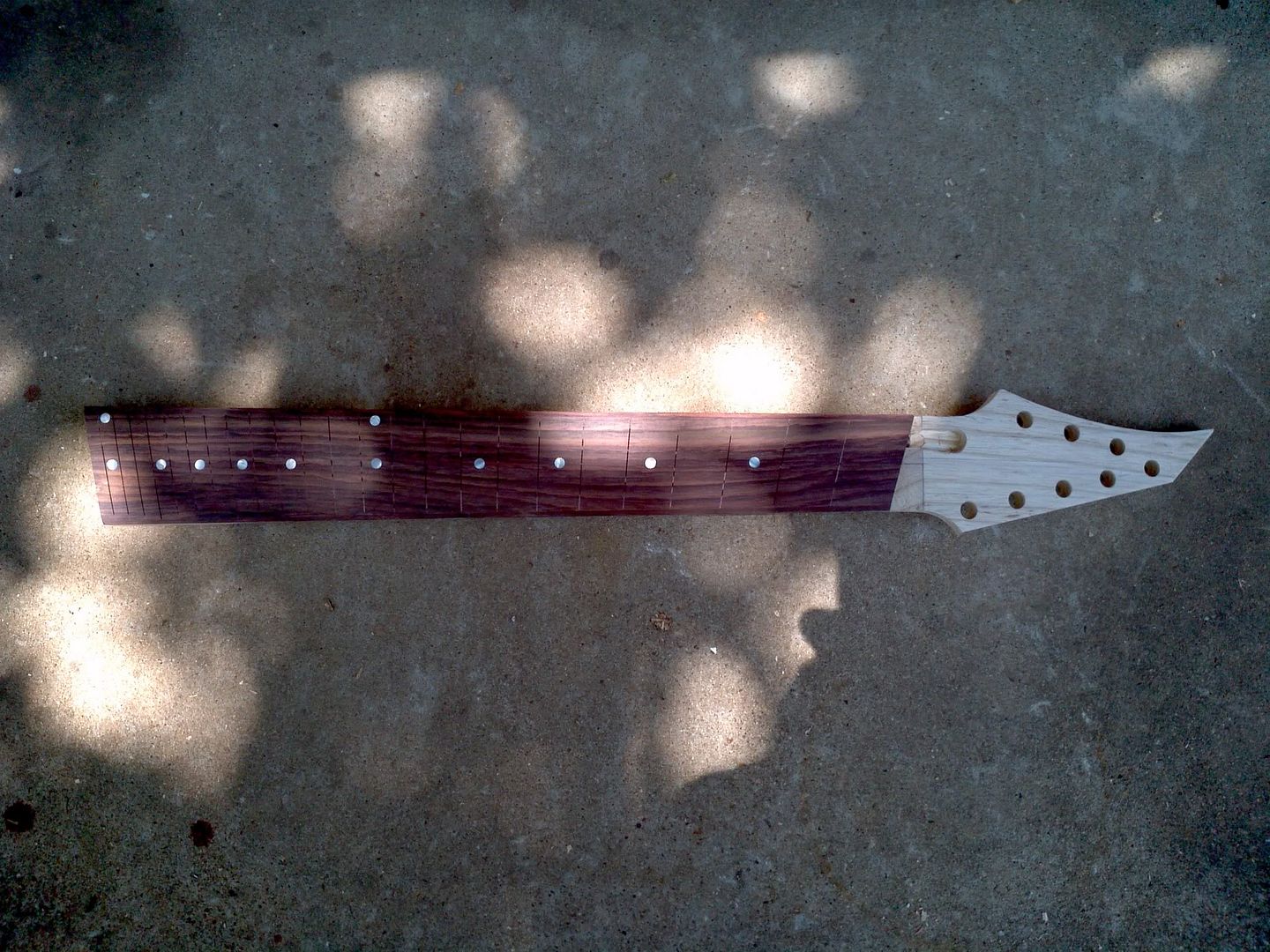 The customer has already come over recently and checked out the progress in person, it's a pretty awesome feeling seeing someone just light up over an unfinished guitar! He laid out the controls for me while he was here and asked for a slight tweak on the neck profile, otherwise was extremely happy with how things were shaping up.
Late last week I went out into the shop and decided, kind of spur of the moment, that I was going to come up with a single cut design. I pulled out my superstrat template and got to work, this is what I came up with: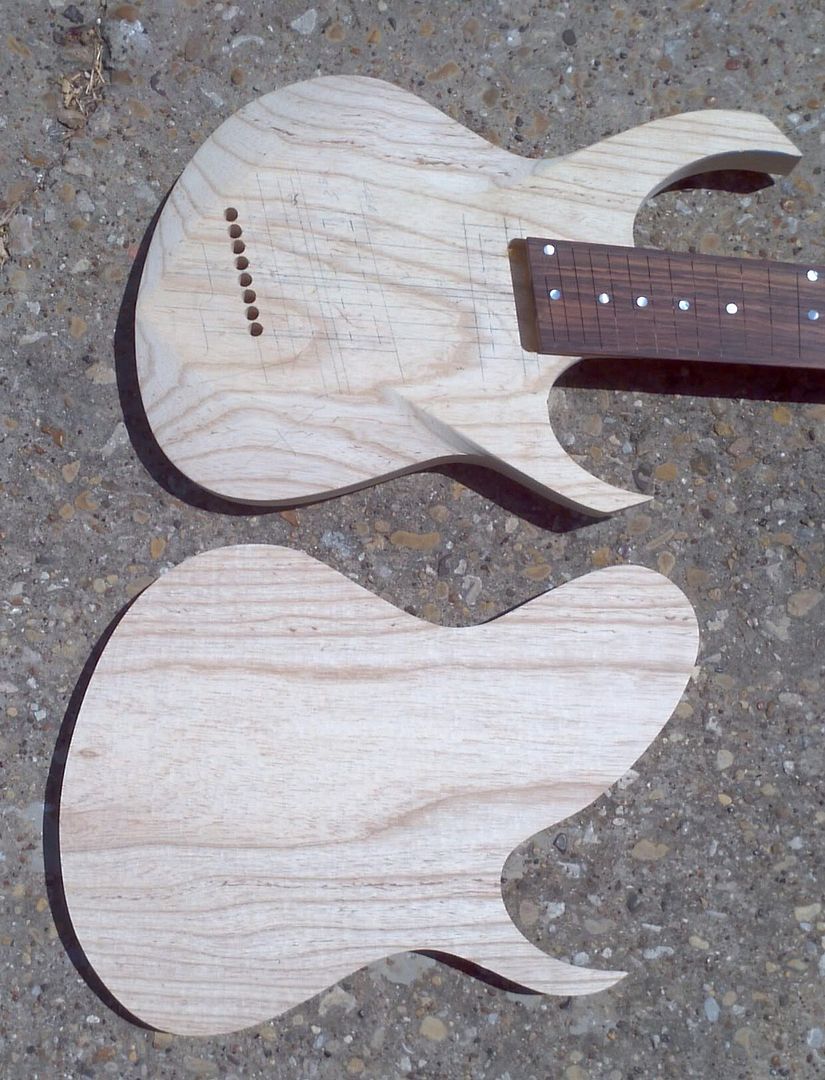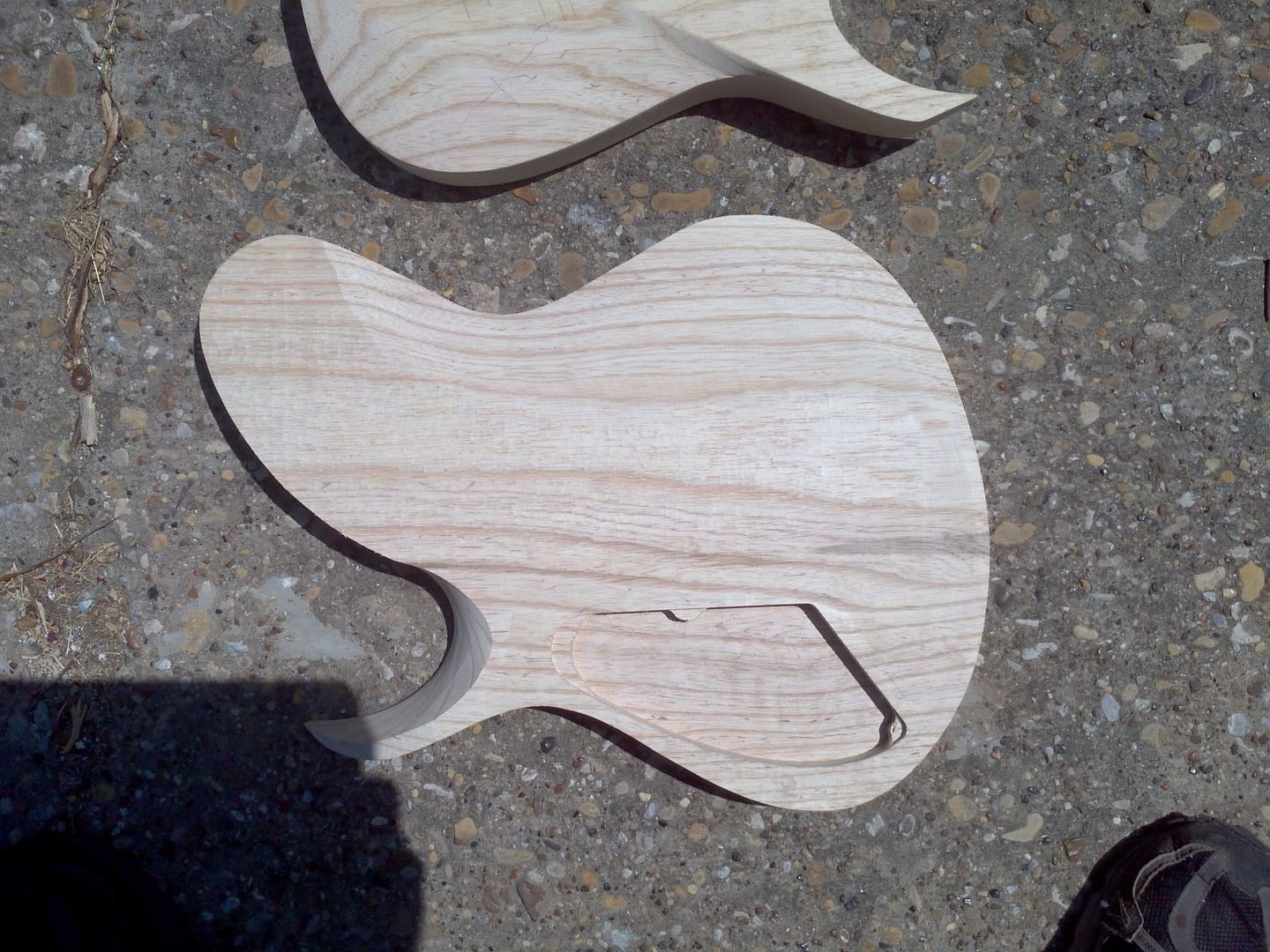 It's slightly wider in the lower bout than the superstrat shape, otherwise it's the same lower horn and same curve at the butt end. The shape isn't final yet but I'm happy with the overall look of it right now. I'll finalize the shape after I've made the neck so I can see how it will turn out. Here it is with its top wood: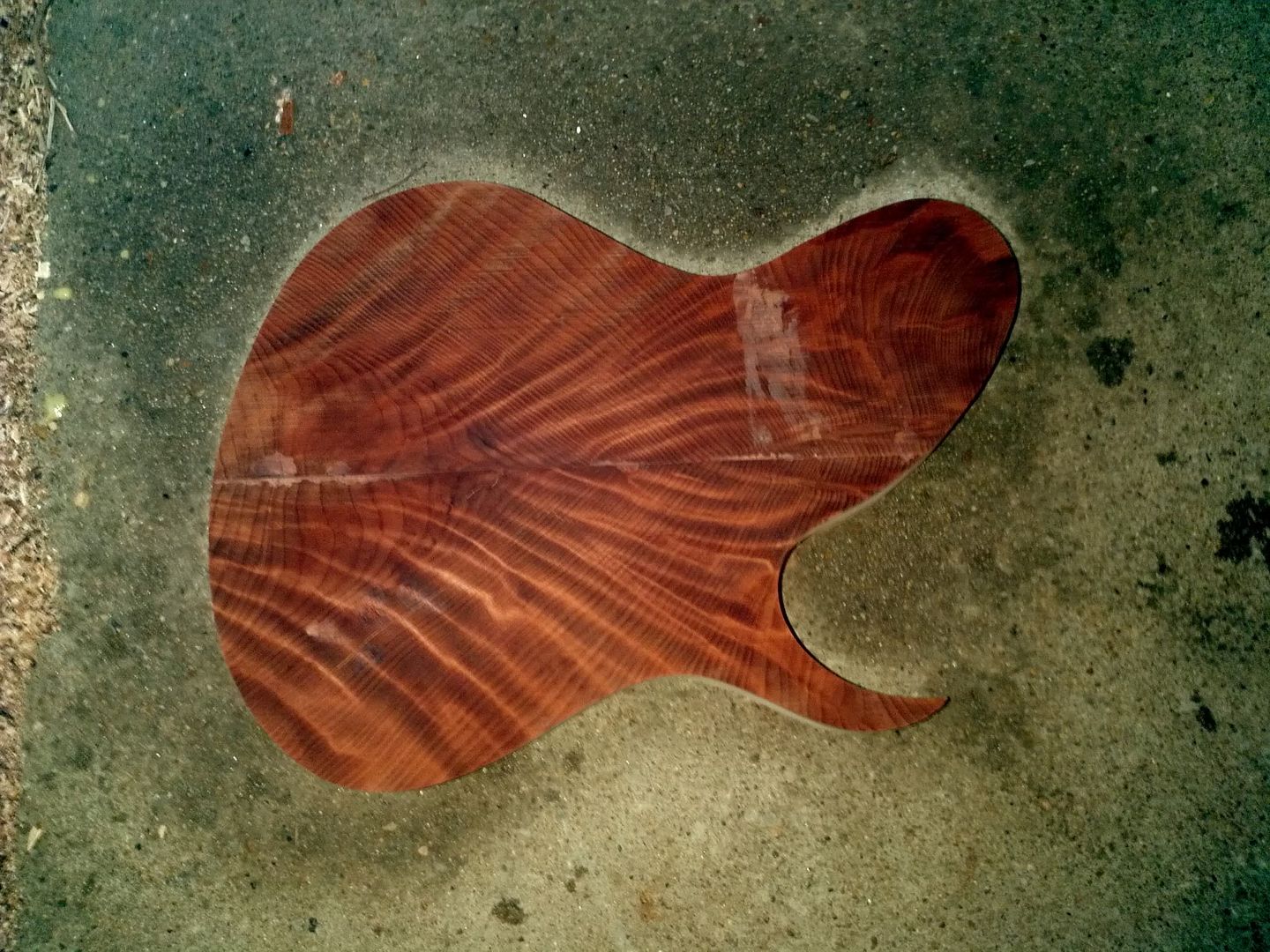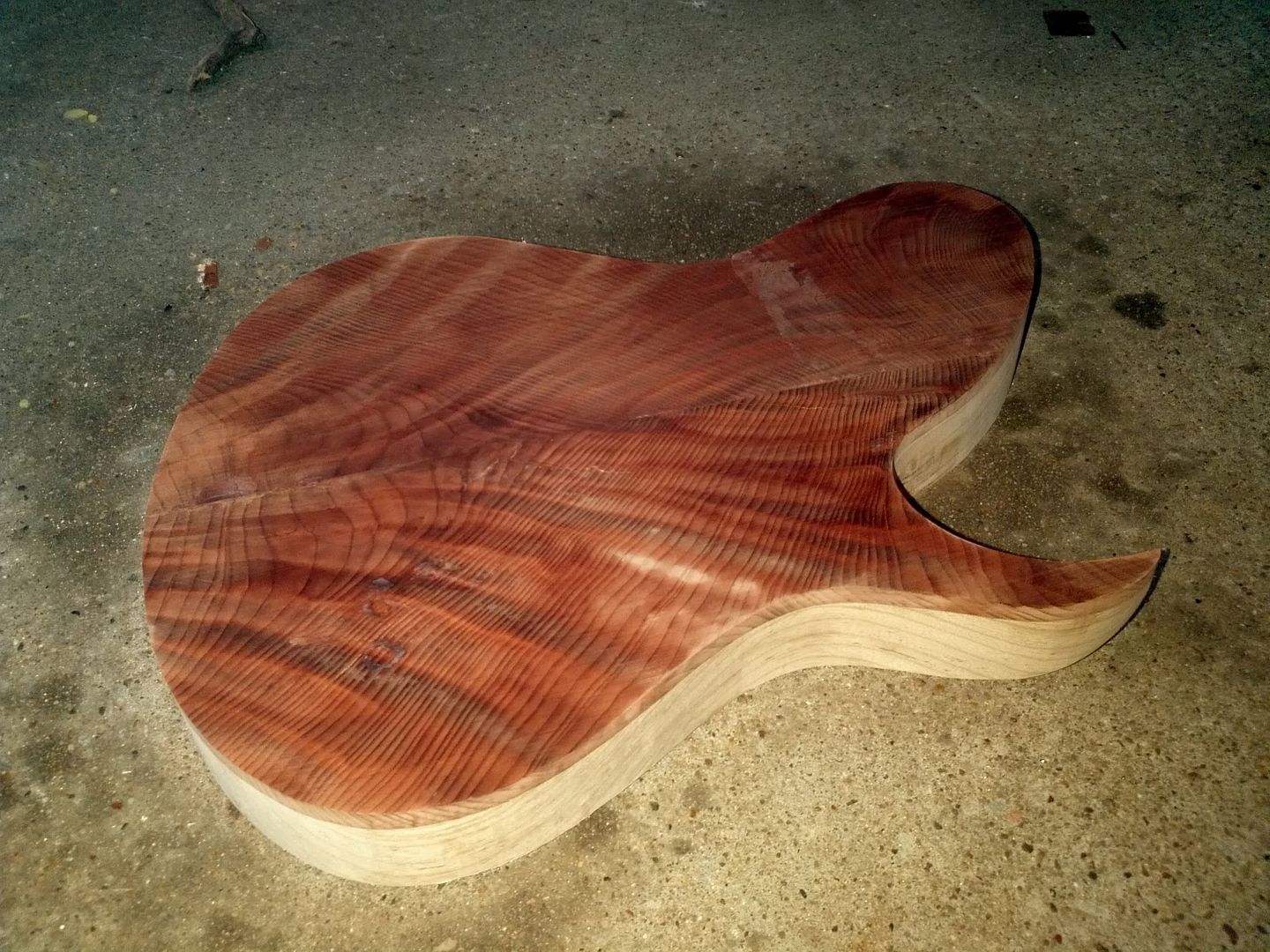 That's a redwood top, and just gorgeous if I do say so myself.
My straight scale 8 is also still a work in progress: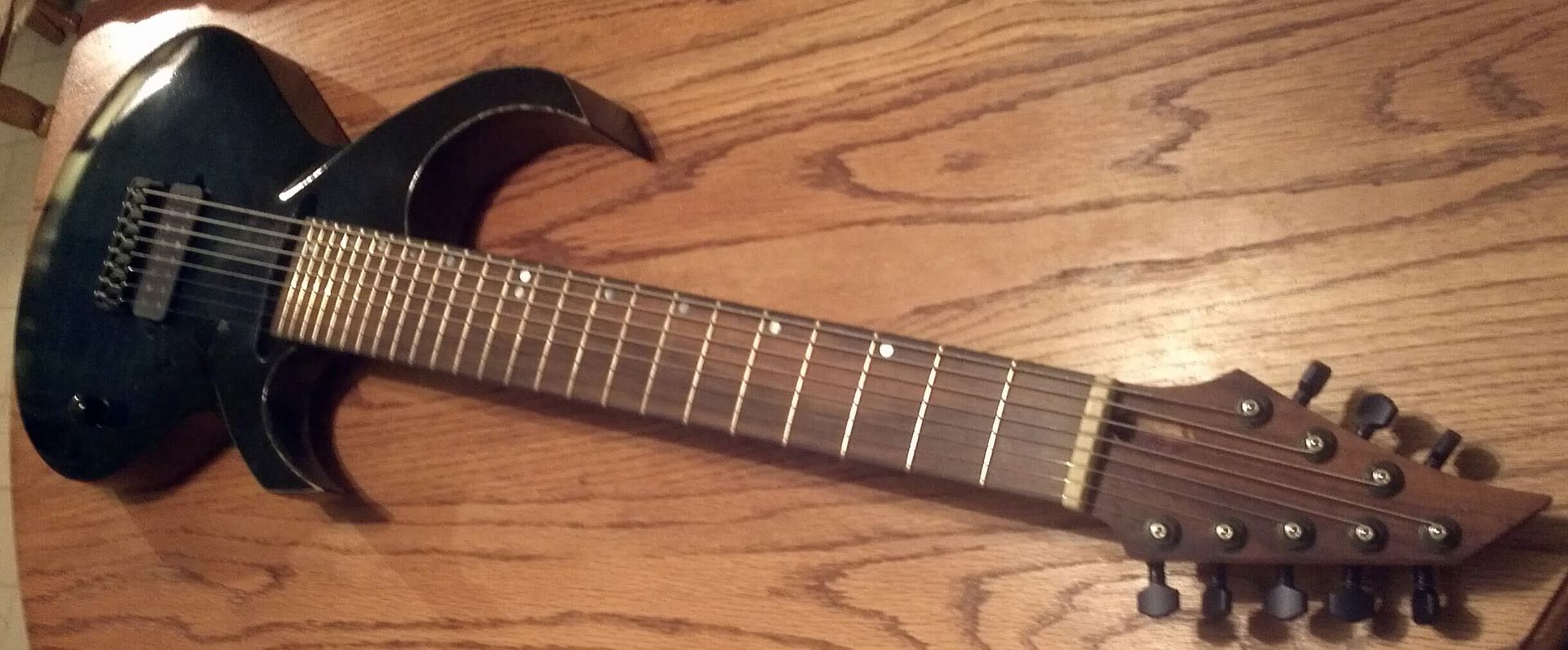 I put it together and set it up so my local customer could check out the asymmetrical neck(which he decided he MUST have) and the Nordstrand(which he also decided he MUST have). I need to order a new neck single as I somehow managed to lose the one I had. I also still need to wet sand and buff it, finish its wiring, finish the nut, apply a headstock decal(which I still need to source a company to make them), and spend a little bit more time on the fretwork. First time using evo fretwire but so far I love it.
Here's the asymmetrical neck profile: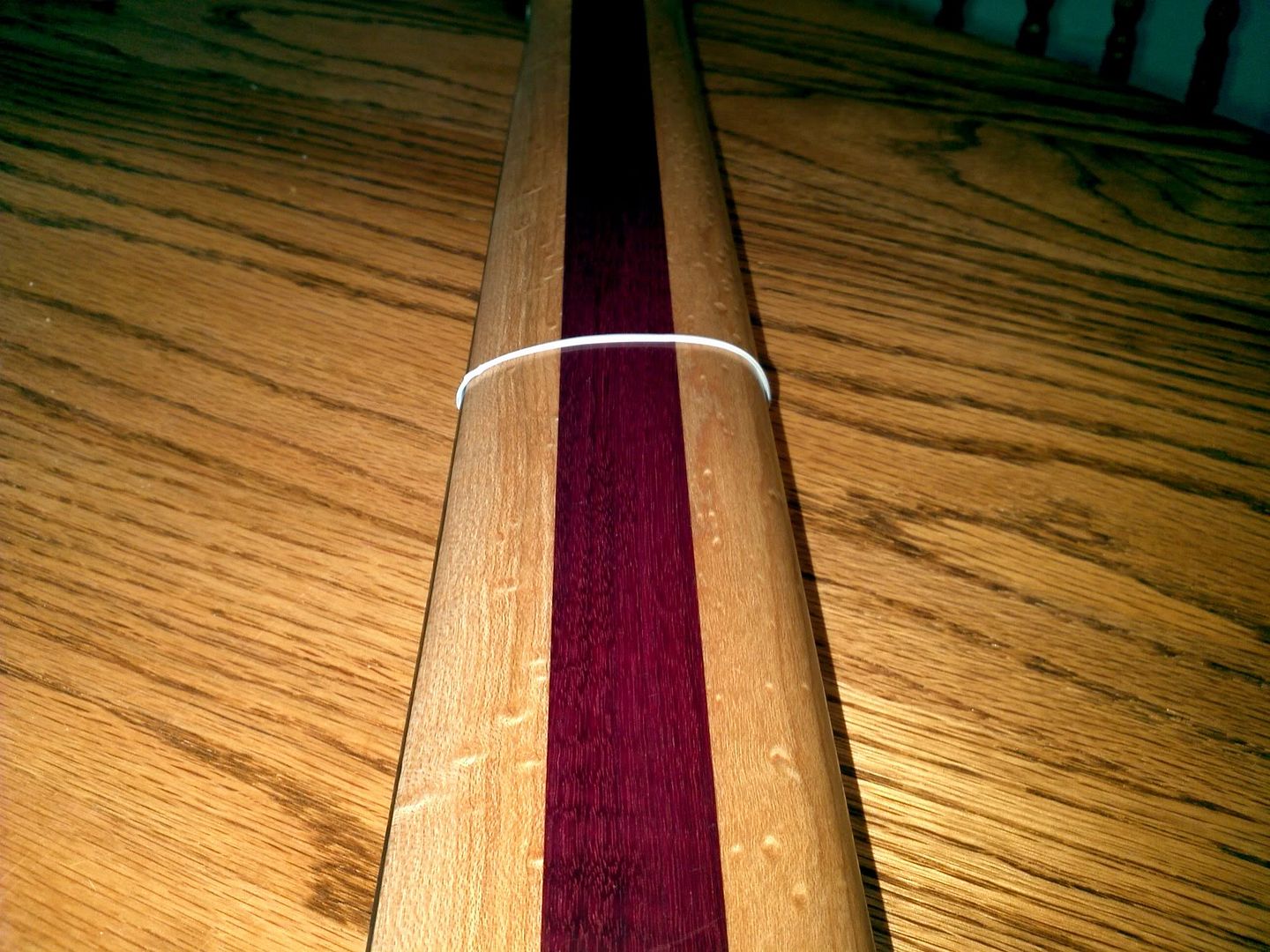 This is also the first build I ever offset the truss rod on, which is why I went ahead and offset it on the 8 multiscales. It allows me to get more agressive with how asymmetrical the neck is while still giving the neck the same adjustment it would have with a centered truss rod. I do not use dual truss rods on 8, I don't feel there's a point.
I'm also working on a build for OrsusMetal on here. It started off as a 'mod my M107' build, maple fretboard, modified body shape, white paint job, modified headstock. It turned into much, much more. I wasn't happy with working with the basswood body, plugging the neck pickup and whatnot. Sean and I decided to move forward with making a custom body for it. The body is a 1 piece swamp ash body and it's VERY light. The bridge pickup will be a BKP, the neck pickup I will likely look into having Nordstrand re-wind it, as Sean supplied a Blaze Single but we both have doubts that that pickup will do the build any justice at all. The bridge will be one of the custom Hipshot bridges based on the RG7X21 bridge that I have Hipshot make for me. The neck has an infinite radius fretboard and will also get evo fretwire.
Here's where the body is currently: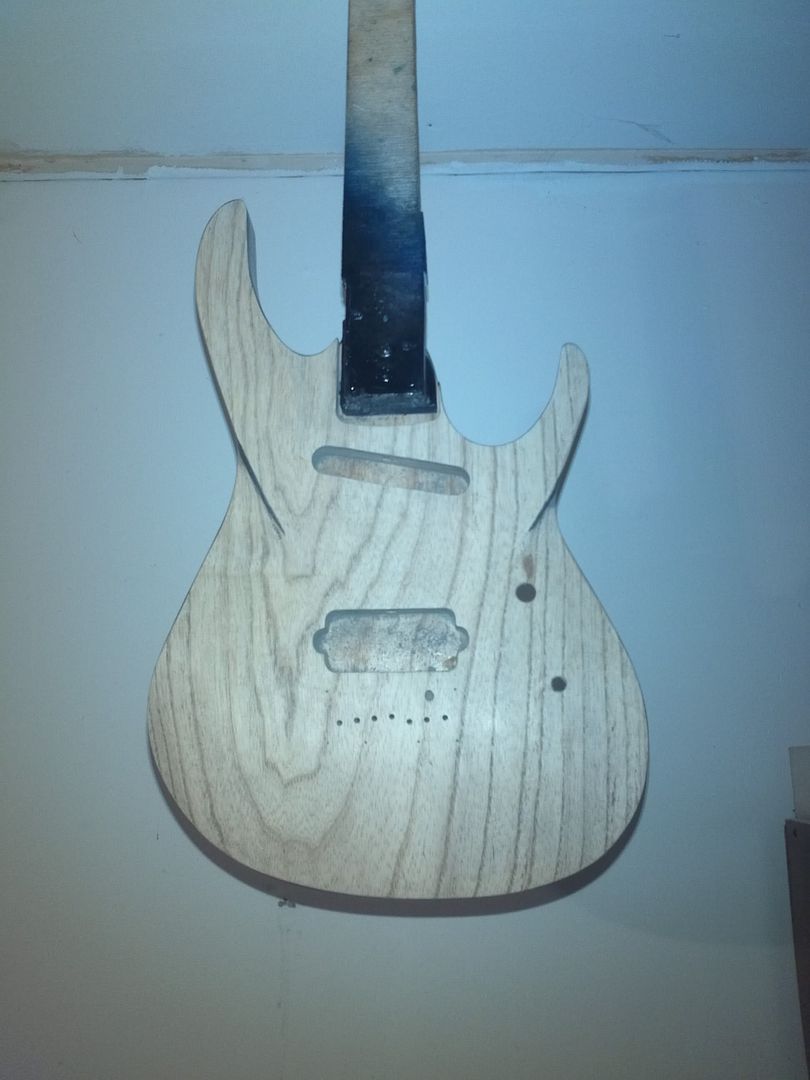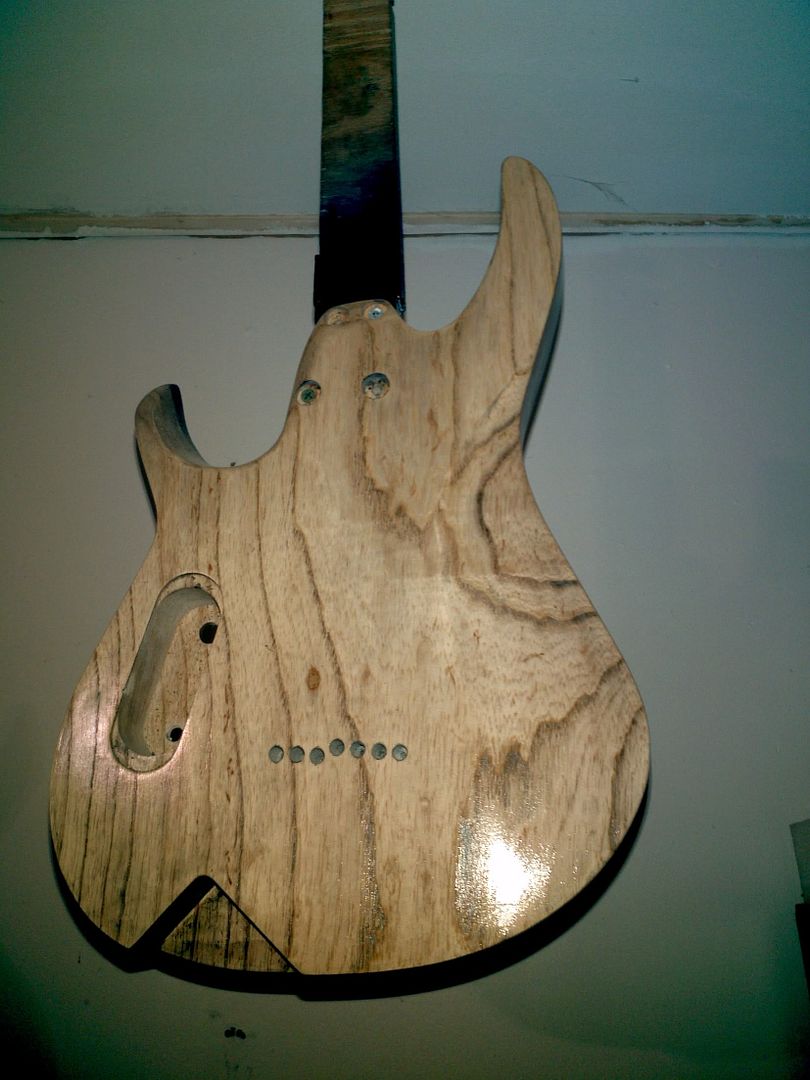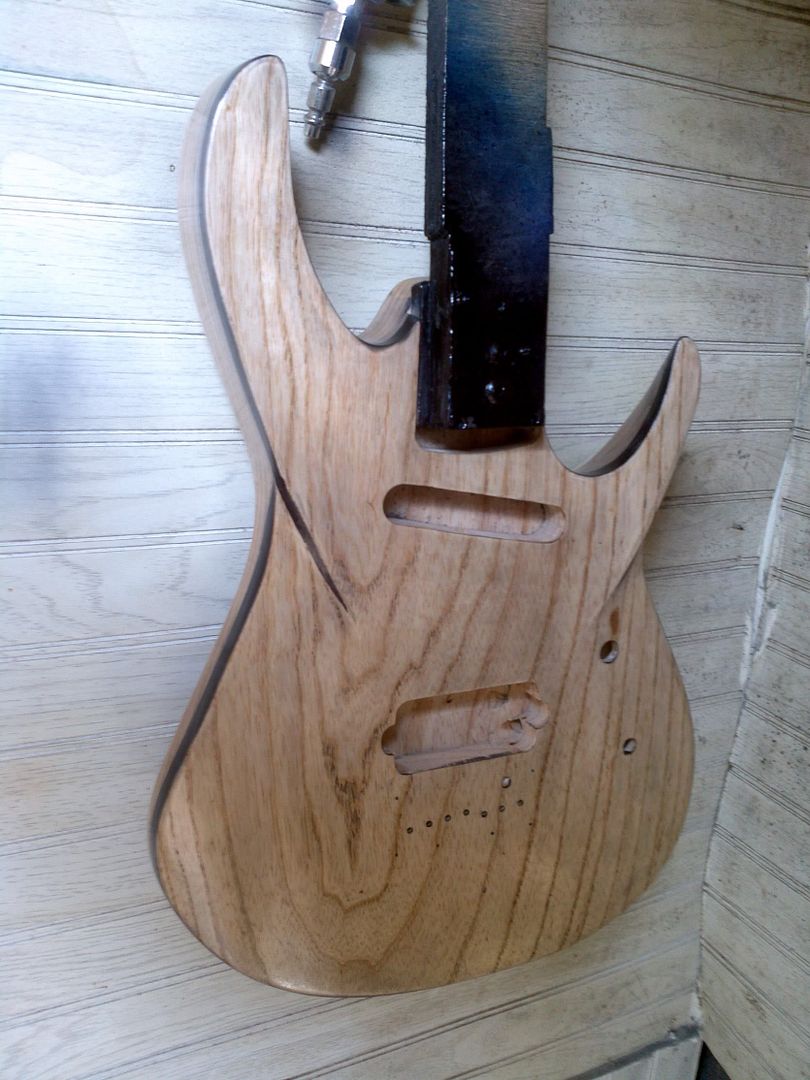 It will be getting a trans white finish with black pore filler and black faux binding, but as you can see, the front isn't taking the pore filler very well. I found the solution yesterday by thinning the vinyl sealer more than I had been. Speaking with Sherm, he told me that the vinyl sealer indeed needs to be thinned more. I'll be pore filling it again after I finish writing this post.
I also shipped this recently: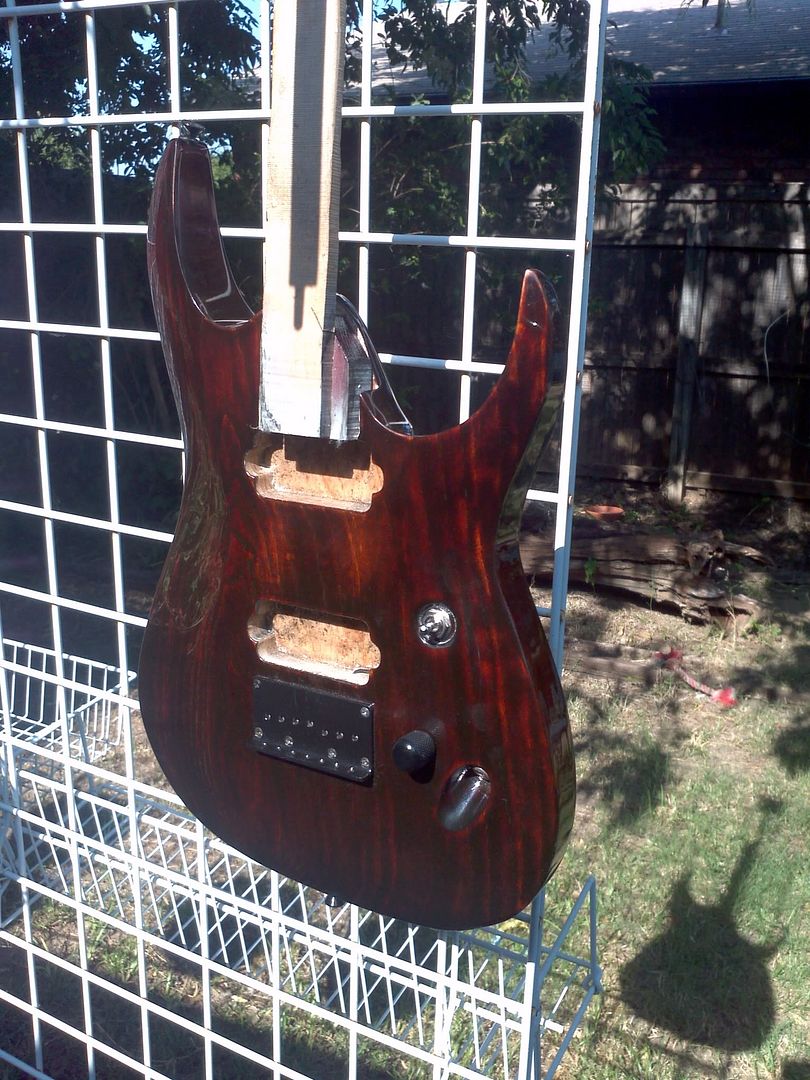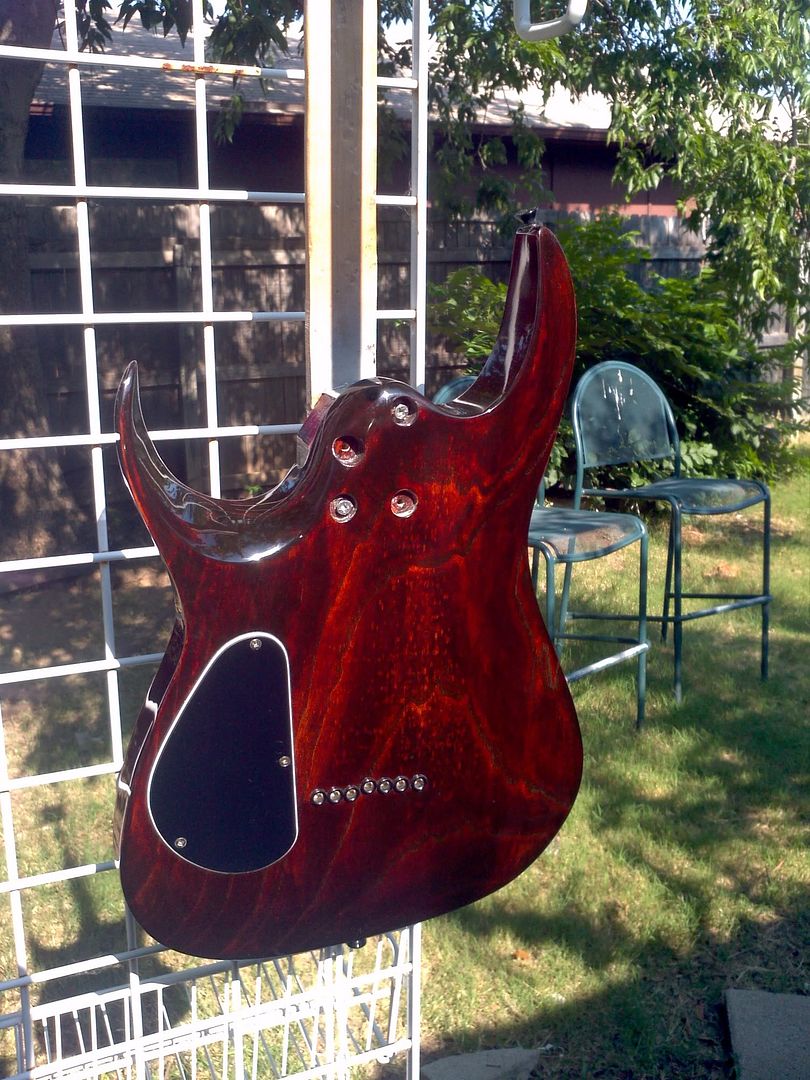 It's a body I built over a year ago that finally got picked up. Single piece swamp ash, it's an RG shape carved like an S body. The customer wanted an inconsistent stain so I hand wiped it on, it worked out exactly how he wanted. He got it this weekend and assembled it with a Crunch Lab and a Liquifire. The switch is also a Petrucci switch. The pickups are new to him though, as well as the body, so he's still tweaking his presets, but he told me he's extremely happy with the body's quality and feel, said he likes the way the guitar plays even more now. Hopefully he posts an NGD soon.
I've also been working with a friend of mine on a logo and I think we've come up with a final design.

The ECG will likely be a truss rod cover logo while the full wording will appear on the actual headstock.
I'll leave it there for now, I have some other things in progress, like the V/K shaped thing you guys have already seen but it's taken a back seat because of my 8 string builds. I'm also working on a build for Mr. Crooks, which I'll be posting pics of on here very soon.
I'll also end the thread with one last thing. I've got to thank Mike Sherman for helping me along the way over the last what, 5 years? Mike is a huge inspiration to me as well as a great friend and I wouldn't be anywhere CLOSE to where I am now without his guidance. I owe Mike a lot, I'll probably start with alcohol next time I'm up in the north east :lol: Thanks Mike!
Elysian Custom Guitars | Facebook