Ibanez Rg 7621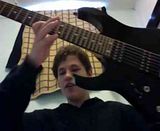 String-saver saddles really changed this guitar. Combined with the bareknuckles and the fact this guitar just simply slays means it has more value to me than you may think it's worth. I will sell this guitar for $700 shipped conus. I understand it has cosmetic damage but to be honest the mojo this guitar has had since i picked it up has been unspeakable. I know this is high but quite frankly I have more interest in trades than straight sales. It would've been lovely if the previous owner had taken care of it. That said at the time I bought this these were going for 700+ stock in good condition so it likely would've never been mine.
I am parting with this guitar for the sole reason I do not use it enough. Most of my time is dedicated to music already and I spend my free time composing and writing more than playing a single instrument. This guitar needs to be played often. If it were a six string I would keep it for recording with clients and friends. However not very many people can translate well to a sevenstring and this has led to problems before. I'm reducing my entire stock to one solid-body for now and it has to be a six string.
Trade interests
I am only interested in high end guitars. Atleast a highend Japanese build or above. I am only interested in six strings. I want to try something other than basswood as well so nothing made of basswood. I can get a good amount of cash on my end so feel free to send me any offers. And though it's not a deal breaker I'd definitely prefer something with passive pickups. I am also okay with cosmetic defects. It's not a big deal to me sound/playability is all that matters.