If you find yourself with a horrendously rusted bridge, screws, trem, locking nut or most any guitar hardware it can be rebuilt quite easily with the right knowhow and time. I'll be using an original first year Edge trem from an RG550 I'm rebuilding (literally rebuilding, the headstock is off the guitar and the fretboard is so shrunken the frets could be pulled out with my fingers). This is a 30 year old trem that's been kept in what appears to be a very damp environment, possibly near the sea. As you can see, it's got so much red colouring on it you'd think it had no soul.
To do any rebuild like this, you'll need the following items
Machine oil
Lint free rags
Phosphoric acid that isn't too strong (Naval Jelly or similar product, I used a 650g/L solution)
Small metal brushes for scrubbing
Plastic cups or containers to soak the parts
Most people would think that it's shot to hell and just to buy a new one. I'd rather not fork out $200 for a new one. Firstly, check to see if there is anything seized or damaged. Screws that won't move, knife edges that are worn, stripped allen heads etc etc. If you have stuck screws, try machine oil like the one below or sewing machine oil. If that fails, then find a penetrating oil or freezing agent to release the screw. Usually these can be found either at the hardware store or auto supply shop.
Once you've assessed how bad it is, now comes the fun part. First thing's first, disassemble your hardware. Take every single piece apart and put them aside.
Once everything's apart, you'll need to scrub off as much rust as you possibly can. You'll need some metal brushes for this like these
Because we're working with steel parts, the steel brush works best. The brass is good for using on softer metals and the plastic for general loosening of debris on most things. Now get scrubbing. If you have a vice that will come in handy because your fingers will get sore from being scrubbed by the brushes.
This is why we scrub the metal, to remove as must surface rust as possible. This makes what we do afterward more effective. Do this for every part until you have as much rust gone as possible.
Now take all your scrubbed parts and put them into a
PLASTIC
container. The reason you must use plastic is that phosphoric acid may react with other materials. I used red cups from Costco and they worked a treat due to their size and cheap price.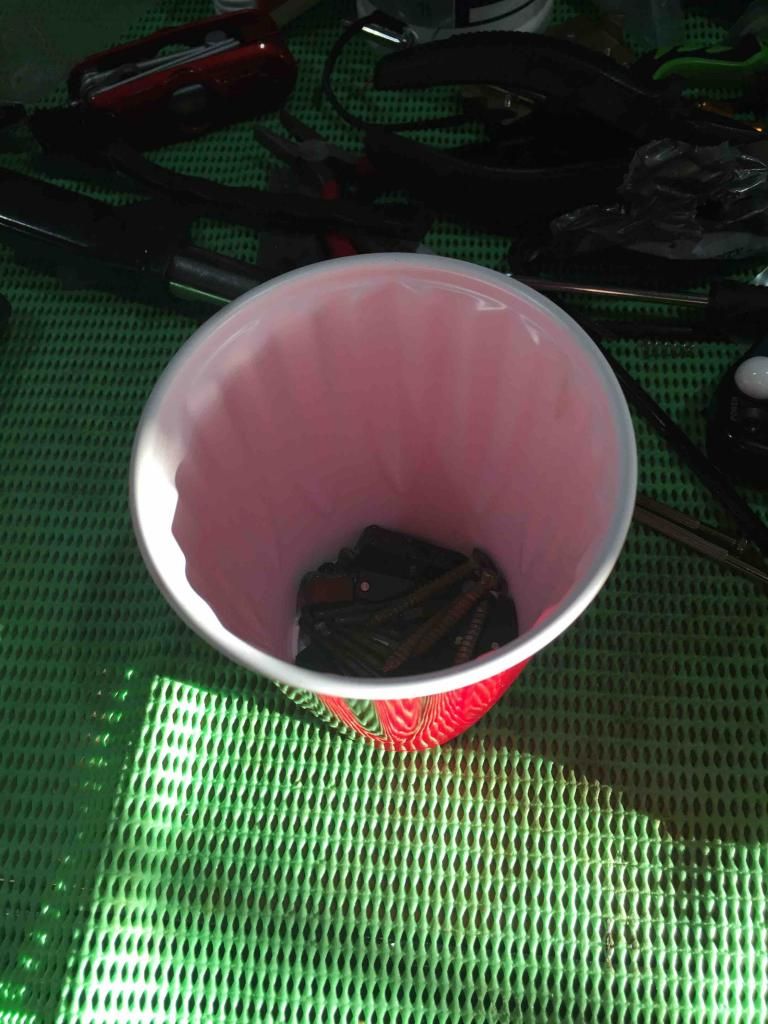 IMPORTANT SAFETY NOTE
Before moving onto this next part, please follow the relevant safety precautions. Acid can damage not only the area around where it is but also you. When you open the bottle, pour it or use it, make sure you have gloves, eye protection, plenty of ventilation and space to move around. When rinsing the parts later, make sure you do it outside into a plastic tub, maybe an ice-cream container or something and don't put your hand into the liquid at any point.
Into the cup, pour enough of the phosphoric acid solution to cover the parts plus a little bit more on top.
This is the stuff I used. $18 and I have enough to last me a long time.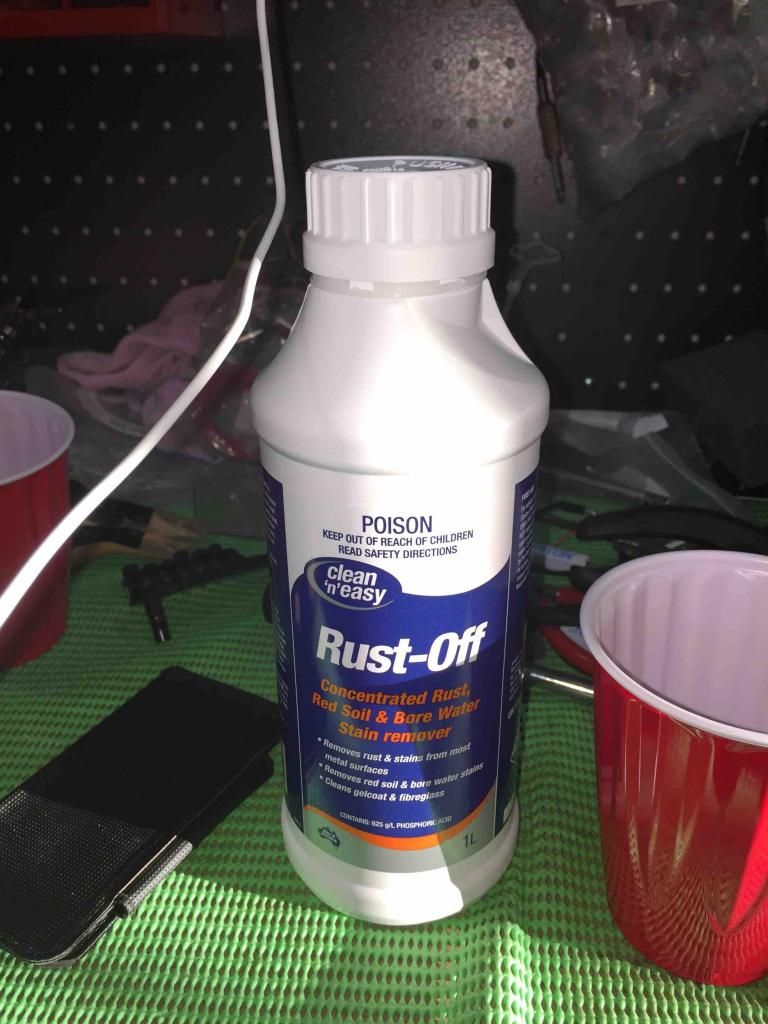 NOTE
There are two kinds of products that are similar; rust remover and rust converter. We want remover. Converter turns the rust into a black finish that may mess with threads.
Now comes the part where you go have a beer, or a wine if you're a cheese eating surrender monkey, and wait while science does its thing. I left mine for about 3 hours. Plenty enough time. It ended up looking like some awful root beer which is a normal thing to happen.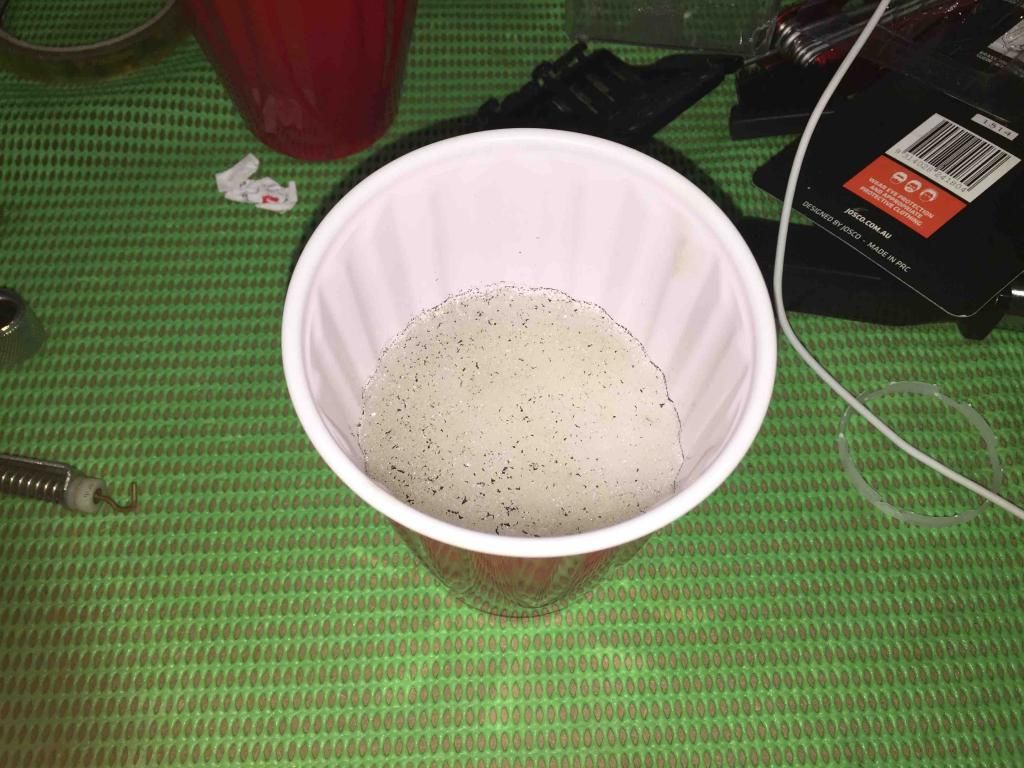 Now take your cup and run water through it for a few minutes. If you're worried about small parts getting sucked out and lost, buy a small plastic mesh sieve and use it as a screen on top of the cup. After a few minutes the acid solution should be gone. Take the cup, empty it out and get your parts and put them onto a rag to dry.
Now you get to experience some deja vu. Get your metal brush and scrub the parts once more. This gets rid of the black coating on the parts that is the result of the rust and phosphoric acid reacting and creating an inert material that just brushes off. Then you end up with something like this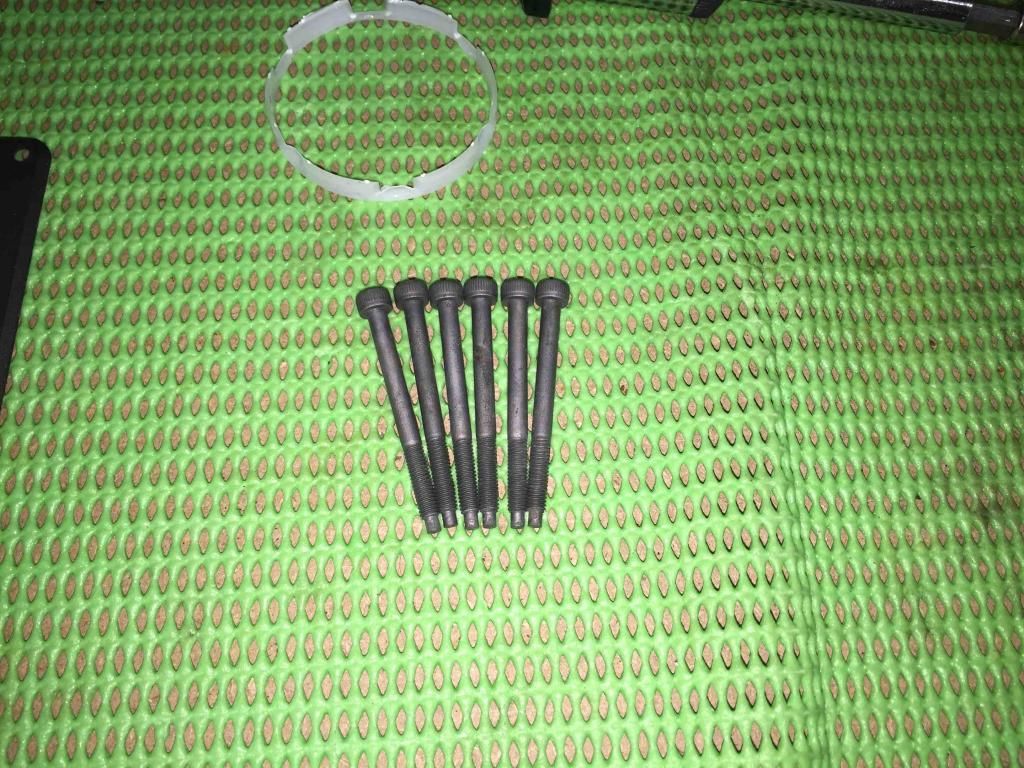 As you can see from the locking screws, the difference is MASSIVE. Now what I do is some preventative maintenance and ensuring the trem is as smooth as possible. I open up all the thumb screws and put a drop of machine oil on each thread
Then I screw them down all the way to let the oil into the thread. For prosperity I repeat on the up way too with a drop on the thread and move the screws all up. I go over each part with a little machine oil on a rag and coat each part, just to get a little on then use a second cloth to wipe them dry leaving just a minute protective film on there. Finally it's assembly time.
I put the whole thing together and voila, a rebuilt trem that looked too far gone just a few hours ago is now ready to go back into action. This is especially handy for parts that may not be available in certain colours anymore (IE Ibanez no longer make just a plain black locking nut or trem). And here's the end result
This technique will work on any metal components. Stop tails, vintage bridges, lock nuts etc etc. However, don't use this on tuning machines. I might do a write up or video on that if there's any demand for it.