Discussion Starter
·
#1
·
Used? or maybe Ugly.
I wonder what it feels like to own a guitar that's actually new? I've owned at least 30 over the years, and if memory serves, only one of them was actually new. But I digress.
Scored this on the cheap from a fella over at SS.org that I've done business with before, it seems we share some tastes. I have no idea what model it is, but I'm fairly sure that it's a very early LTD (SN stamped on the fretboard, sub-50k, which is saying something for a Korean (I assume it's Korean) guitar. Maybe an M-II or LTD Mirage, but the only LTD M-IIs I've seen say M-II on the Headstock. Maybe if ESP kept better track of everything they've made, and if the forum wasn't god-awful. But, I digress again.
Right after I got it, I stripped the clear off the neck and applied Boiled Linseed oil, as I do with all my axes, and I'll continue to re-apply oil over the next few days. Play it a while, 1000-grit sand, apply oil, repeat. The previous owner stripped all the finish off with the intent to refinish, decided he liked it the way it was, and left it. I added the scorch marks myself with a blowtorch. More burning will take place in a week or so, when I disassemble it to do the blood-drip paintwork to it. I might even try to find a way to use my own blood for it instead of paint.
The verdict? It's an amazing player. If you blind-folded me and put this in my hands next to my Mirage Custom... I'd probably be able to tell the difference, but only because of the things like neck binding and Bolt-on vs Neck-thru, but It's a matter of inches versus a matter of miles. It's nice and weighty, and quite resonant, though I'm not exactly sure what it's made of. Maybe Basswood, maybe Alder. Frets are great, no pokeys or divots or general rough spots. Real Abalone dot inlays, though the LTD on the 12th is plastic instead of the Abalone that both my ESPs had.
Anyway, on to the pics (Though honestly it might not deserve them)!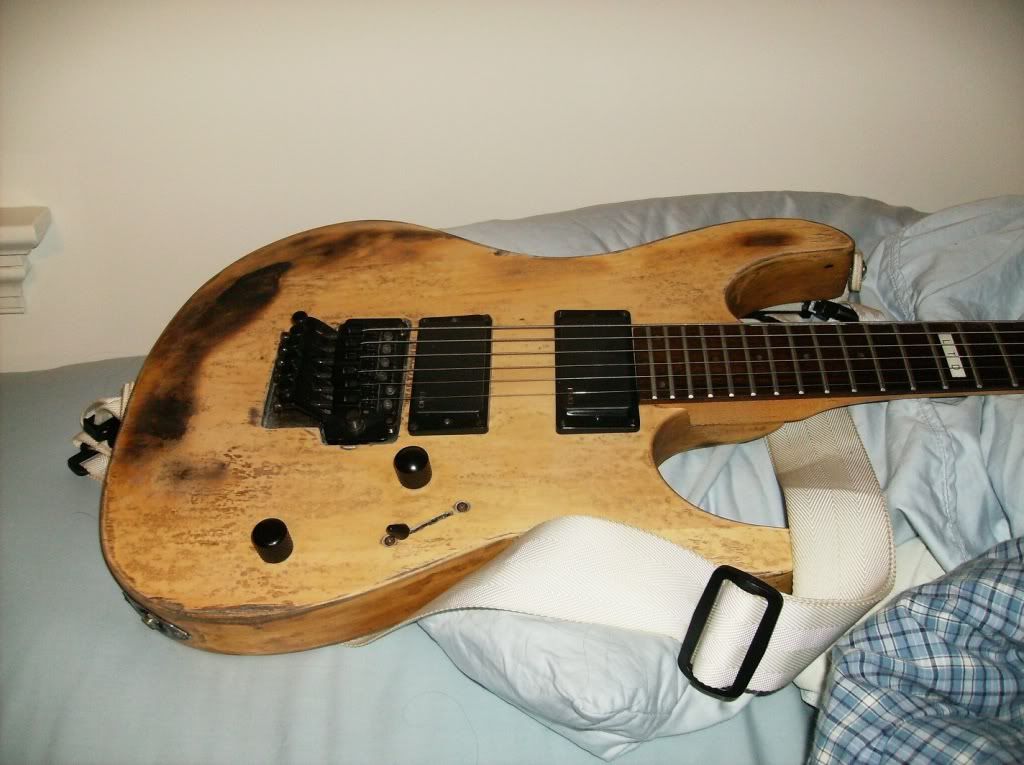 also, the ol' bedroom practice rig, where this guitar will be spending most of its time. Crate GX-15 and a Modded Boss HM-2.