Discussion Starter
·
#1
·
had a little free time a few months back (unemployment), so what better time than to tackle a guitar project :lol:.
this Ibby was one of my first guitars (got this one about 15 years ago
). this guitar got played ALOT, and as electronic parts and hardware started to fail, and other guitars came in, this one just kinda got pushed back in it's case only to be cannibalized for parts every few years.
so i pulled this one out recently just to see what it would take to get it up and running again. luckily it wasn't in as horrid shape as i thought! it also seemed like a good candidate for me to try out refinishing a guitar for the first time. no big loss if i botched it up.
anyway, i was shocked to find such a gorgeous slab of mahogany underneath that boring jet black finish. about 8 coats of tung oil and 5 or 6 coats of paste wax later, this is the result.
what i thought was a major setback with the Lo Pro pretty much falling apart on me (see pic), turned into absolute win as i discovered an OFR (yanked out of my SL-1) fit in this guitar perfectly! not wanting to spend much money on this project i decided to give the Floyd Rose Special a shot and have zero complaints with it. the only problem was the 37mm sustain block stuck way out the back of the ultra thin sabre body. a 32mm big brass block from floyd upgrades took care of that problem.
threw the stock neck pickup (IBZ/USA F1) in the bridge, and a Dimarzio Humbucker from Hell and Heavy Blues 2 i had laying around in. all three of these pickups work great together and i don't think i'll be changing them anytime soon.
unfortunately all the progress pics were on my old phone which took a shit on me, so you're stuck with only after pics taken with my new phone :lol:.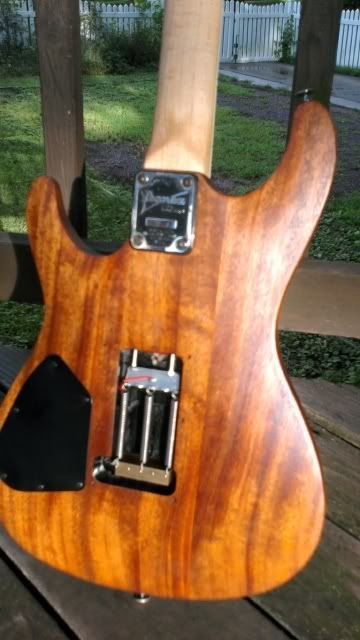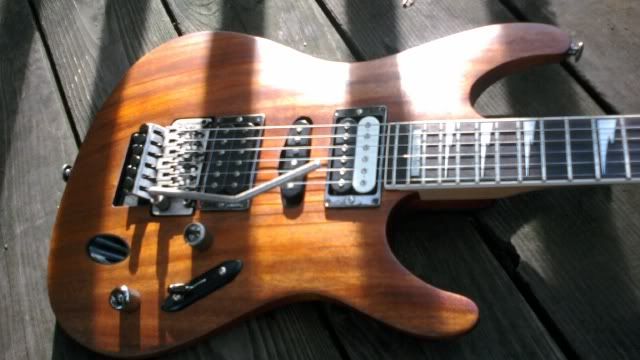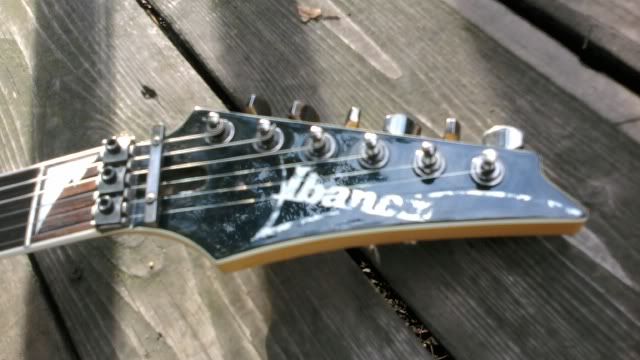 Floyd Rose Special in antique silver FTW!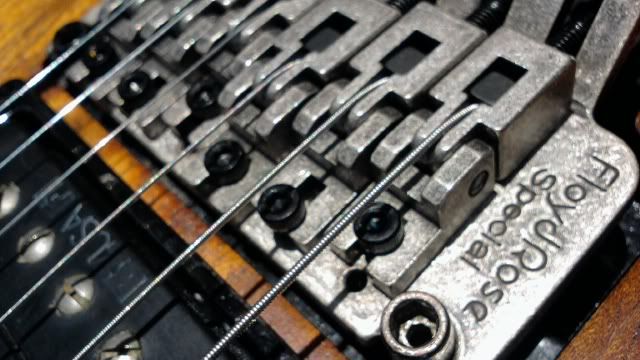 not THAT'S a sustain block :yesway: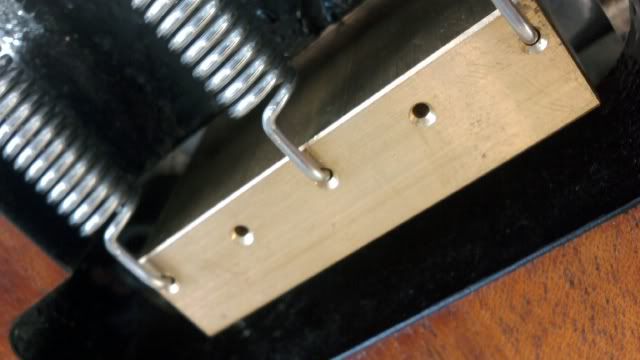 fuck Ibanez trems :noplease::noway: