My Simul 2:90 wasn't getting used so I threw it out to the spheres to see what gear of interest was out there to trade. Dude got in touch about this Megalith Beta. So I figured I check it out. Jumped online and looked at the videos and was intrigued immediately.
So he brought it over, and we did the swap plus $150 my way as the FX loop needs repairing. I gotta say, this thing is an insane beast that is pretty damned close to that tone in my head.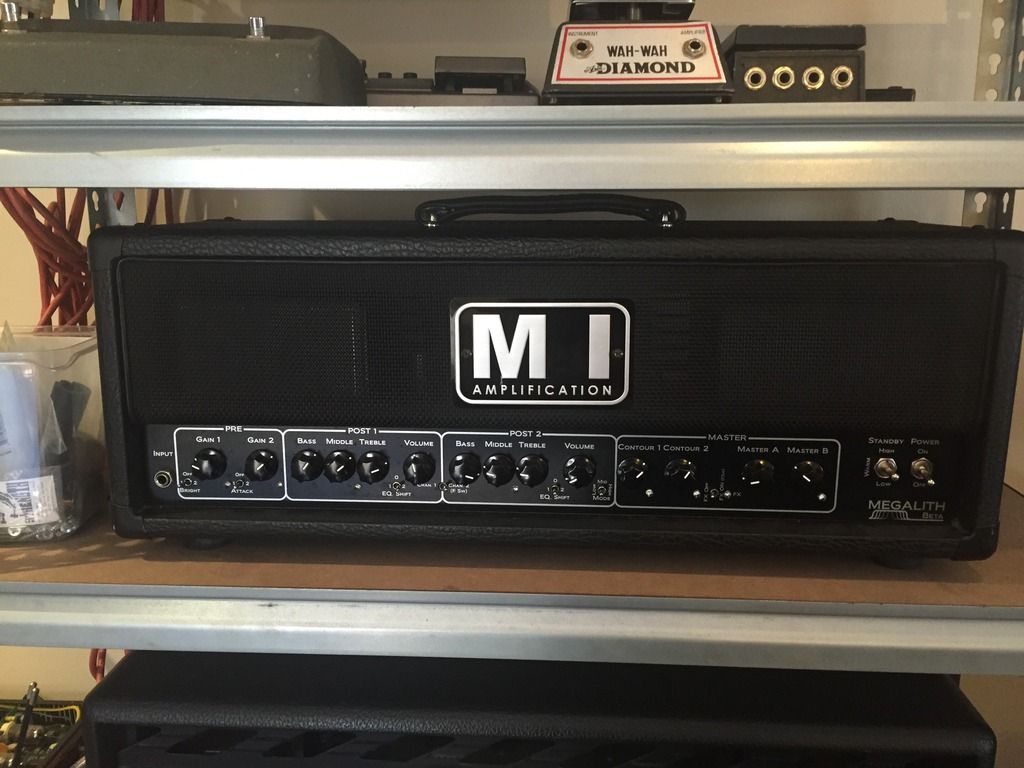 It's a straight forward 2 channel head. The clean channel is pretty damned good and really responds well to transients and dynamics. It's kinda like a brown face Deluxe vibe. The bright switch is very useable and gives a nice sparkle to even the dullest humbuckers. Riding the gain a bit more gets some pretty gnarly old school rock and blues tones. Both channels have a contour control that isn't a mid scoop control but as you turn it the frequency response changes and goes from bass and treble heavy Fender EQ to a more Marshall bite and a Vox style honk. Then there's the EQ shift switch that gives the 3 band EQ a different scope. They're simple controls that really let you nail the tone you want.
Then there's the gain channel. Shit just got real. It's got a 3 position gain switch which is incredibly useable. I started it on the low setting and it was killer. Not like a low gain amp pushed hard, or a high gain amp with the gain control choked but an awesome lower hi gain tone that will be a great additional track for some more clarity. With a little playing with the gain control and EQ I could pull some sweet early 80s thrash tones a la Kill Em All. The mid gain position is stupidly tight and articulate that I love. No need for my OD808 which is a nice change. Throwing the gain switch to high just pumps up the juice without losing the clarity which is a pleasant change. It doesn't get fizzy and has a nice low mid bump which just punches you in the guts. There's a 2 position attack switch that changes the top end in a subtle way. It also has an EQ shift switch which is great for fine tuning. The contour control is good for dialing in the mid range and low end rumble.
It's pretty Spartan but just sounds killer. There's a foot switchable master volume which will come in handy. Also did I mention it's loud? Like stupid loud. The power section can run anything up to KT100s because the transformers are monstrous. Right now it has some E34L's and I had it at about 15% volume and was worried about pissing off the neigh ours. I'm thinking of throwing some KT88s in there to bump up the headroom some more. The output transformer is rated to 200w.
I'm so impressed with it my Rev G is now relegated to the bottom shelf. The rack looks a little better now
I threw this together in like 15 minutes with no mixing and not really pushing to get the best sound I could. Just ran my chopped TAT with 57/66 set, straight to the Megalith on the dirty channel set to mid gain, gain at 9 o clock. b/m/t at 1 o'clock, then straight into the Torpedo VB101 with a Mesa Recto 412 and single 57 setting. This is the first 3 riffs from one of the songs my band has been working on for our EP and Logic drummer sucks ass so much and I'm not very good writing drum parts so ignore them.