Discussion Starter
·
#1
·
i've just received a phone call from the guy who runs our
studio
, my new rig has arrived.
i've been really worried about it being delivered today, as he was only in for a few hours before the rest of us arrive for our slot from 6pm onwards, and the delivery time was "office hours" today. but nope, peavey have pulled out the stops on this one...
i'm stuck here at work but am almost considering going over to the studio in my lunch break just to have a look. it is:
- peavey 6505
- peavey JSX slant cab
- peavey JSX straight cab
i'll be upgrading to the 6505+ once peavey have stock of them in, but in aniticipation i brough the digitech studio quad rack with me today and am expecting a delivery of a behringer rack tuner soon.
i'll post a picstory as i get there in... 7 hours. i am FUCKING stoked.
aaaaaaand here it is -
i had been told about the problem with the boxes being rammed into the main entrance of the studio, here it is as normal: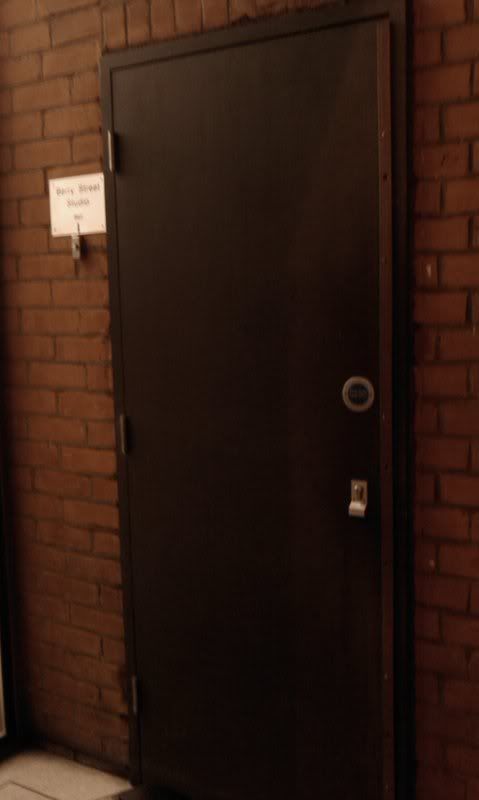 but what lies inside? hordes of frustrated commuters? a delicate peanut & nougat centre? oh no...
the fucking PEAVEY BOX MASSIVE all up in your grill. or rather, just in your way. notice how they had to move the fire extinguisher and plonk it on the top.
i had to clamber over the boxes to get in. having done so, check out how it looked on the other side. how the hell did kev get past this? he's a big lad...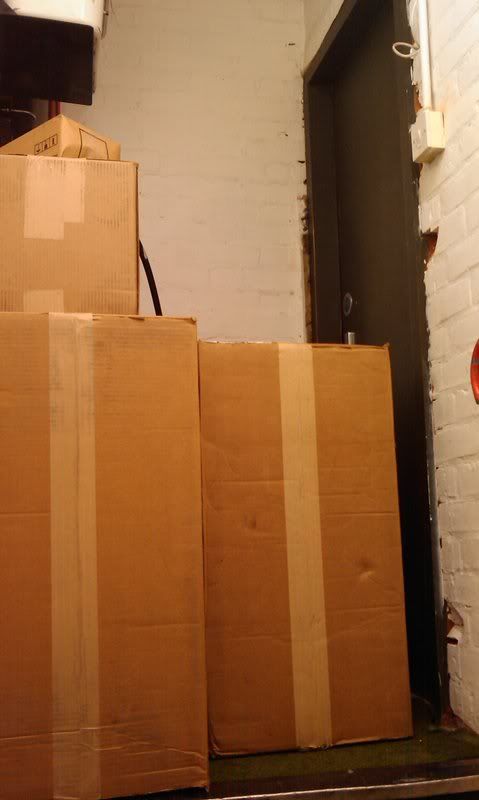 as for the reason he was unwilling to take it down to the live room for me? these 'ere stairs -
there's a great video taken of me & the rest of the band making a coordinated effort to lug all the pieces down. during which i couldn't help but notice that apparently peavey have endorsed a 'mal sinden'. no, not quite correct there...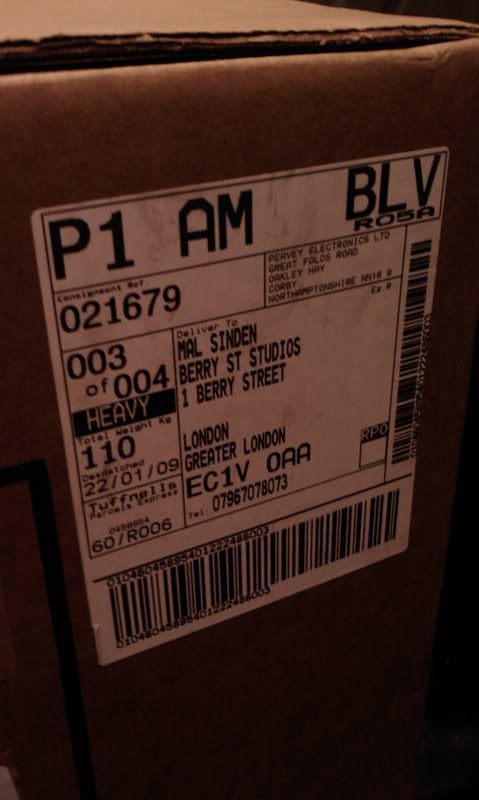 and so the obligatory 'it's fucking christmas bitch, get your elf outfit on i'm drinking your brandy' excited child infront of the new present photo -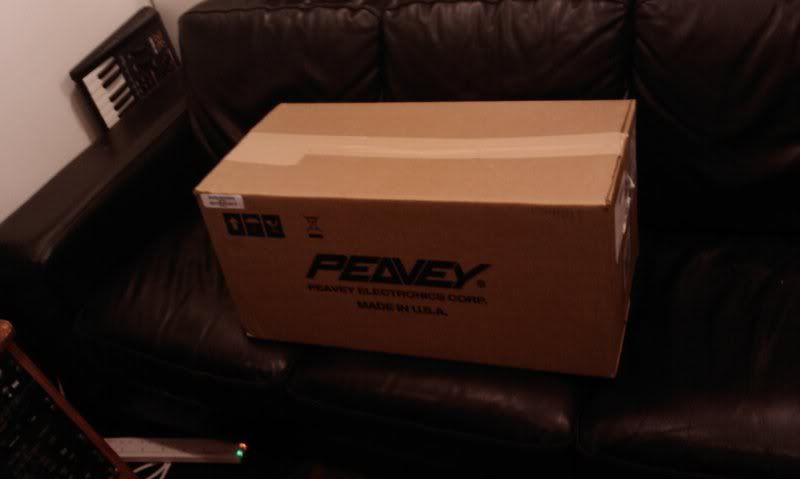 but christ, what to open it with? fully functioning central london recording studio, stocked to the nines with state of the art equipment, and what do we have to cut open some boxing tape?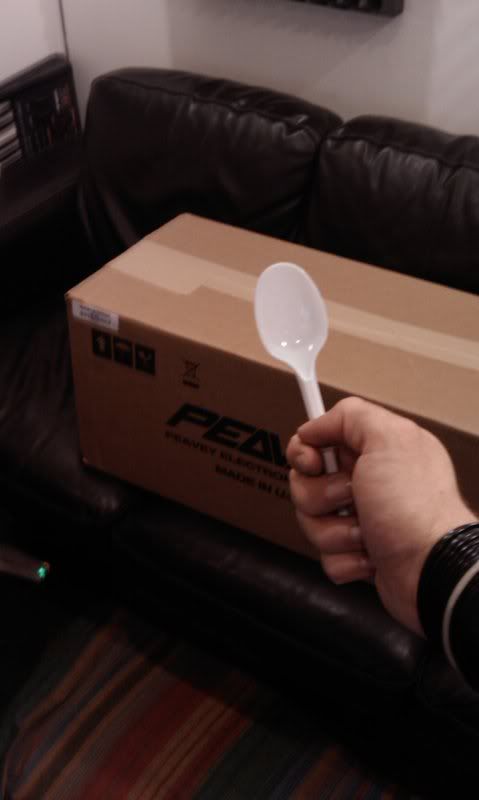 ...shit. ok, how about -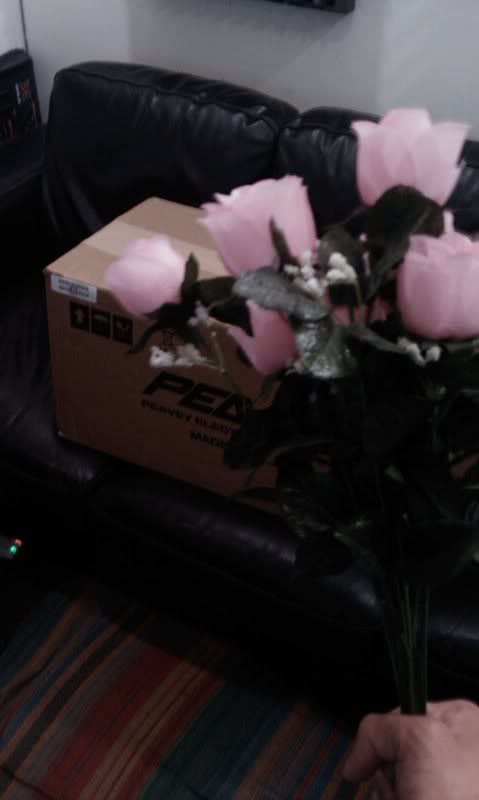 hmm. so at the end of the day it came down to this -
and i'm not kidding. no MG.org setup here, i actually had to use a bottle opener. because i are viking. a wine drinking one, apparently.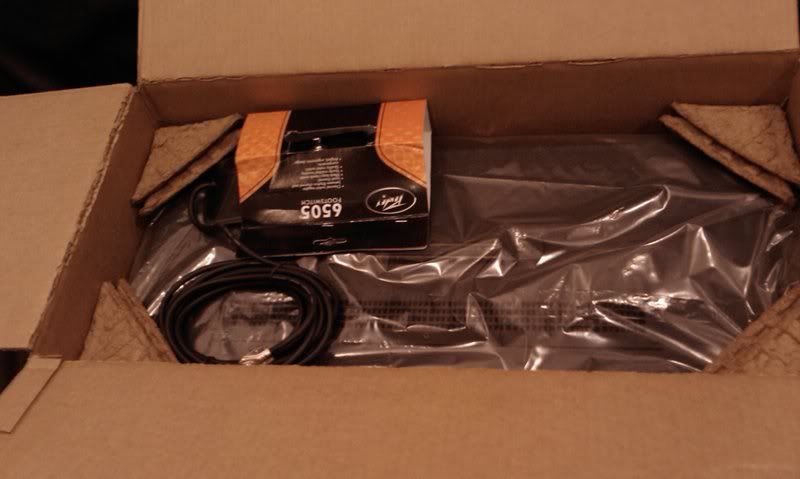 and once opened, the selector as seen, but the added fear moment of realising it's a EURO mains plug fitting, so the ever supportive beth was drafted in to pop down via maplins, armed with a travel adaptor.
one absolute beauty. these are broader, larger and much heavier than i had remembered. top stuff. as with hot totty, cows and germans - looks even better for the leather setting.
a nifty box containing 2 speaker cables, a request of mine since reading on here about the danger of mistaking a guitar lead for a speaker cable and causing a nuclear meltdown and/or a bad case of amp cancer.
so now i'm good and paranoid. i'll be keeping all the relevant leads in this box for a good time.
the next step, the bloody huge cabs boxes...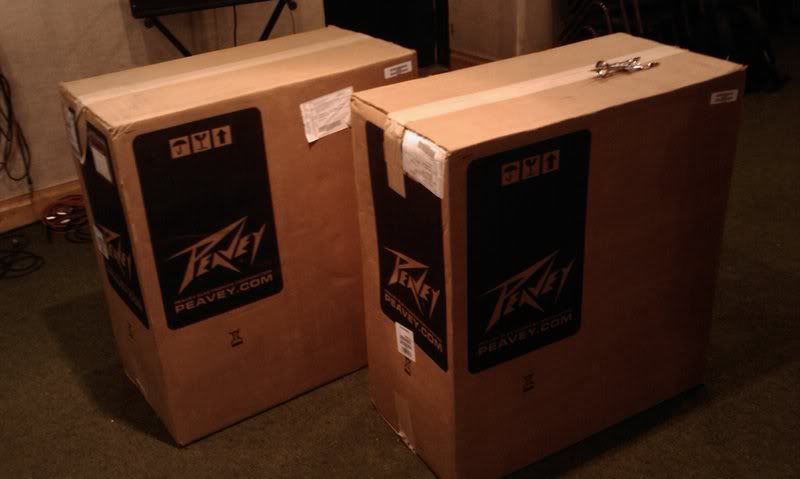 finally, after negotiating some truly splendiforous safety packaging, the finished result:
and for those more off-key; the jazz angle -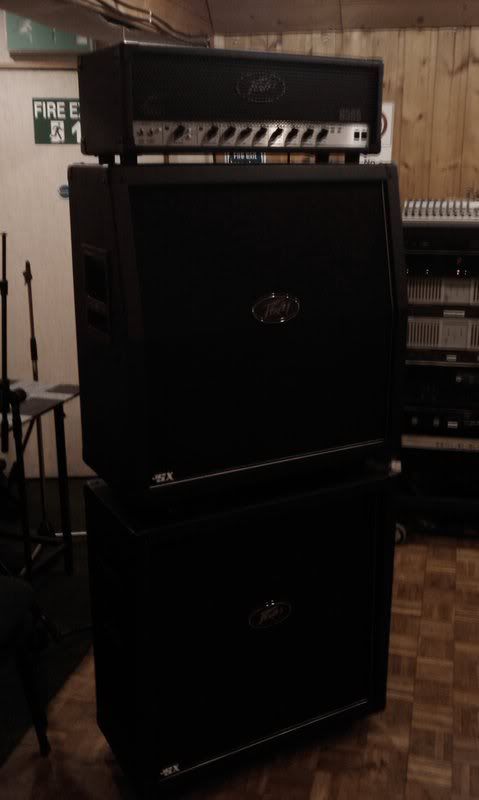 but screw it, these are mine, i'm going to paint myself into the picture here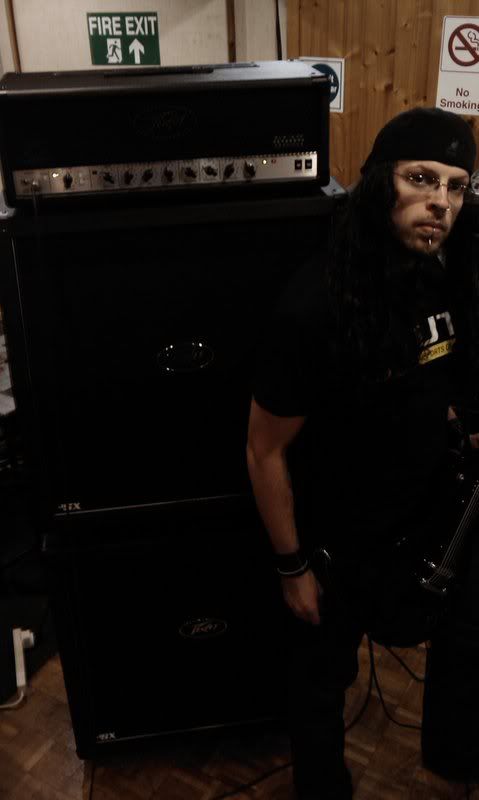 not metal enough? fine, 'ave some of that in your fakkin' face -
want some more pride and forearms? yeah? WALLOP!!!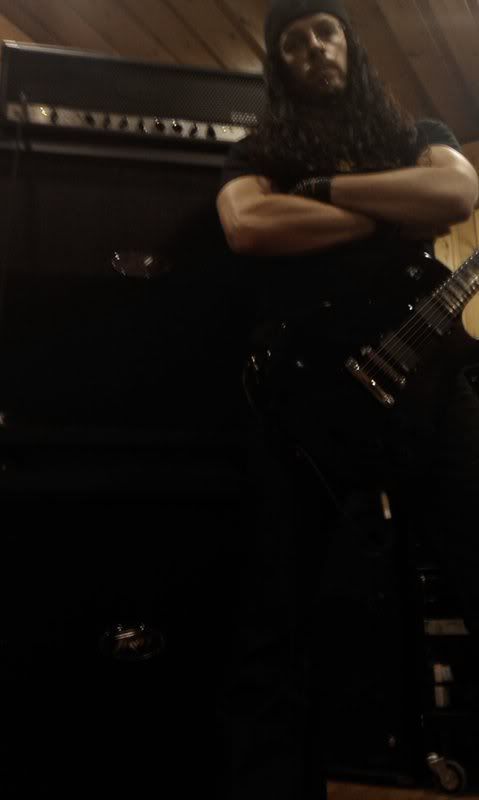 and, amazingly, a shot of how i managed to get all of our gear plus the new rig in our lockup and STILL have room to spare (which we didn't before... yeah, you work that out)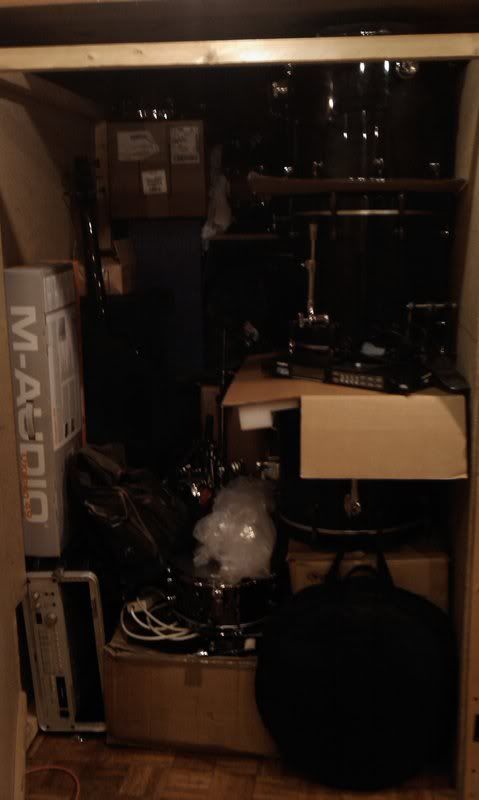 for those interested, the settings at the end of the practice session (comments welcome)...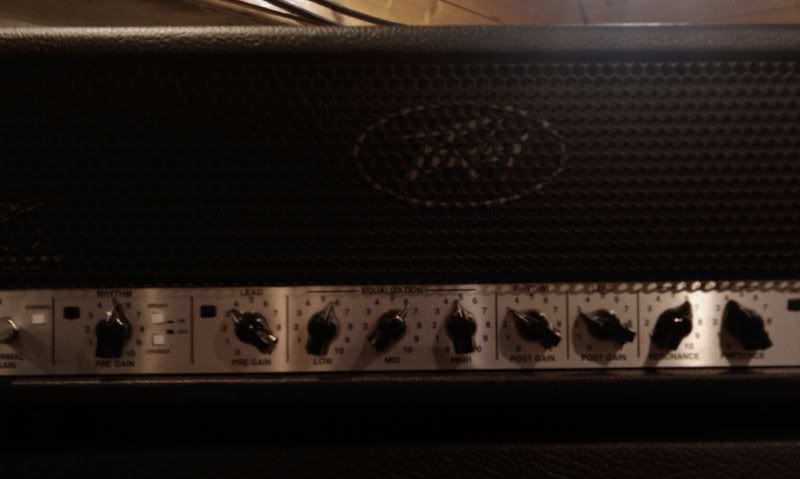 having used it for tonight's rehearsal, i'm just so pleased. it's my first proper rig and i love it, it's SO LOUD. i just can't wait to add various things into the equation such as my roter 7, a boost and a noise gate.
i've got a lot fiddling to do and perhaps a fair few new bits of gear (i must admit, i am needing a clean tone with the new material so i'm looking forward to getting the 6505+ when i can).
H