Discussion Starter
·
#1
·
Hey guys,
I just picked up a custom 2x12 made by Zilla cabs in London UK:
Zilla Music Custom Cabinets
.
I've played my friend's Zilla oversized 4x12 before and was extremely impressed, then recently I bumped into Zilla guy Paul at a music show and got chatting with him. We started talking about how much of a pain in the arse 4x12s can be to carry around, which led Paul to explain about his Fatboy 2x12 design. As he explained it, due to its extra depth and height, the Fatboy can go toe-to-toe with a 4x12 with an extremely tight and big bottom end and very punchy response.
I was pretty shocked to find out his prices - only £240 for an unloaded cab, plus £70 per Celestion speaker.
After thinking on it for a day or so I decided to give Paul a call and place an order. He's got a load of crazy tolex and grille cloth options but I decided to go with the classy "Black Taurus" covering and the regular black grille, with white piping and chrome fittings. I opted for Vintage 30s, and asked for a locking Neutrik jack socket so there's no chance of the speaker cable popping out at high volume.
As it happened, Paul had been building a Fatboy for stock that already had been covered in black taurus, so he managed to get the cab done in a mere three days!
And here she is: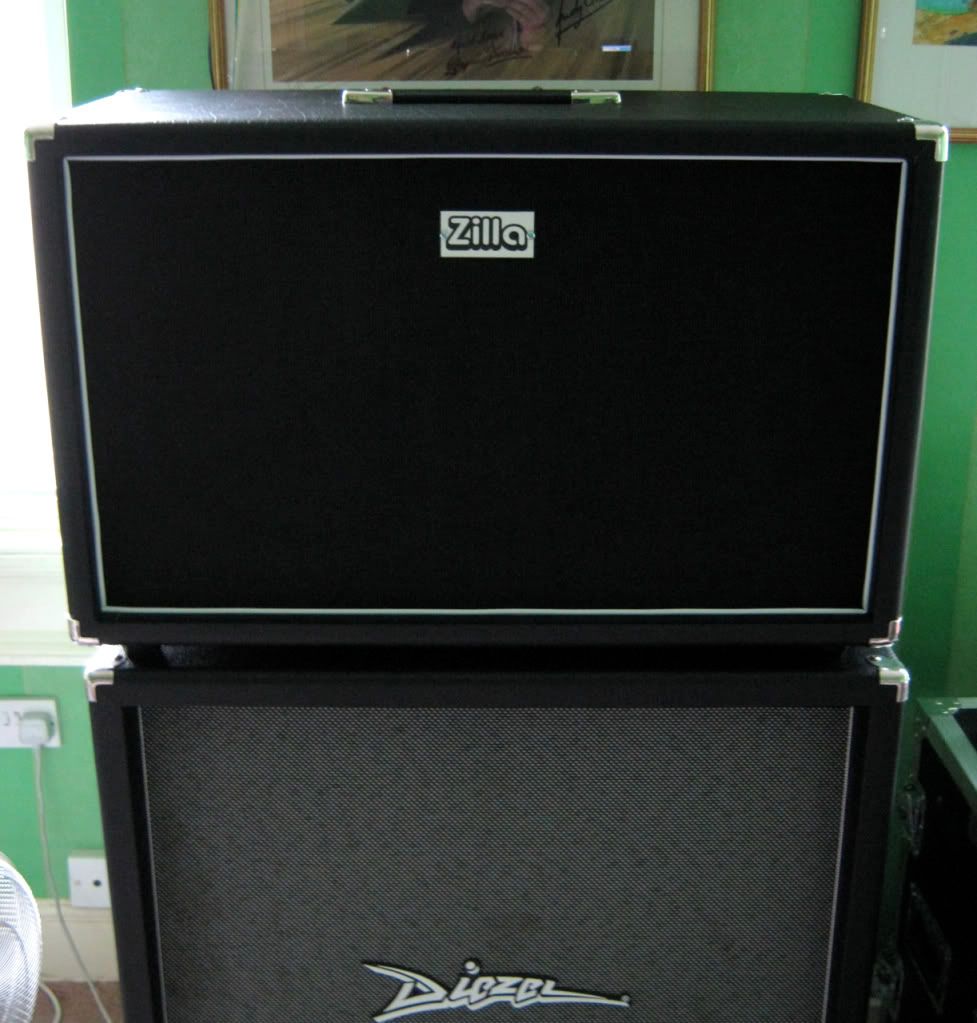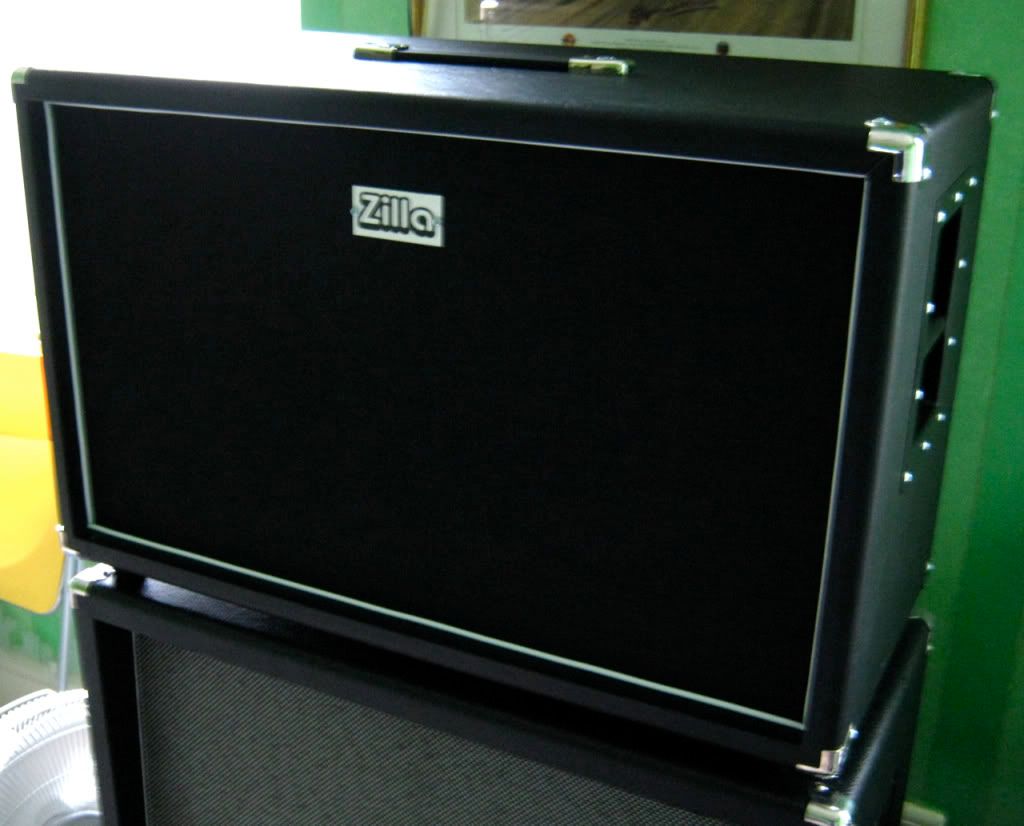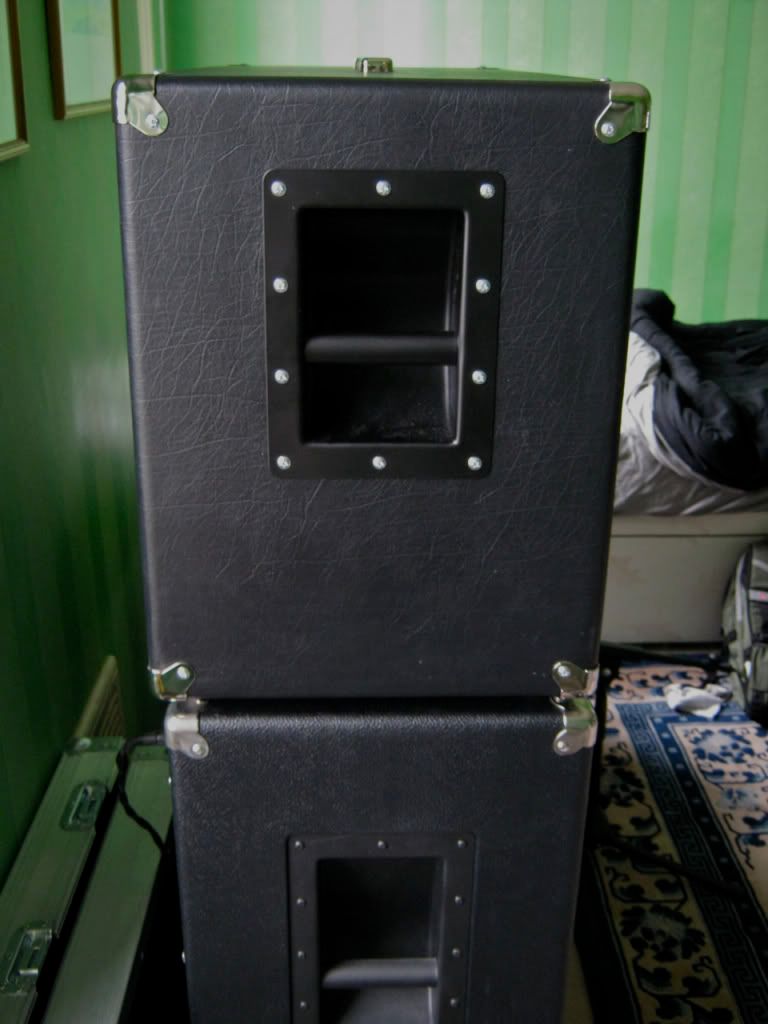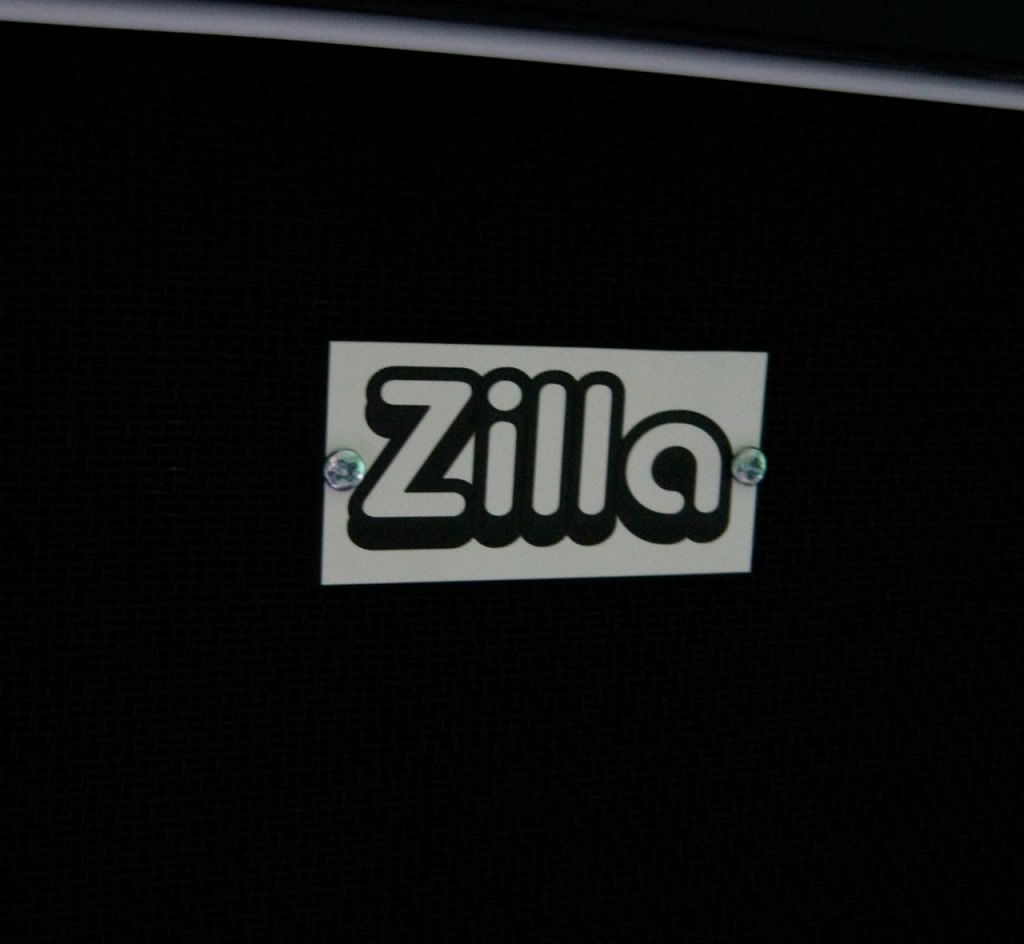 Build quality is awesome, this thing is a tank. Aesthetically it's a very handsome cab, really glad I went with the choices that I did. One really cool thing is that you can see the speakers through the grille cloth very easily - should make mic'ing up a very straightforward process. The locking Neutrik jack gives a great sense of security too.
It's a tad deeper than the Diezel 4x12, and about 2/3rds of the height, but with only 2 speakers it's very comfortable to carry around. I'll be placing it on top of my rack at rehearsals/gigs so that it's at a great monitoring height. I have no doubt it'll have zero issues punching through a band mix.
I just got to crank it up a bit through my rig (Axe-FX -> VHT 2/50/2) and I'm pretty floored at how it's sounding, especially since the speakers are brand new with zero playing time on them. The projection is insane, this thing pushes out the notes with all the force you'd expect from a big 4x12. The low end response is extremely tight and punchy, and gives
plenty
of chug, even with the cab up on top of my Diezel 4x12. I'm sure if it's placed on the ground it'll be even huger sounding.
With cleans and mid-gain tones out, the cab sounds very full and deep, but at the moment the response is a little stiff - but I have no doubt that's the result of the brand new speakers.
Needless to say, I'm a convert! The ability to carry my cab almost effortlessly up and down stairs and still retain the big sound I want and the necessary low end to push out the bottom notes on my 7 is priceless.
I'm really intrigued to try out a Zilla Modern or Studio Pro 2x12 in a stereo configuration now...
Anyway, sorry for the essay. To sum up, Zilla cabs are the real deal - excellent products, bargain price-points and top-notch customer service. Highly recommended!