Discussion Starter
·
#1
·
Evening chaps,
This afternoon I went over to the new and improved Zilla workshop (they recently relocated to a much bigger place just outside Bristol) to pick up a 4x12 that I've been rather excited about. I asked Paul if he could do a racing stripe like that of a Dodge Viper and he was happy to oblige. I think the end result is rather excellent!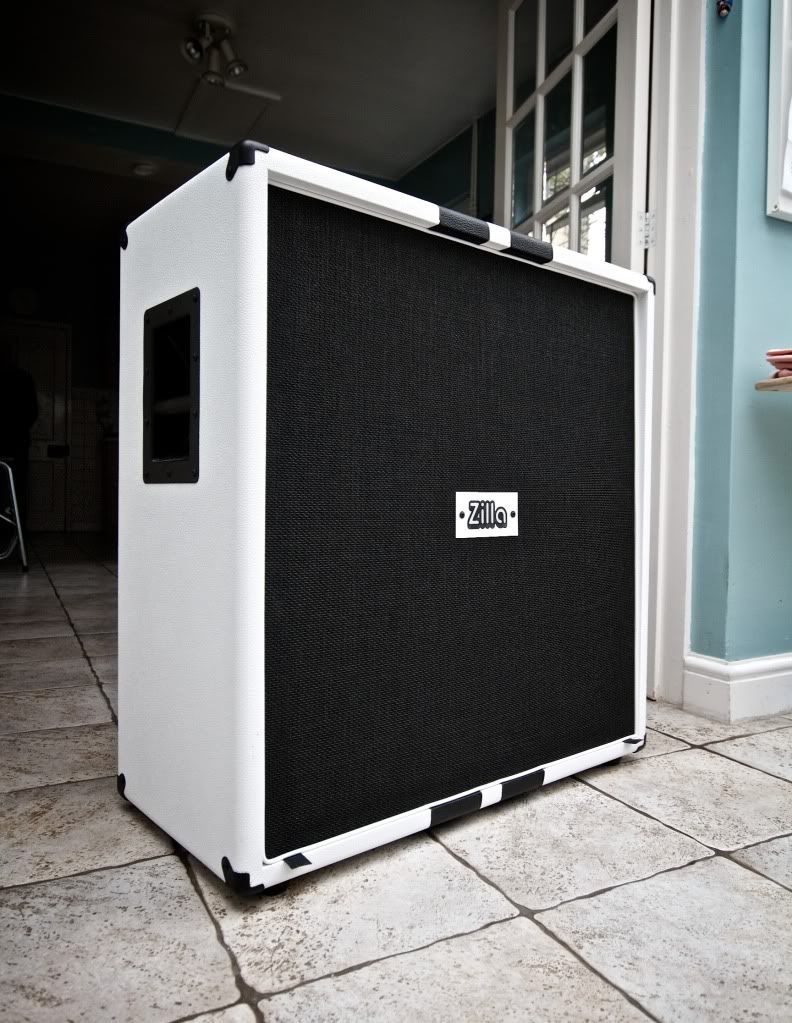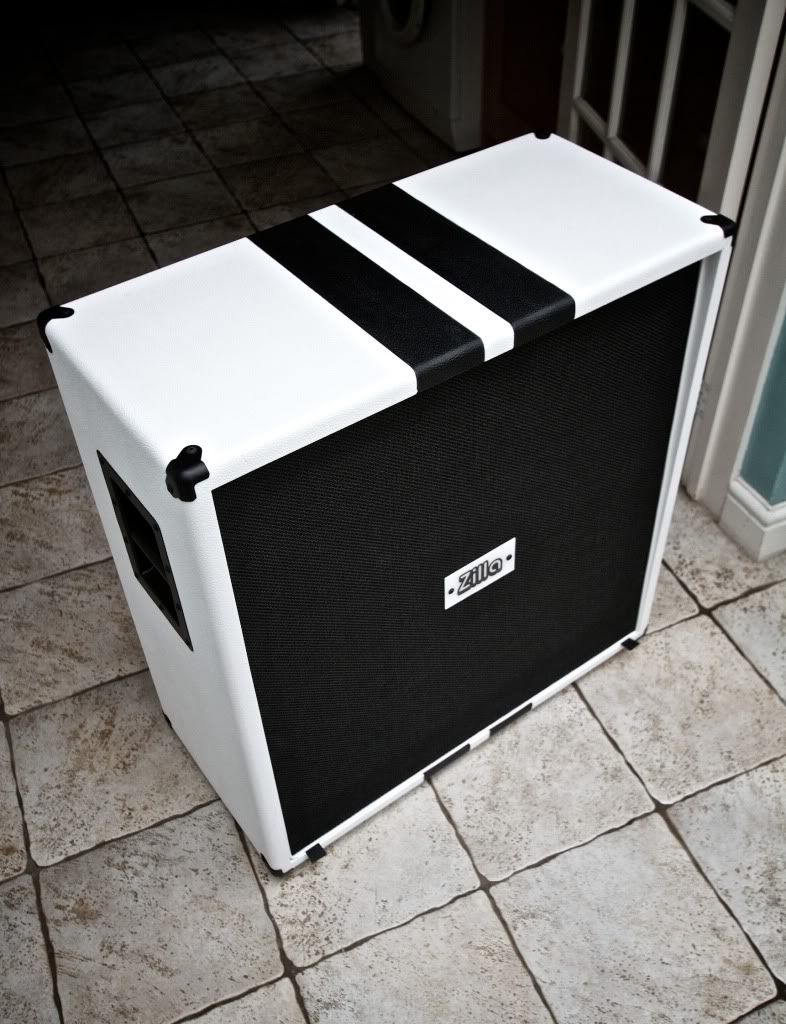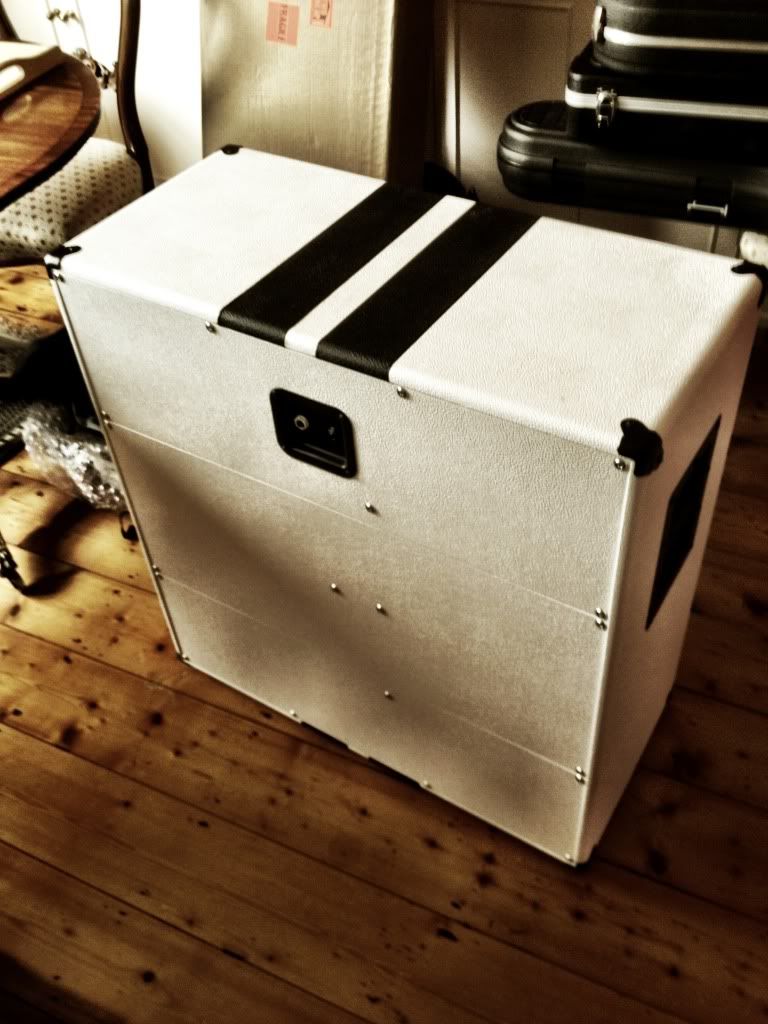 Paul and I discussed specs, but he has also surprised me with some very cool features of his own that he put in there too.
Firstly, as agreed, the cab has an x-pattern of two Vintage 30s, and two Celestion Lynchbacks, but Paul has wired them up so that in addition to regular "all-four-speakers" operation, you can choose to run each pair of speakers independently - using the white input provides normal mono operation, using the black input gives you V30s only, and using the white input with a dummy cable plugged into other gives you Lynchbacks only (plugging a separate source into each input gives you "stereo" operation, but since the speakers are in an x-pattern it won't exactly sound stereo).
Secondly, Paul used his 3-piece removable back design so that it can be easily turned into an open-backed cab. The cab still has a central front-to-back brace like most closed-back designs do but often gets omitted on "convertible" cabs.
Finally, the cab, despite being rear-loaded, has a removable grille for closer/more accurate mic'ing when recording.
So far I've only tried the cab with Paul's own amps at the workshop, a JPF Sir Charles and a JCM800 2203, but was extremely impressed with the depth, clarity and punch. The Lynchbacks were an unknown quantity - I fancied trying something along the lines of a greenback but without compromising on the high-gain tones I use with my band (I stick to V30s usually). According to the blurb about them and user reviews it sounded like they'd be up to the job, though a few reviews likened them to T75s, which I find to be somewhat metallic and harsh sounding. However, being able to directly compare them (that wiring idea of Paul's is genius!) to the V30s today I was very pleasantly surprised to find they sound really rather smooth in that "greenback-y" way I was hoping for - not harsh at all but with plenty of clarity/cut, and a very healthy low end response (more so than the V30s). The combined sound of all four speakers going was great - the character of both the V30s and Lynchbacks was clearly audible the two blended together into a very big and satisfying sound indeed. I'm looking forward to getting the cab into a rehearsal space with my own rig in the near future to really put it through its paces before using it on stage at our upcoming gigs.
Here are a couple of pics from the workshop earlier, believe it or not I am not "flipping the bird" in the first one but actually trying to wrestle the strap onto the lower button!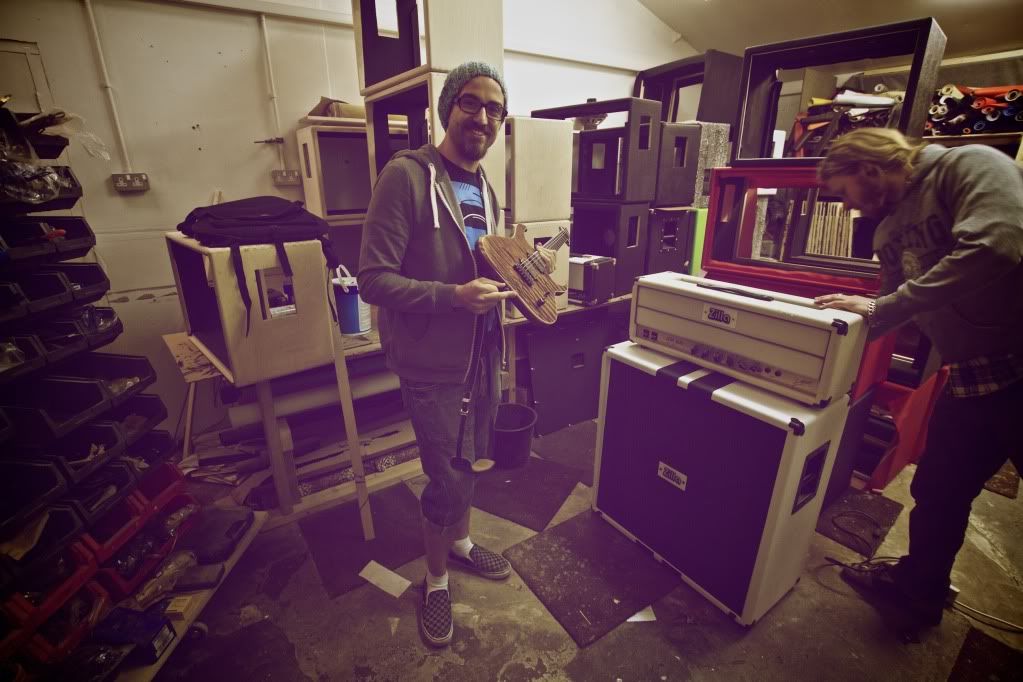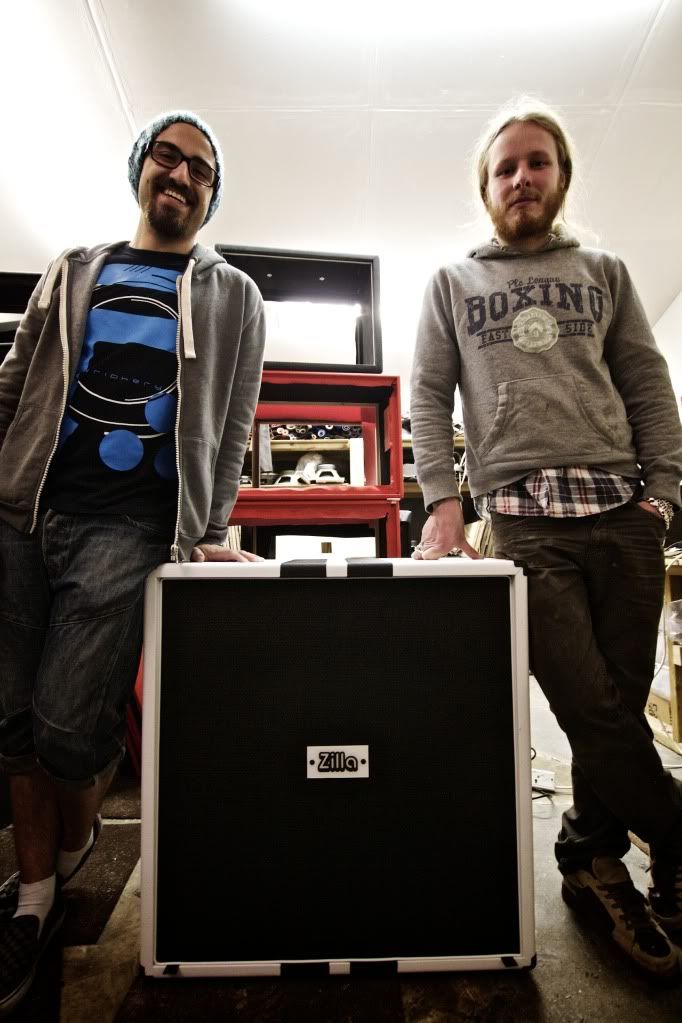 Cheers lads!