Discussion Starter
·
#1
·
a.k.a. the new HOLY PACKAGING BATMAN day.
Coming home from work is always soemthing good, because it means that work is over. But WAIT! Whats that?
There is something in the entry of my flat...
It is a PACKAGE!
Lets open it...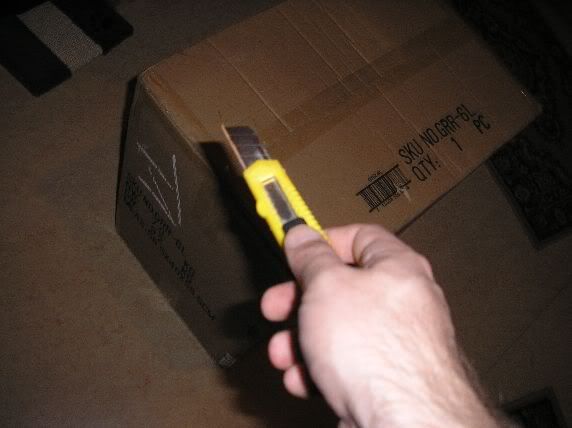 *cutcutcut*
it is....
A NEW 6U RACK!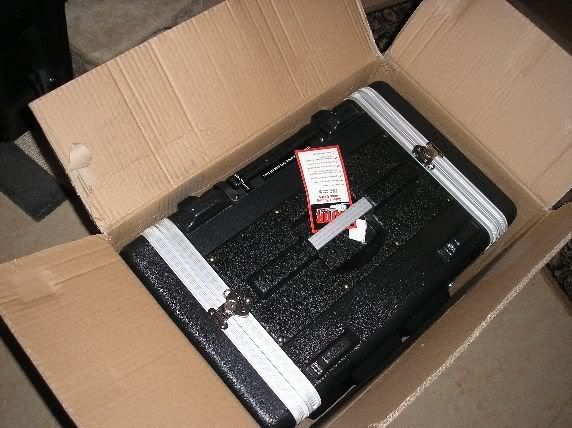 But wait....there is ANOTHER PACKAGE!
Hurry, open that thing...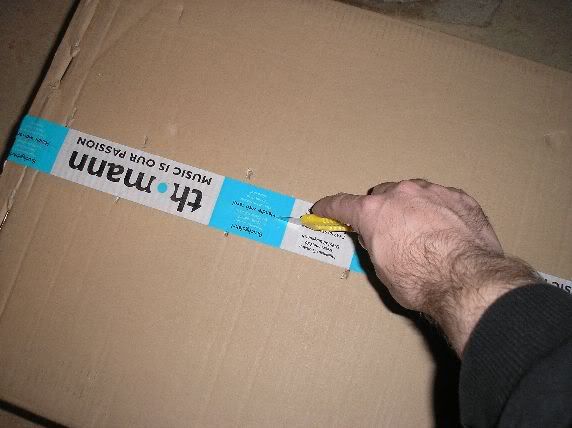 And in this package lies.....
ANOTHER PACKAGE!!!!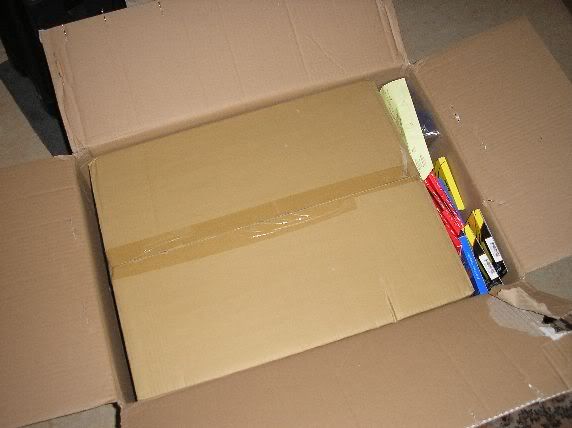 and some small stuff on the side. lets take that out first...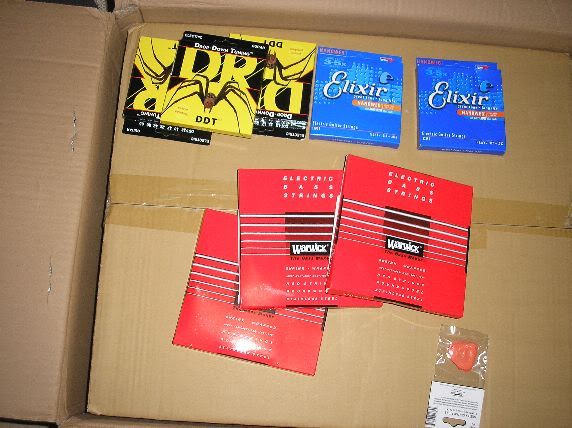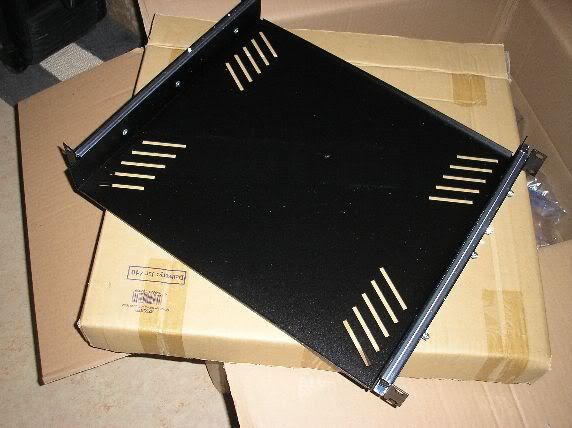 Ahhh, strings and stuff, nice, but lets go on...lets take the other package out...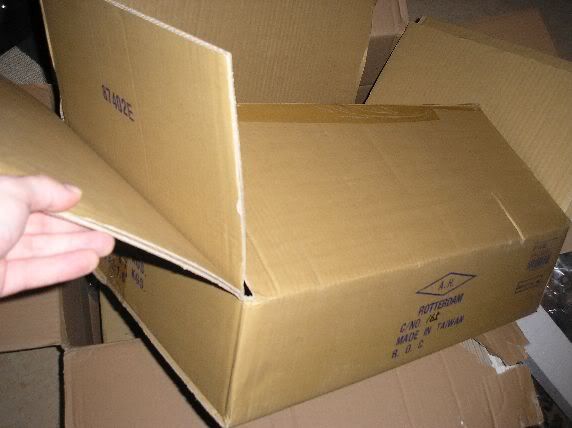 Here we haaaave....
A rack drawer! Nice one.
But WAAAAAAIIITT....whats that? I left alone.... my mind was blank....I needed time to think to get the memories from my mind.
What did I see? CAN IIIIII BELIEVE?????
It is - who would have guessed - ANOTHERRRR PACKAGE!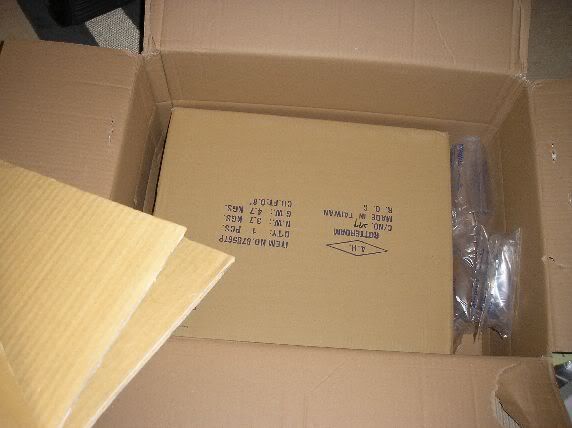 Out of the box with it...
opening up...
Surprise...another package.
Come to daddy..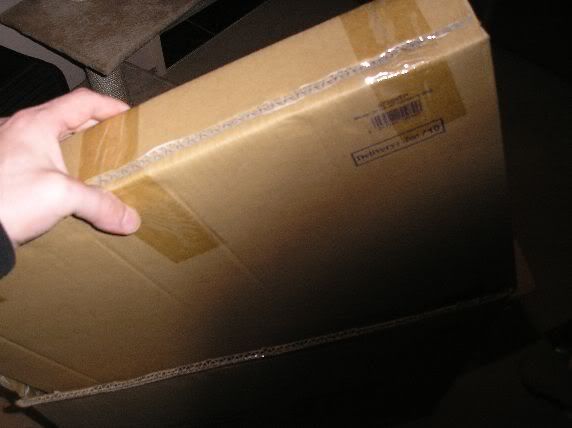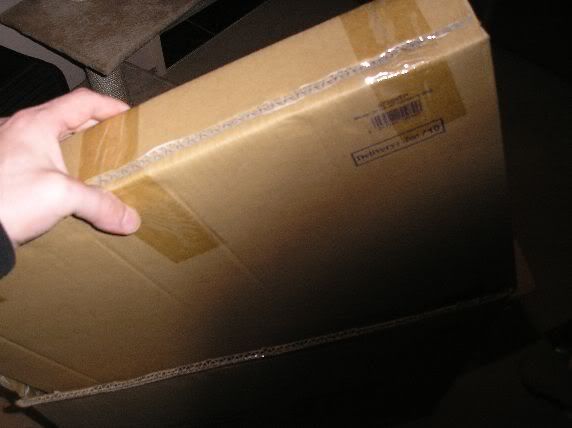 hm? whats that?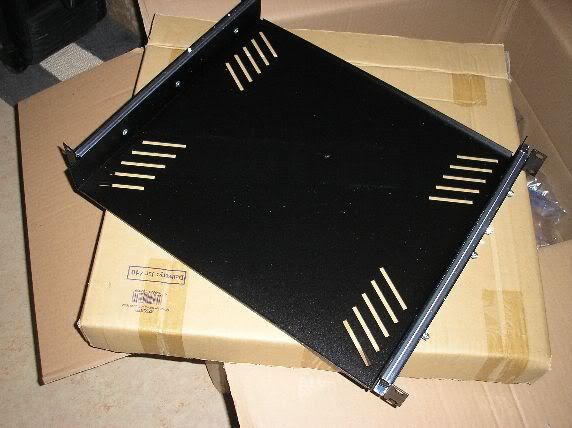 ITs NOT another package, its again something that makes my life easier, but i'll show you that one later..
Lets take a look first at what i currently have to deal with:
I used to run a quite simple setup: Guitar -> Tuner -> ISP Decimator -> Amp -> Cab.
You know how things are, and from time to time there is a new part added to the chain...i somewhen added a Tubescreamer to the setup (for the passive-equipped guitar), then wanted to try a Multi-FX, bought a Rocktron Xpression, also a small 2U rackcase, then needed something to switch, so i got me a Midi-floorboard...
and some time later, you realize: Holy fuck, i need FOREVER to set the whole thing up every rehearsal, every gig...Transport and cable sald is killing me! I need to rearrange ALL OF THAT!
So currently i had to carry, BESIDES the gutiar case and the amp:
Small 2U rack:
Backbag full of cables, pedals and shit:
When you open that small case, there is:
Holy cable-salad-lolz:
ZOMG-U-R-OLD Midi Floorboard: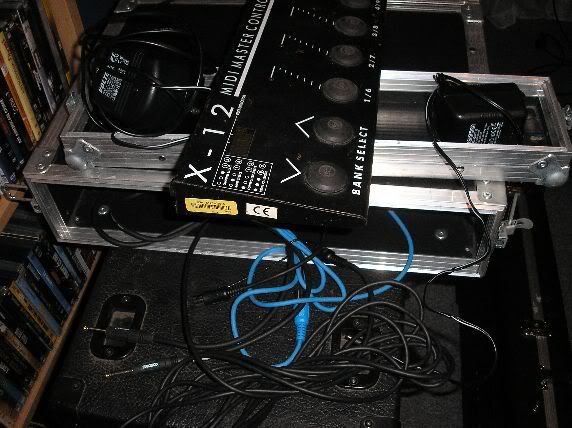 Big-ass-giant-heavy-as-motherfuck Power Supply for the Midi-Floorboard: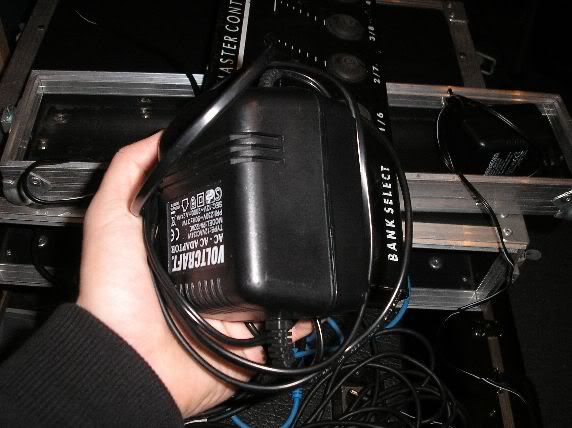 Open backbag, and you'll see:
DO. NOT. WANT.
So, lets start and get my new WTF-ALL-IN-ONE-ÜBER-RACK started.
But FIRST - we need a fitting soundtrack!
Lets see...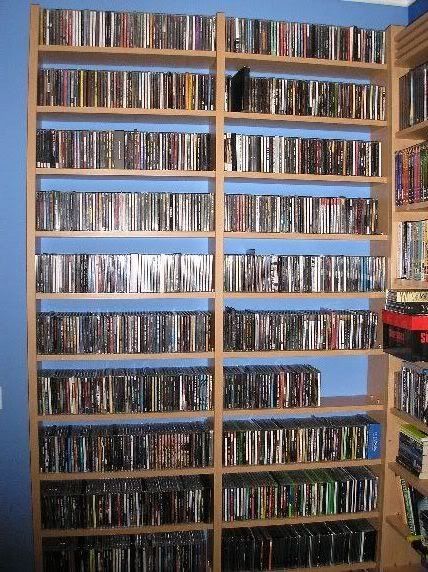 Difficult decision...we need something thats like my rack - pretty new, but also cheesy 80s style...
Wait...
Thats it.
IDEA!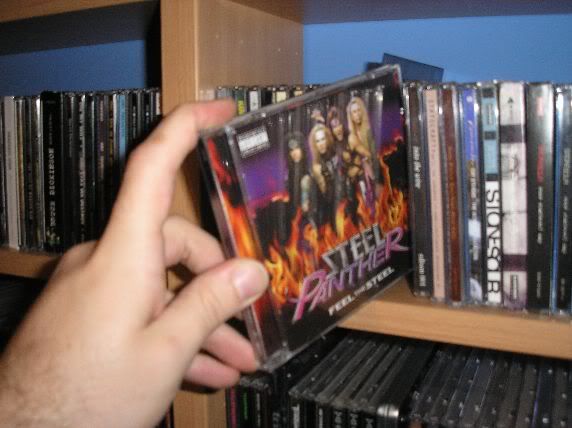 :lol:
So, now we get REALLY started. First, i want the rack drawer at the bottom of the rack..
*screwscrew*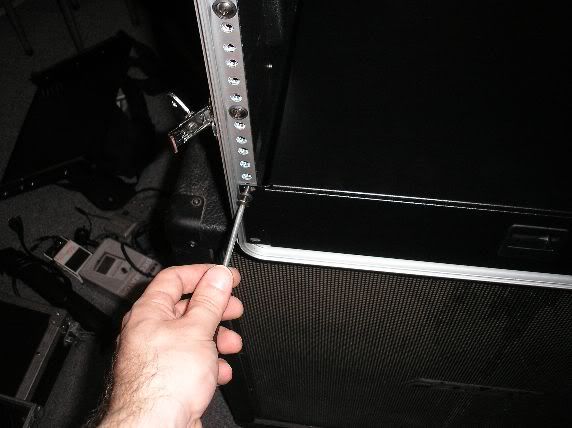 TATAAAAA! easy one.
Second one...remember that thing?
That thing has side-rails, so lets mount that...
*mountmount*
thats a bitch to install, goddamnit...
but FINALLY:
And THATS why it has side-rails: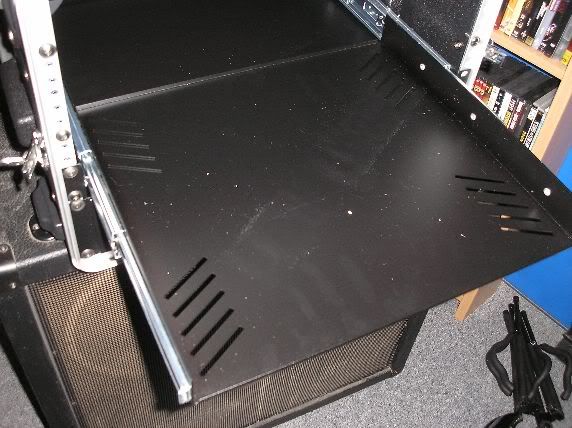 So, what are we going to do with it?
Mount some stuff on it!
What stuff?
That stuff:
First and most important: Power-strip. I'm mounting that thing with cable-fixer.
Sits absolutely tight.
Perfect, up next: The pedals.
What do we need for that?
Exactly.
RIDICULOUS AMOUNTS OF FIXING MATERIAL!!!!
As its my first try, i'm starting with removable velcro, so i can re-arrange the whole thing if needed.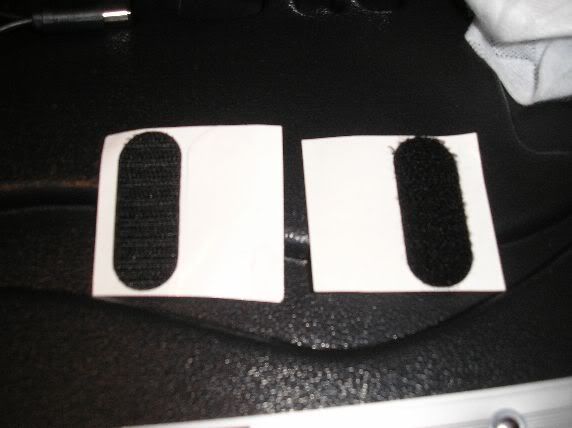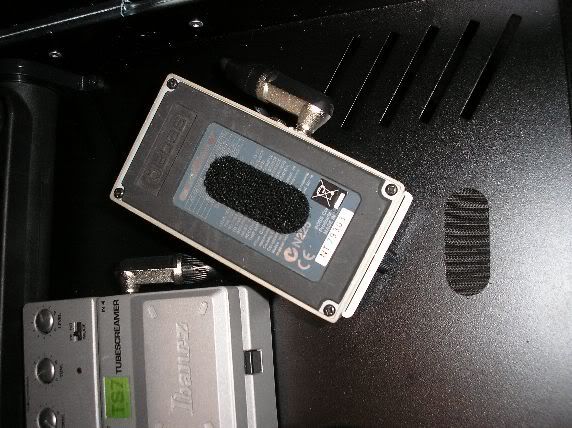 (I'm skipping that for the other pedals here)
ready!
Why i arranged the pedals that way? Well, because i want the needed jacks easy accessable, see here:
Lets not forget the power supplie! (TS + ISP are daisy chained from the Tuner)
I fixed that one again with cable-fixer around itself and the power strip. Sits extremely tight.
But wait - i forgot something....there is still something sitting in my old rack...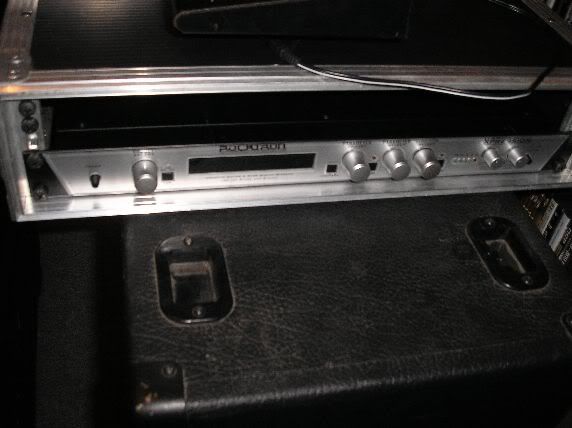 Ah, rack-FX! Come ove rhere, enjoy your new home!
You need power too? Yes, i know that, just wait a moment....
Soooooo.....what do we have next? Ah, there is this small thing!
I dont really "NEED" it, but i like it, it was 5,- cheap, so i bought it.
(imagine pic of me, mounting that thing to the backside of the rack, here)
ready!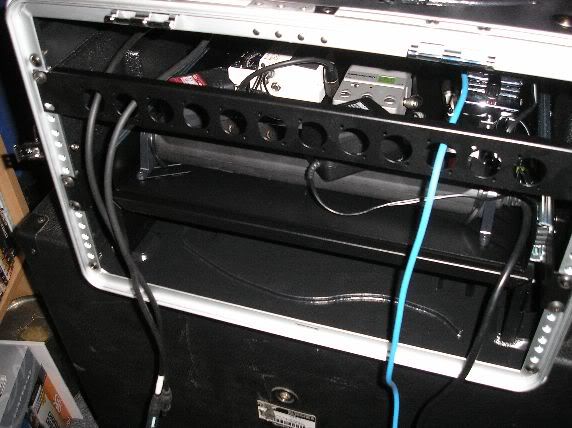 Done now? not really.
Because there is an empty rack-drawer: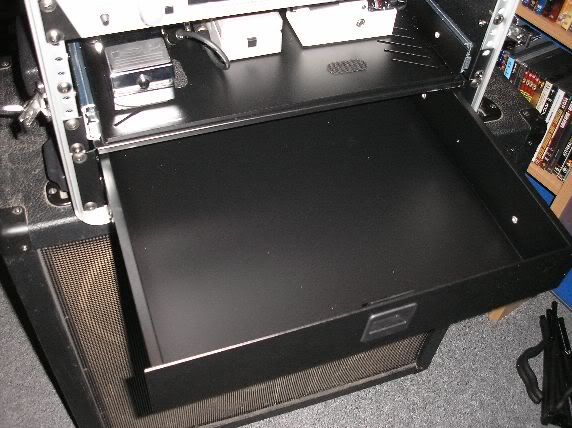 And it wants something put inside of it, like a dirty whore.
Here, i give you a cable:
And a second one:
And speaker cable and power cable:
You know what? You cant have enough spare cables, esp. speaker and power cables. (Because our bassist mostly forgets his)
And spare-plectren: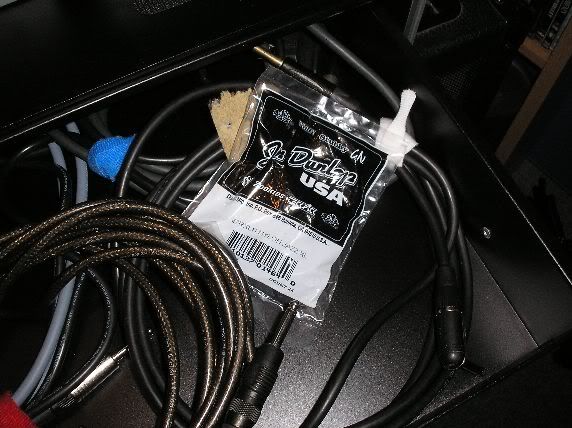 And spare-strings: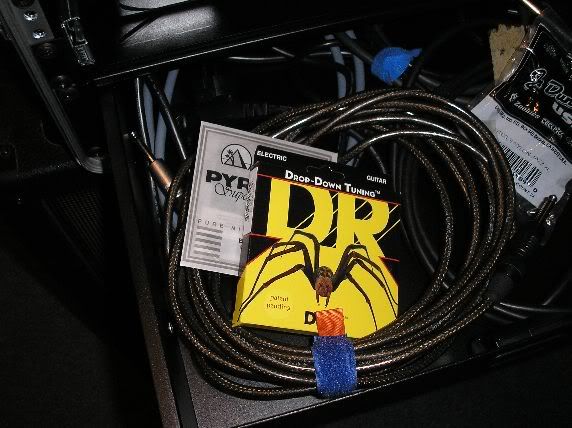 And spare bass-strings (again, the memory of our bassist is limited) :
And tools!
And spare patch cables!
And something with IRON MAIDEN ON IT!
And spare tubes!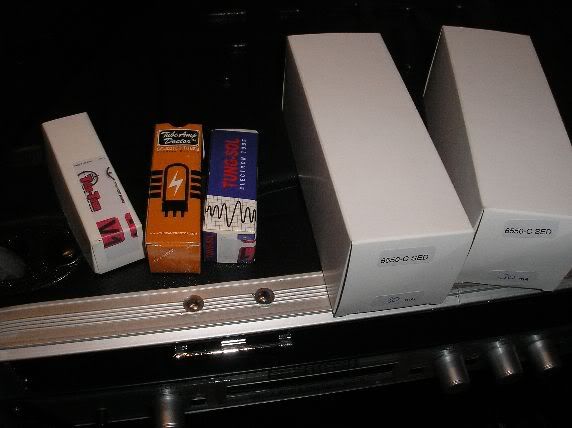 ...damn, these are sooooo awesome...
wait...i'm somehow losing control here...
Where was i? Oh, yeah: So, everything mounted, ready and packed, lets drive to the rehearsal room and try everything out!
So, that thing meanwhile has some weight...how do i get that into my car and in the rehearsal room?
Oh, i remember...i remember that i bought that thing WITH FUCKING WHEELS AND A RUGGED PULL-OUT HANDLE!
So please do me a favor, and imagine here an epic picstory of me, ggetting that thing into my car, driving to the rehearsal room, beeing extremely happy until i found out that my idea of using the rack upside-down
(the rack is thought to be used with the wheels downside, i thought for security reasons, as i wanted to put the rack on top of the amp, it would be better to have the wheels on theupside, so i put the case upside down before i mounted everything in it)
wasnt such a good idea, as something is blocking the drawer when pulled out.
So imagine here part 2 of the picstory, an epic journey after the rehearsal back home, fighting dragons, saving princesses,... :horsesh:
....getting everything out of the rack, and re-mounting it - correct direction this time and also a small change (Rack-FX now UNDER the pull-put-tray), getting a Nobels MF-1 instead of the old ART midi-floorboard (Nobels MF can be phantom powered from the amp, so no need for the bigass-pwoersupply, one thing less to carry and take care of)...let a few days pass until the next rehearsal, and here we are and i present you my
NEW REARRANGED RIG WHICH IS TOTALLY SET UP IN LESS THAN 2 MINUTES NOW!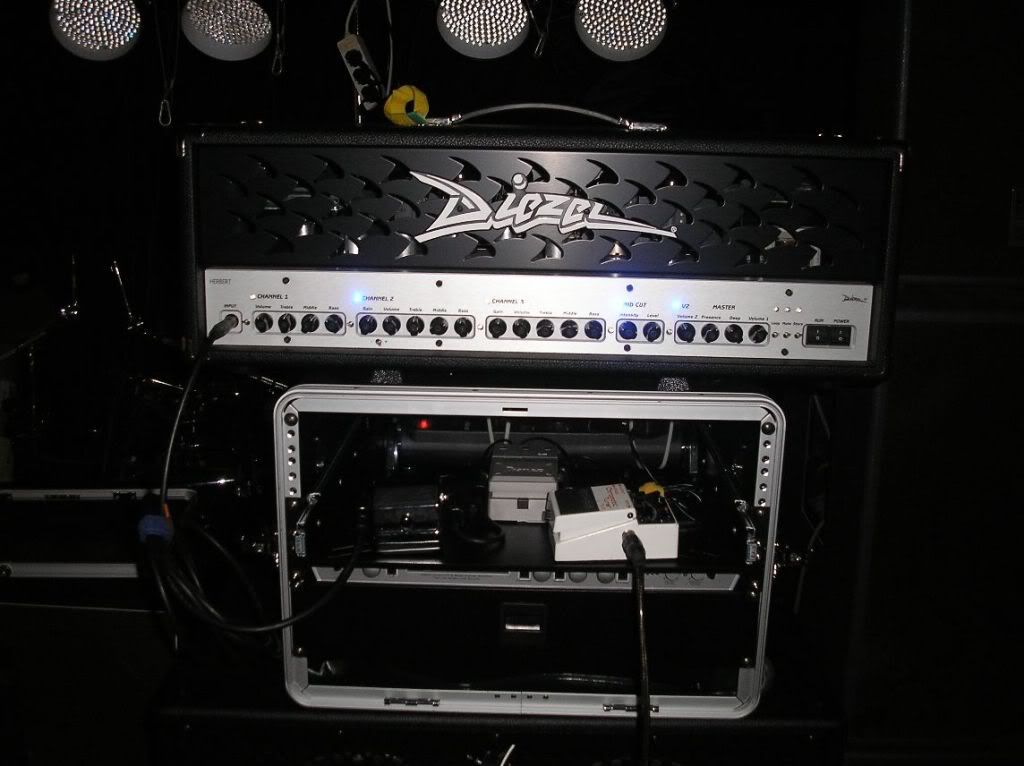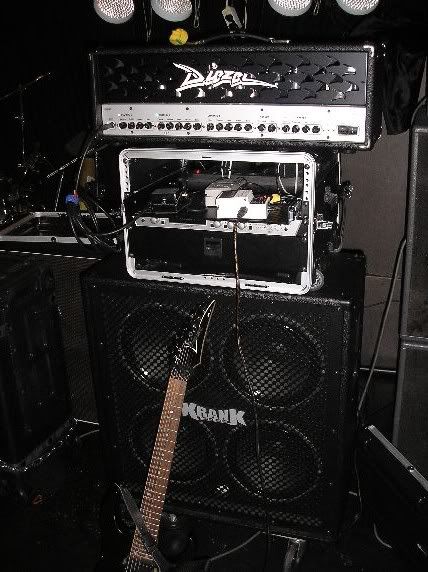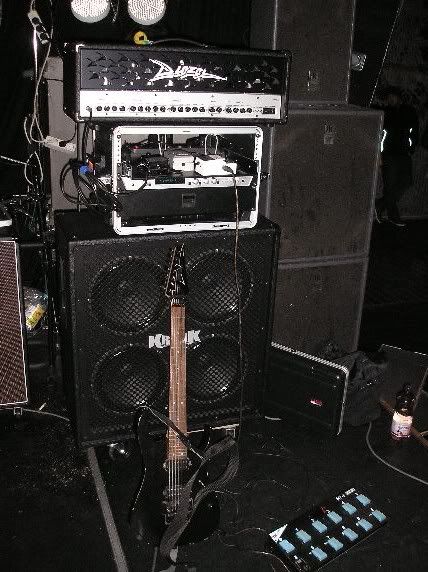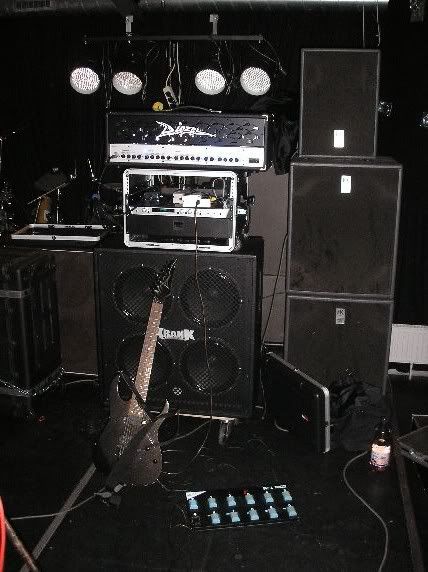 I finally feel like beeing NEAR complete...
Just kidding, its NEVER complete. I'm going to get a midi looper, and put TS and ISP into it, so i can take them out of the chain while switching to the Clean Channel. Also i'm of course changing to a racktuner (altough i'm goign to keep the TU2 pedal as first thing in the chain, because it has a very good buffer built in. fuck "true bypass", first thing in the chain must be buffered), AND i'm either changing to a different Rack-FX or getting a Digitech Whammy (newest genereation can be midi-controlled), because i have my trem blocked, second guitar is fixed bridge...and i want to do divebombs again. Therefor - also the Nobels MF-1 is temporary only, i'm going for either a MF-2 (with additional Expression pedal) or a Behringer FCB...
All these coming to a forum near you....in picstory-format..soon.