Discussion Starter
·
#1
·
Hi guys,
Prepare your eyeballs!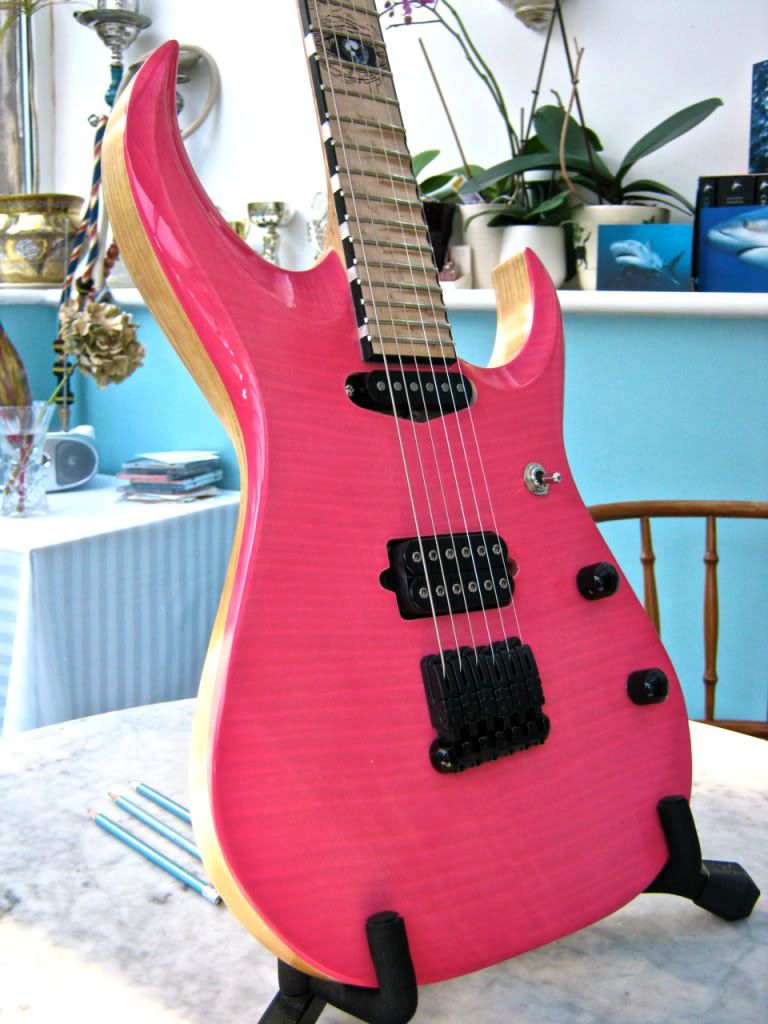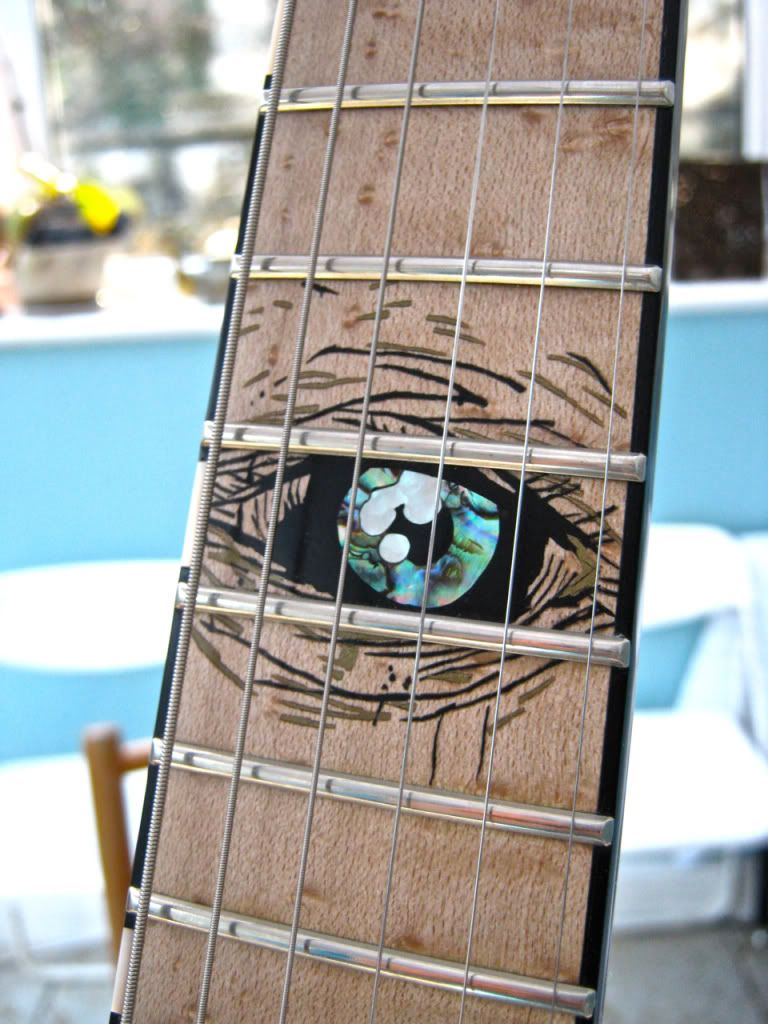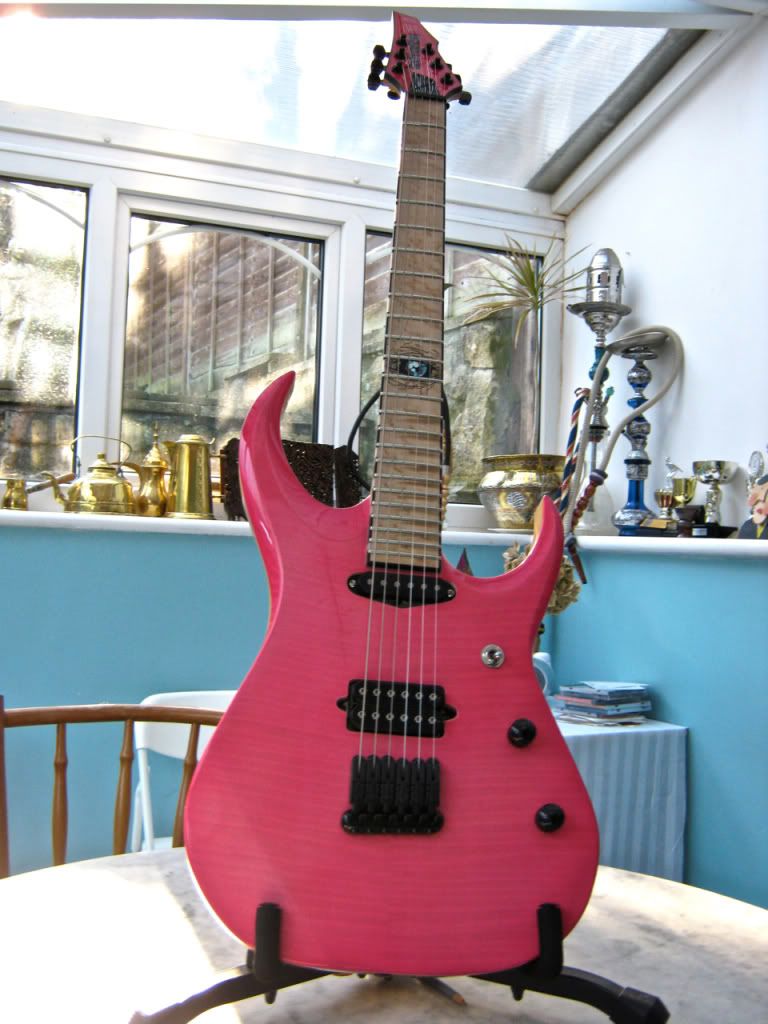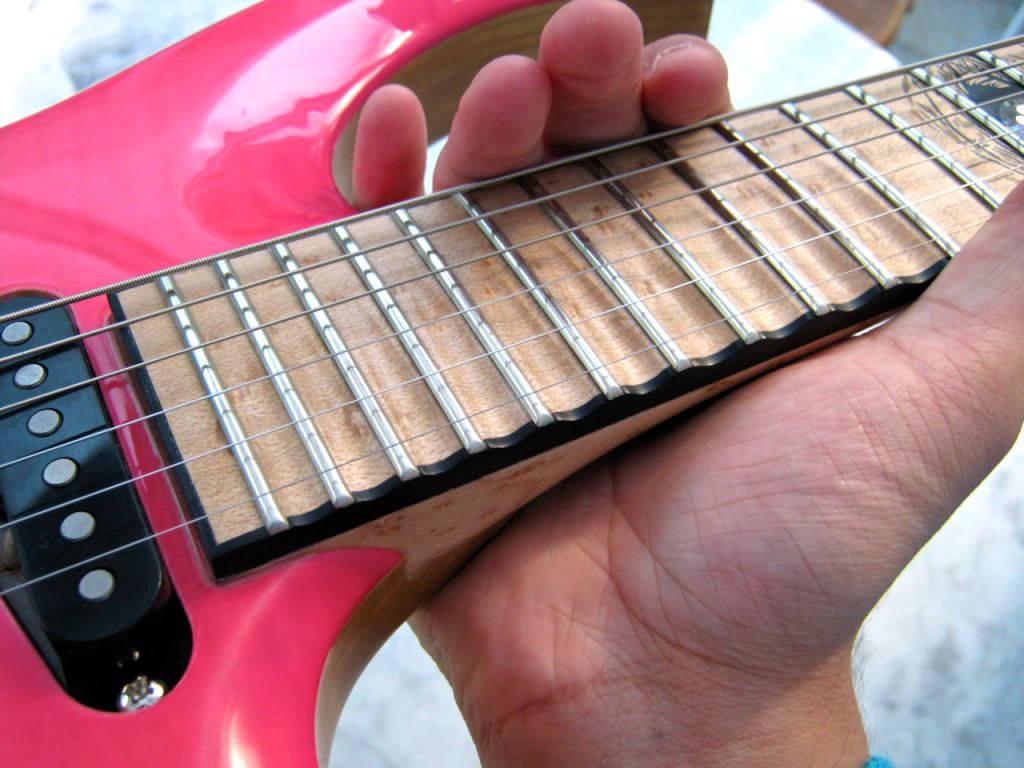 So, the specs are:
Dæmoness Cimmerian body shape w/contemporary carve option
Set-neck construction with custom thumb notch
Flamed maple top on a swamp ash body
Hot pink finish on top (gloss), natural satin finish on body and neck
3-pc birdseye/flame maple neck w/birdseye maple board
20" radius, angled scalloped frets from 15-24
Thin "Flatbacker" neck profile
Black binding on neck/headstock, side block inlays (MOP)
Eye inlay design from my band Red Seas Fire's artwork
Bare Knuckle Pickups: Aftermath bridge, Sinner neck
Schaller Hannes bridge, Hipshot locking tuners
Needless to say this thing is an absolute beast. Dylan worked really hard to get it done in time for me to use it at my demo for Bare Knuckle Pickups at the Manson's Guitar Show in Exeter this weekend, and while it was nervewracking playing a show with a guitar less than 24 hours old, it came through like a champ.
Fit and finish is totally flawless, and all of the little personal details I requested have been executed exactly as I asked. The inlay of course came out beyond my wildest expectations, and continues to blow me away every time I see it. The pink is such an amazingly vivid colour, under direct white light it has a fluorescent hue that is pure 80s, but in different situations it can look closer to baby pink or even salmon pink (under yellow light particularly).
After working on many of my guitars and building me a 7 already, Dylan knows my preference for neck profiles, and he hit the nail on the head with this one. At 18.5mm it's very thin, but somehow it still has enough substance in the right places to feel extremely comfortable for chording. (I should probably say, I'm not a fan of super-thin necks like the Wizards that feel like playing a piece of paper - this is a very different vibe). The scallops up at the top end of the fretboard feel amazing, it makes grabbing bends so easy and secure - you can just get more finger right on the side of the string, rather than having to push it downwards into the fret to prevent it from slipping out from underneath your finger when bending.
I love the Schaller Hannes bridge to bits, I've wanted a guitar with one for a long time so it's amazing to have one now. It's so comfortable under the palm, but perhaps more importantly really improves the sound of a guitar - you can hear just how different the tone is unplugged, and plugged in it is just so direct and punchy.
The side block inlays are a revelation for finding your way around with minimal effort. On stage I found that the shiny mother of pearl reflects light very clearly, making them almost glow in the dark.
The Aftermath in the bridge is completely ridiculous, the guitar sounds SO aggressive and tight. It has a real 'percussive' sound to palm mutes that makes fast riffing on the low string sound like a machine gun rattling off. So clear and punchy, and at around 15k it's not compressed or overly saturated sounding at all.
The Sinner in the neck was also amazing. Initially I was worried about putting a true single-coil in the guitar and risking hum, but I'm completely sold now - the pickup is incredibly quiet, the change in noise is almost undiscernible when switching from bridge to neck, and the tone this thing puts out is just unreal. Fat, smooth, with that beautiful single-coil attack. It can shred and scream, but I tried it through some classic-voiced amps at the guitar show, and it totally nailed the fat single-coil Andy Timmons tone (especially through an H&K Statesman combo).
Anyway, that's enough typing for now, hope you guys dig the guitar as much as I do. I'll end this thread with a couple of pics from the BKP demo I did (vids of that to come!)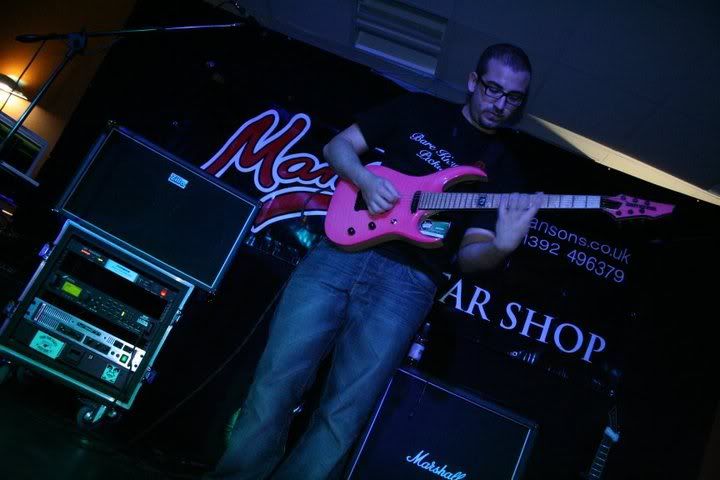 Cheers!