Discussion Starter
·
#1
·
Story after the pics, since that's what you really want to see.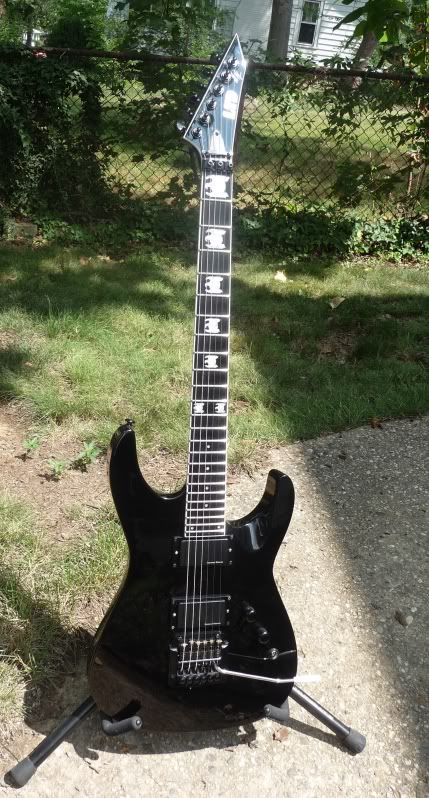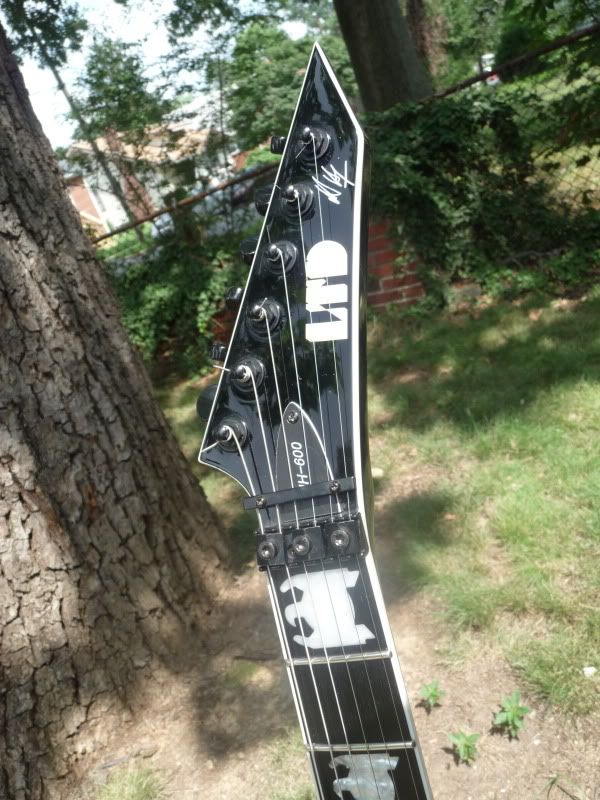 Here's the back story: A few weeks ago on eBay, I lost out on two 1984 Jackson Soloists with H/H pickups and Kahlers. This JH-600 was for sale at Atomic Music at the same time and was my "back-up plan" if I didn't get either of the Soloists. Well, it was gone when I went back to get it after whiffing on the Soloists. However, the buyer sold it back to Atomic because he couldn't deal with the Kahler. So, I was able to very happily snag it yesterday, just in time for my birthday!
So, why the fuck do I want a guitar with a Kahler? Well, I've owned a number of guitars with Kahlers over the years, and I've always loved their tone, as well as the soft, springy feel they give to the strings. There's a very distinct "Kahler tone" that has always appealed to me. The downside is their fussiness and tendency not to return to zero pitch.
Anyhoo, the price on this JH-600 was certainly right. And, guess what, on this four-year-old guitar, the Kahler already does not return to pitch correctly. :lol:
By "return to pitch", I mean all the strings together, not relative to each other. In fact, with a Floyd nut, the strings on this guitar stay perfectly in relative tune to each other. The trem just doesn't return to the proper zero starting point. Mostly it's a problem with pulling up on the bar, which I rarely do. If I only dive the bar, it returns to the right place (Floyds with dull knife edges do the same thing).
As such, it's usable, but I'm definitely going to want to fix it properly. Otherwise, this Kahler Hybrid seems to function just as well as a Kahler Pro. If there's any functional difference, I can't see it. I need to check whether the *** bearings are clean and lubricated, and also whether the screws for the springs are fully tightened. If all seems well, I'll probably replace the springs. I'm also going to WD-40 the saddles to make them roll 100% freely (already had to do this to the low E).
Apart from the Kahler, I am pleased with the quality of this guitar. Some of you know what a picky freak I am about fretwork, and the frets on this guitar are much better dressed than other LTDs I've played. No sharp ends or fret-outs etc. I've been very critical of LTDs in the past because every single one I play seems to have an issue with the fretwork unless you have the action set very high. Even with the action nearly on the deck, I don't have major problems on this guitar, even though there are some buzzes here and there. Kudos to ESP for finally finding someone to do proper fretwork on an LTD.
The LTD version of the Hanneman is all-maple, so it has a more "vintage ESP" tone like my '80s Mirage. I replaced the EMGs with Duncan Blackout neck versions, and it absolutely crushes now. Fuck the Slayer stuff--this thing kills for avant-shred in the Vernon Reid mold. You can absolutely go nuts on this guitar.
Which, of course, means that I'm going to have to get around to getting a proper Soloist w/Kahler.
BTW, that Fender trem bar is the only one I had available for it, and it looks so incredibly ghey on this guitar that I had to include it in the photos. :lol: