Discussion Starter
·
#1
·
In a blast from the past I picked up the classic (and rare) Hughes and Kettner rack rig of yester-year, the Access preamp and matching VS-250 power amp.
The Access is a very rare preamp, and I was happy to be able to pick one up in good condition. The Access came with two different sound modules, A and B. The one I picked up has version 2.01 of the more desirable B sound module.
The Access has 3 channels: Clean, Tube 1 ("Crunch"), and Tube 2 ("Lead"). The Clean channel is clear and chimey and simply will not break up, period. Tube 1 can go from a nice rich clean up to JCM800 gain levels, and does fantastic in-between just breaking up tones. Tube 2 is just thick, mean, rip your face off gain. Add to that one of the coolest interfaces ever and three programmable effects loops. I love this thing. I even got a nice jazzy clean dialed in on Tube 1.
The VS-250 is a pretty unique power amp, and is even rarer than the Access it was made to pair with. It's 2 50 watt channels, driven by 4 EL84s each. Each channel has 2 presence modes and each channel can run in Pentode or Triode mode. Triode mode drops the power to 25w per channel.
Now on to the pics (I even took a gut shot of the Access for those that are in to that stuff :lol
Front photos, I'll get these racked up as soon as I grab some kind of effects processor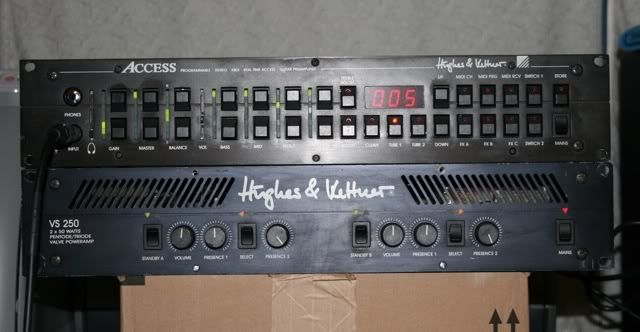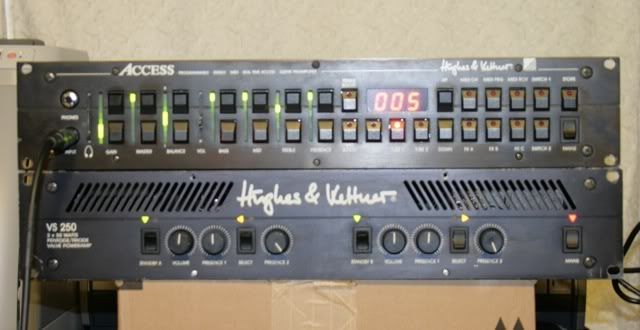 Access top
VS-250 top
Access Gut Shot