Discussion Starter
•
#1
•
Hi guys,
I've actually had it since the end of January, but having been out on tour I wanted to wait until I was home to make the thread.
Let's get straight in with the pics, shall we? These are some assorted shots I got while on tour, not necessarily the best for showing off the whole guitar at once, but hopefully you'll get the idea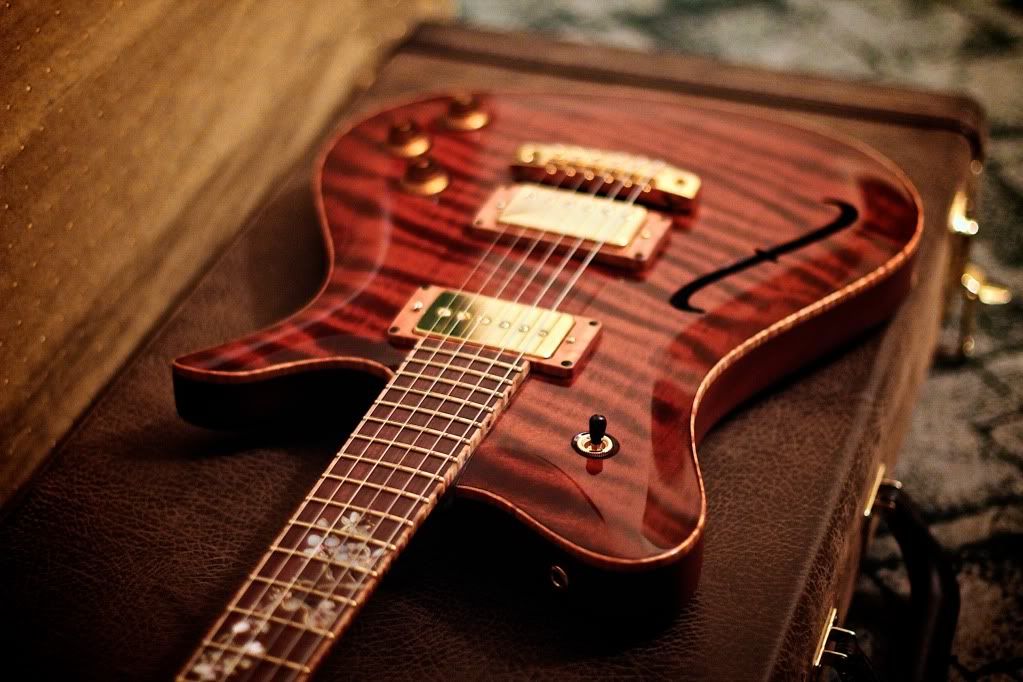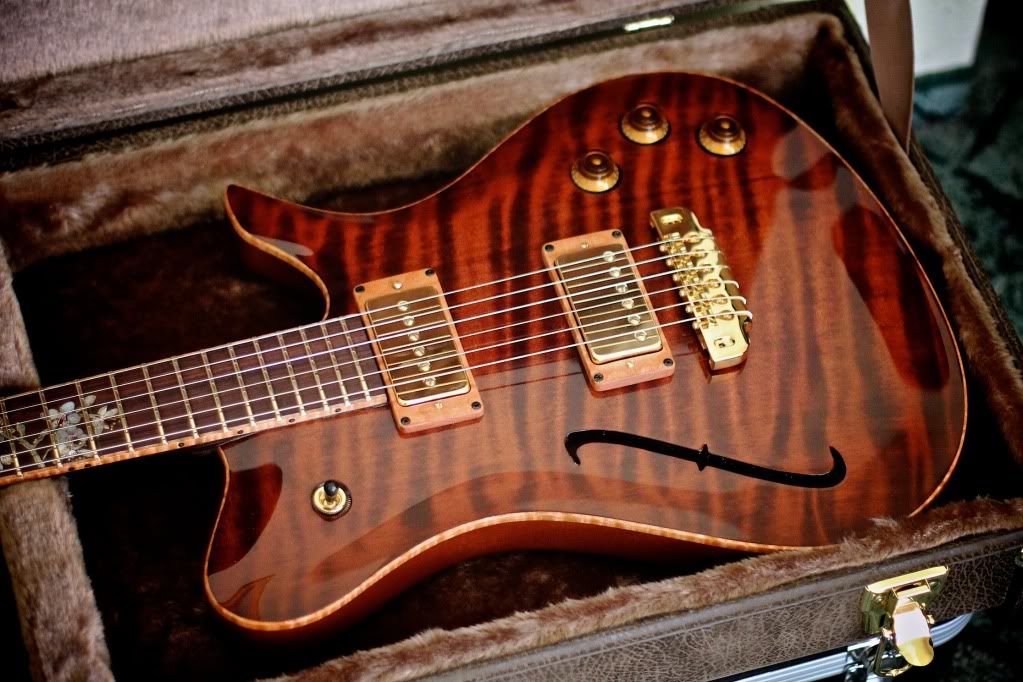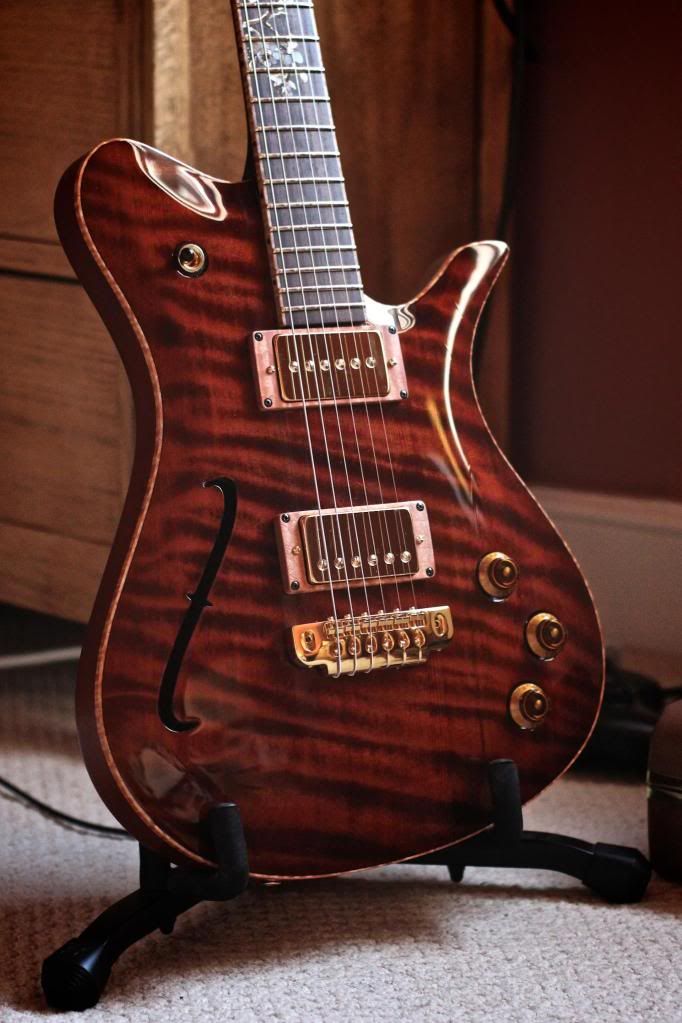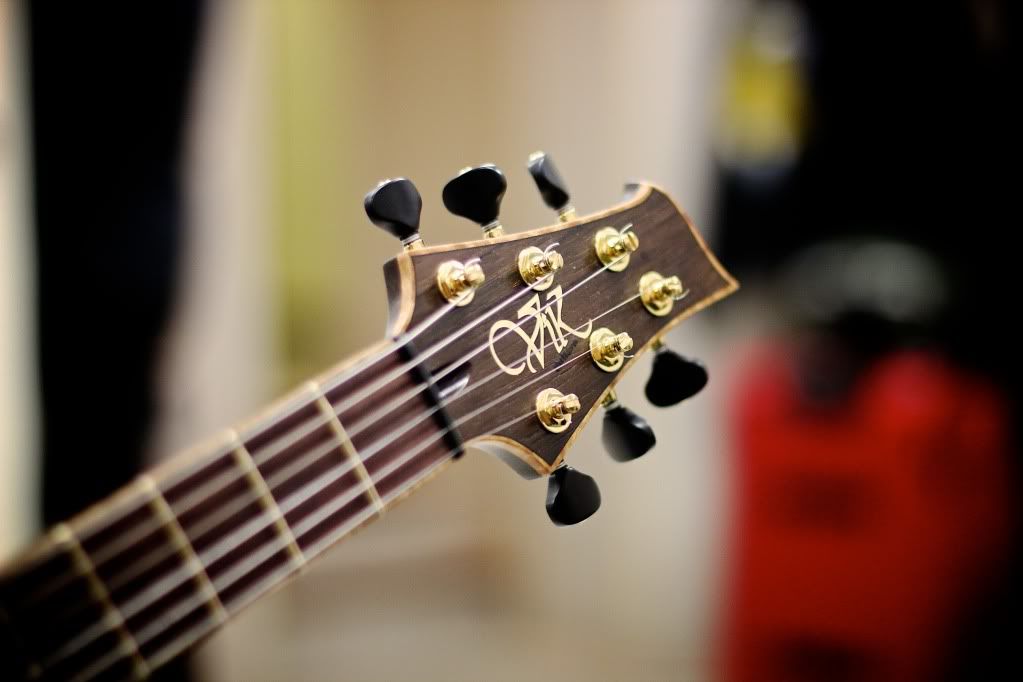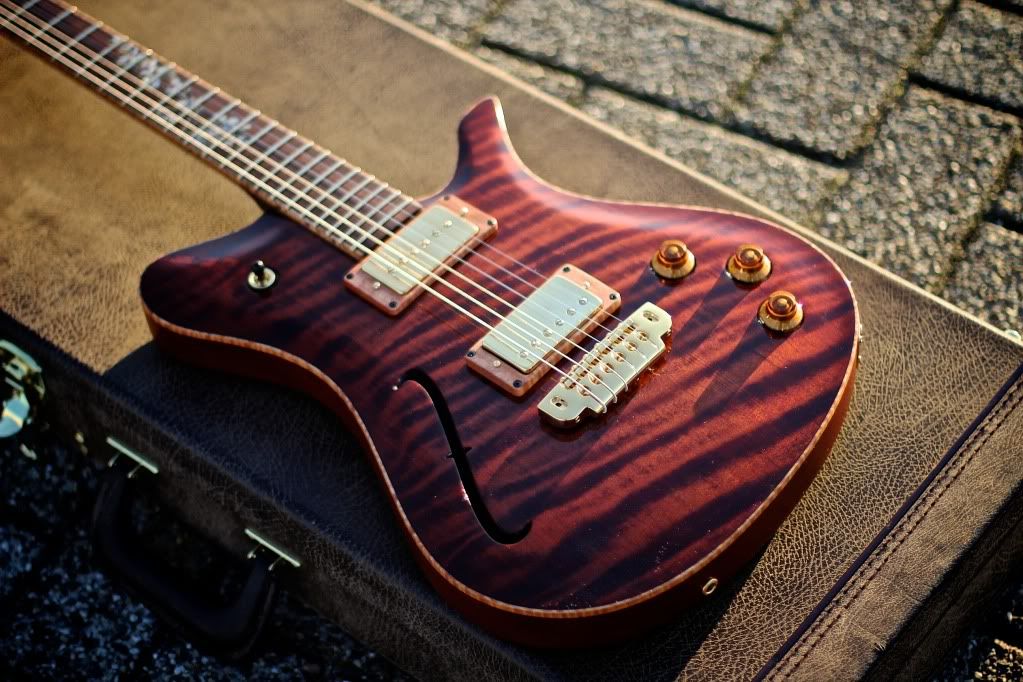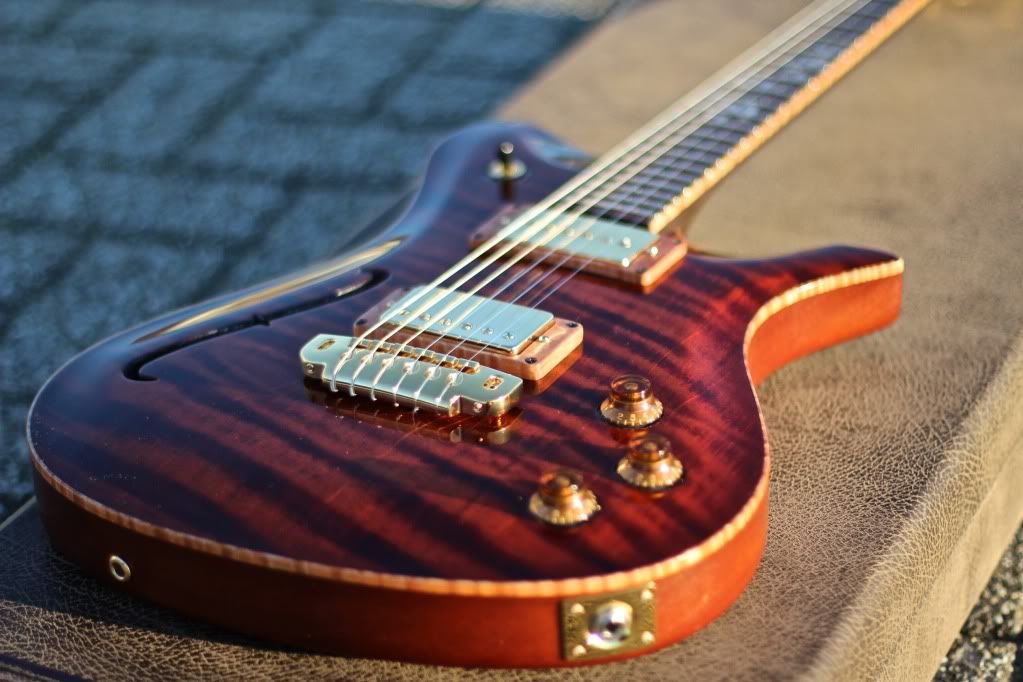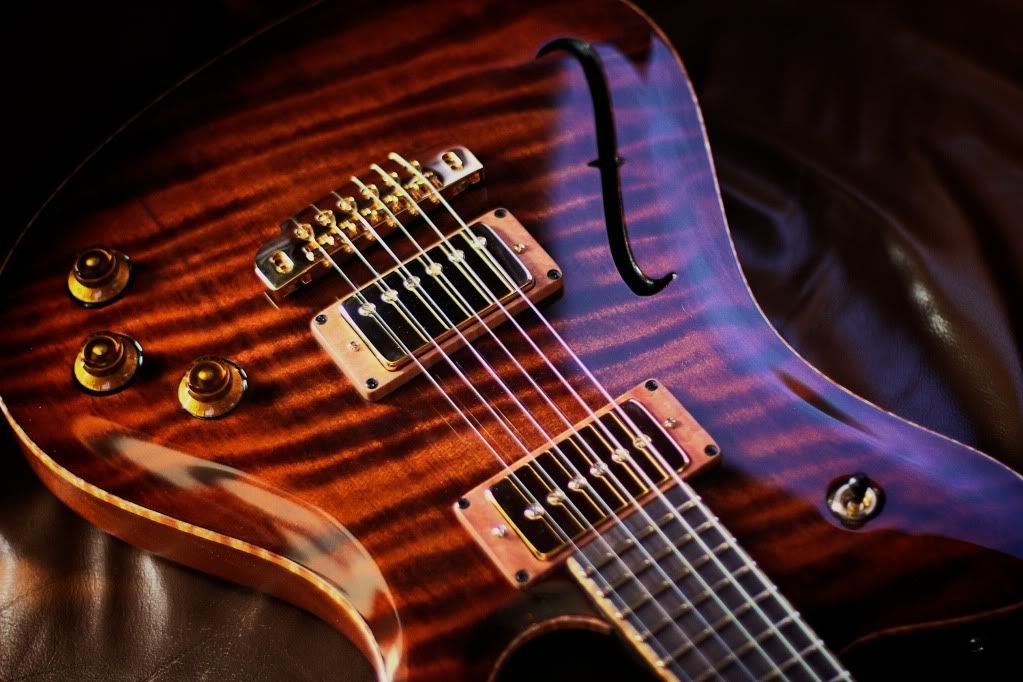 and a shot of the back from when it was still being built since I don't seem to have any pics of my own!
Next up, here are the specs -
ViK Caprice T 6-string
Fully hollowed body, set-neck construction
One-piece curly redwood top
One-piece Honduran mahogany back
Brazilian rosewood neck and fretboard
Flamed maple w/black stripe binding around body, neck and headstock
Flamed maple pickup rings
Cherry Blossom inlay
Bare Knuckle Mule humbucker in the bridge, Manhattan HSP90 in the neck, both unpotted
Gotoh 510 bridge and locking tuners
Recessed Dunlop straplocks
Gold EVO fretwire, 22 frets
Thin nitrocellulose-finished body - high gloss front, satin back and sides
For those interested, there is a full picture-diary of the build process here -
ViK Guitars Caprice T Redwood Twins
So, this is the second instrument I've ordered from ViK - after being completely blown away by my (GOTM winning
) Duality 7-string, I decided to go to him for this exotic hollowbody build. Let's say right away that I'm equally as happy with the result as I was with the Duality!
I had the pleasure of meeting up with Vik himself in Poland and collecting the guitar from him in person - it was awesome to be able to meet and talk extensively with him over a massive sushi lunch, and it was obvious just how passionate about his instruments he is.
My initial reaction was sheer amazement at the beauty the design, timbers and luthiery. Believe me when I say it looks far better in person than in mere pictures! I had a fairly good idea what I wanted when I placed my deposit, and it's safe to say that Vik nailed what I was after, while also adding many of his own ideas and details to take it up several notches beyond my expectations. The redwood top is absolutely stunning in the flesh, the figure is very shimmery and deep as you look at it from different angles. The Brazilian rosewood neck is wonderfully tactile and smooth, and the inlay work is (to my eyes) extremely classy without being overbearing. The use of flamed maple binding unifies the body and neck while also providing contrast to the various darker timbers, and the gold hardware sets off the whole package. The guitar is extremely lightweight despite the solid rosewood of the neck, and despite the added depth of the body, the subtle but effective contouring of the back makes it more or less disappear when you play it. The craftsmanship is flawless, with attention to detail evident everywhere you look.
Unfortunately it would be another month before I got to hear her plugged-in, so my first experiences were purely unplugged. Nevertheless straight away I was struck by how easy it is to play. I'm used to having to fight a little with hollowbodies; despite being acoustically loud they often seem to lack sustain and the extra bulk of the body can make them feel unwieldy... Not the case here in any way - fretted notes bloom and sustain almost as though you're playing through a compressor, and with an extremely comfortable C-shaped neck (think of a comfy strat neck) and very low buzz-free action it is utterly shred-able. Additionally, Vik has sculpted the heel joint so that upper-fret access is a non-issue all the way up to the 22nd.
The unplugged sound is extremely satisfying with a surprising amount of low end, as well as a pleasing acoustic-y snap. It was a shame not to be able to plug it in right away but at the same time it is so enjoyable to play acoustically that it still saw a
LOT
of playing time! It was interesting to notice the acoustic tone change subtly as the guitar "bedded in" - the midrange became fatter and more detailed, the treble smoothed a little and it became noticeably louder and more resonant.
Having got back home I was finally able to plug it in and was amazed all over again. Describing tones in words is always frustrating, so here are a couple of audio snippets. Firstly, some clean(ish) noodling from the very first time I heard the amplified sound of my new guitar:
Secondly I recorded a guest solo for my buddy Grant Cooper's prog-rock project "Nok Novum". Here's the raw guitar track, it might sound a little nonsensical without the backing but you can hear the tone a lot more clearly (plus the song is unreleased so it's not mine to give away!):
http://soundcloud.com/nolly/vik-caprice-t-lead
To my ears, the guitar's clean tone is very detailed and responsive. It has a very natural sound, aided no doubt by the low output P90 in the neck. It's a real joy to noodle with, I can see this being my go-to guitar for all clean and low to mid-gain sounds!
The surprise for me is how well it can rock out! It wasn't my intention that this be a rock instrument by any means but it has truly blown me away with how rich and clear overdriven tones sound with this guitar. It has low output pickups but the resonance of the body seems to really bolster the projection of the notes in such a way that it feels like you are playing with much hotter pickups. The clip I posted above is lead playing but it can really deliver some righteous rock and even metal tones. It's going to see a lot of use in my recordings, that's for sure!
So, apologies for the obsequious wall of text, I'm off to play some more!