Discussion Starter
·
#1
·
Here's my first foray on this forum beyond the Introduction section.
I managed to snag a fairly rare Heartfield Talon. It was my last import from Japan - Brexit, the Yen's recovery and CITES have put an end to my collecting of interesting gear from that part of the world.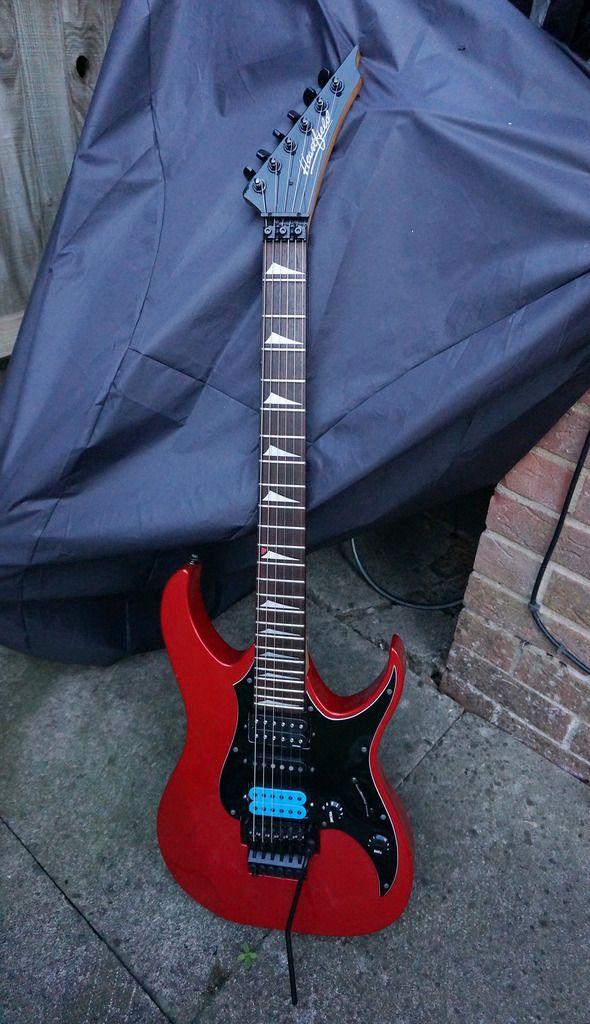 These Talons have quite an interesting back story. In short, Fender teamed up with Fuji Gen Gakki in the late eighties in order to produce Superstrats to rival the Ibanez RG line. The Talons were even manufactured in the same factory where a lot of high-end Ibanez models were made.
The general specifications of the Talon series are eerily similar to that of a classic RG: Basswood body, one-piece maple neck, HSH pickup configuration, double-locking tremolo system, Gotoh tuners and a neck joint that is almost the same as the AANJ (patent permission?).
I'd say that the one I have here compares favourably to the Ibanez RG750.
The designation for this particular model is TA-JIIID. It looks like it has a specification intended for the Japanese market only.
I did some research on the
Heartfield Guitars
site and most of the specifications seem to align with what we call the 'Talon IV' series in the West.
It has sharkfin-style inlays and 24 frets but the standard tremolo is a Floyd Rose Original (rather than the lower profile Floyd Rose Pro).
There is no mention of Fender on the neck and headstock. A sticker stating 'Design USA' gives the only clue regarding the guitar's origins.
Unfortunately the much lauded Heartfield hard case did not come with this guitar. No documentation or accessories were present.
The body is in average condition - there are a couple of dings & dents and a lot of gloss has been removed. I cannot tell whether a bunch of stickers had been removed with sandpaper or if an amateur refinish job was abandoned at an early stage.
Neck, headstock and fretboard are in almost perfect condition though. Very strange. I only had to do a quick polish to remove a little bit of gunk and oxidation on the frets.
The Rosewood used on the fretboard is really nice - a very dark brown and quite dense. I'd say it is superior to whatever slices of Rosewood that are on two of my Vigier Excaliburs.
The pickups are good enough for the moment, no need for expensive upgrades any time soon.
Neck position is occupied by a Dimarzio H 3. Apparently this was an exclusive pickup made for Fender, similar to the Evo Neck model (DP158) according to some internet lore.
Middle position is occupied by a generic Fender single coil. You cannot select this pickup to be active by itself - the weird wiring scheme only has it working alongside the humbuckers.
The previous owner had the original bridge pickup (Super 3/DP152) replaced with a blue Dimarzio PAF Pro (DP151).
Overall, the guitar plays well. I would describe the neck as having a shallow C-shape profile. It has a smooth satin finish that keeps things fast. Its shape is not as thin as a Wizard Neck, but is definitely less substantial than the one on my Vigier 6-string.
The tone is something I will have to get used to as this is one of my first basswood guitars (plus I've never owned an Ibanez RG). It is a nice change to have a guitar that is not a complete back breaker though.
The Floyd Rose Original is in good working order but feels notchier than the Schaller tremolos I have on other guitars.
Apologies for the essay.
Here are more photos to absorb: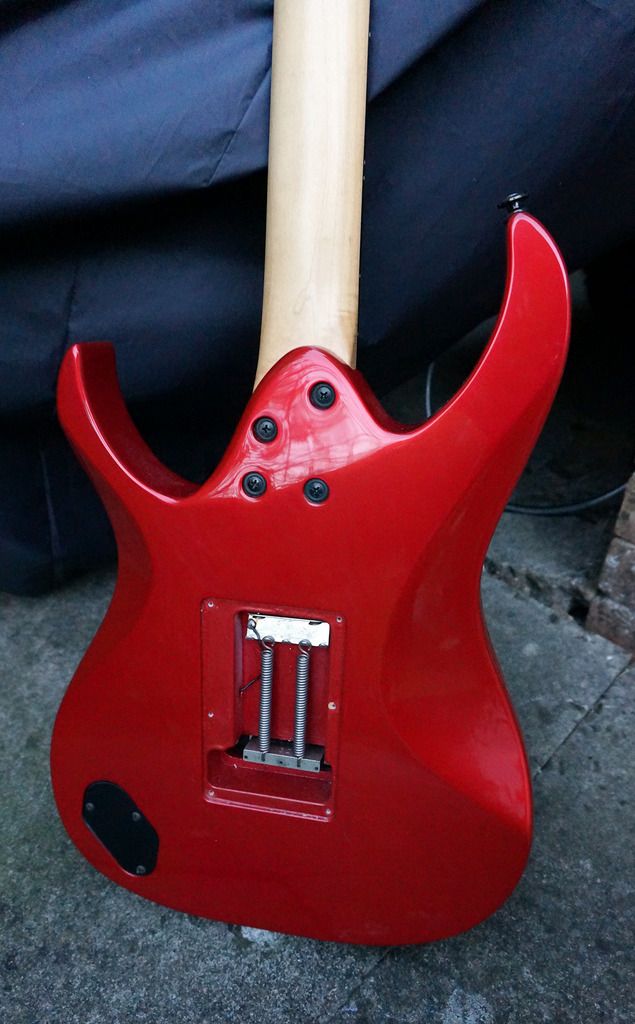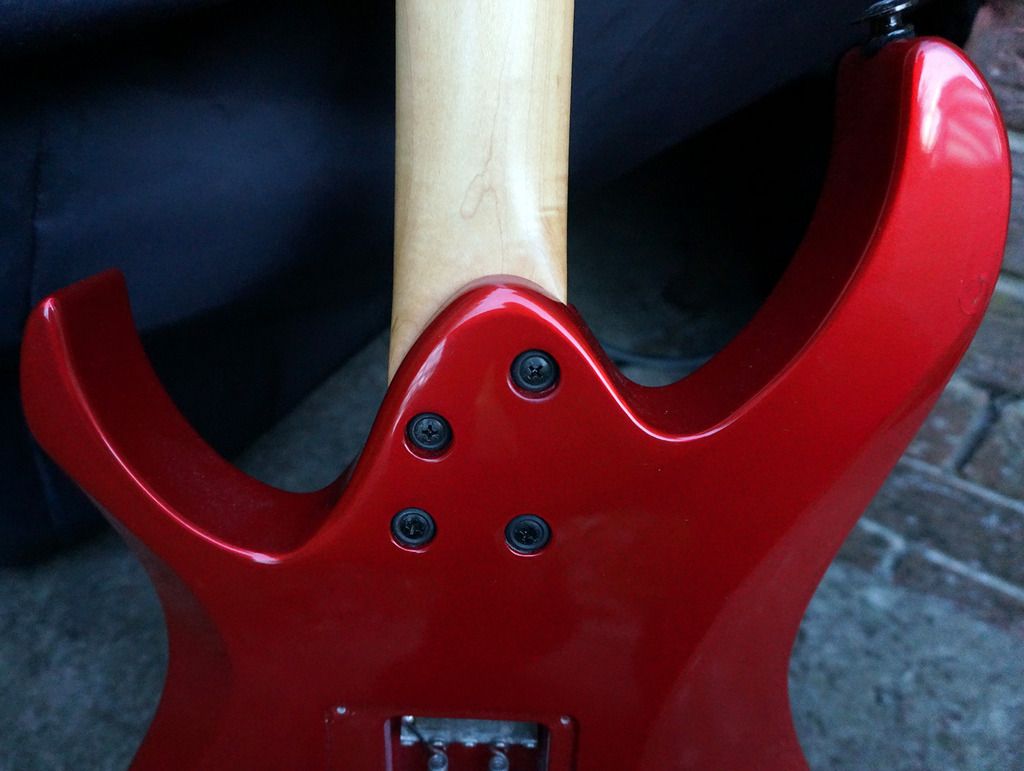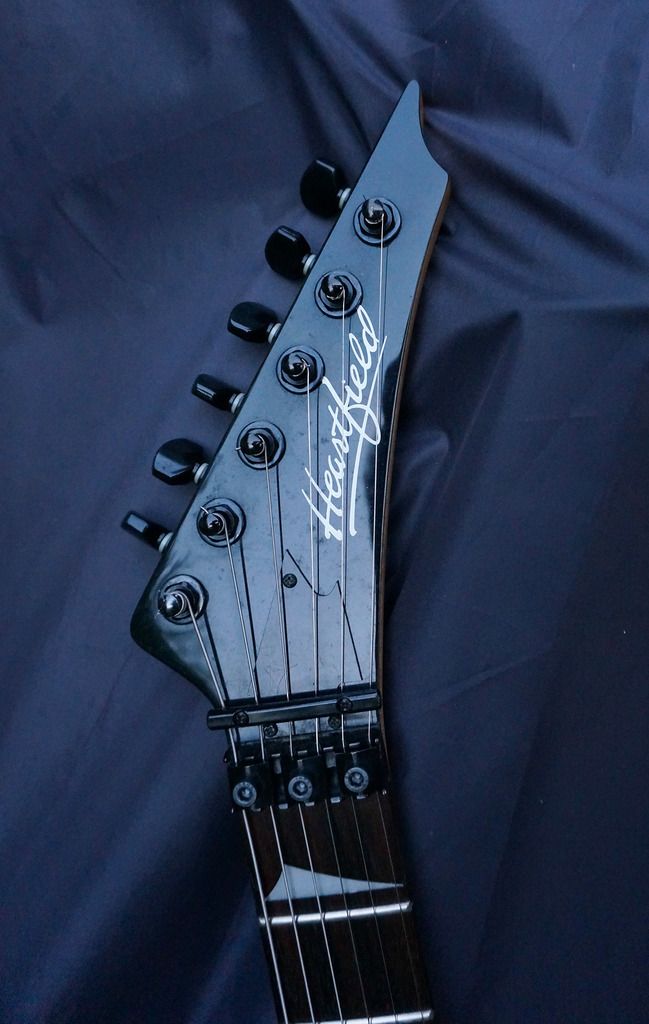 The camera's flash brought out the extent of gloss removal on the body's top:
The 12th fret inlay has an extra red inlay (same goes for the 24th):