Discussion Starter
·
#1
·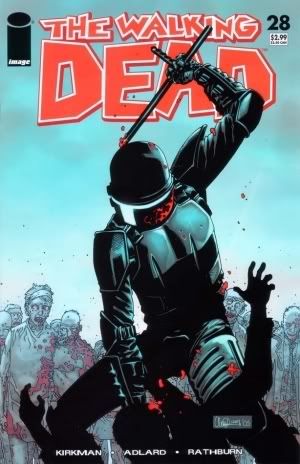 If you've not heard of The Walking Dead, well, you should...
Simply put, the comic book series written by Robert Kirkman is quite easily one of the greatest pieces of zombie fiction in any medium. It's an ongoing saga that follows a group of survivors after a zombie apocalypse, it's quite an epic read so far, it's bleak, tense, extremely powerful and incredibly well written, filled with extremely realistic and very human characters that grow and change as the timeline progresses, and a plot that remains fresh and unpredictable. There's times when I genuinely feel for the characters, and events take place that are practically heartbreaking. The Walking Dead is a masterpiece and one of the very finest comic books ever written, and I do not say that lightly.
If you're a zombie fan, and haven't read it yet, run right out and buy the first volume of The Walking Dead. You will not regret it.
But anyway, there's a TV adaptation of it coming soon, and you know who's writing and directing it? This guy:
Yep, that's right, none other than The Shawshank Redemption director
Frank Darabont!
He also directed
The Mist
, which I think was one of the best horror films in recent years. Given how well handled the characters were in The Mist and how tense the atmosphere was, I have no doubt that Darabont can really bring out the full emotional weight of the comic book series.
And you want to see some zombies!?
Also, ZOMBIE SCHOOL! :scream:
So yes. I am excited. This should rule.