Discussion Starter
·
#1
·
So, 3-4 years ago, I started putting together a 7 string guitar, modeled after one of Vai's Bad Horsie guitars. Some of you may remember it (Unless you have purged you memory of all lefty greatness)
I went through two bodies (The second one made by CWoods, and took over a year for me to get. Thanks again for that..) and two pickguards, since the second iteration had a Fernandes sustainer.
The guitar is still with me, but needs a Lo Pro 7 trem (Which I'll eventually need to re-drill for Leftyness again) a 7 string Sustainiac, pickups, and a new pickguard since the sustainiac is regular sized, as oppose to the Fernandes being EMG-ish.
I'm getting the sustainiac since the body is already routed for the extra controls, battery, and circuit board of the fernandes. And i'd rather not have empty holes in my body, and i'm sure as hell not looking to get another body made.
I just hope it'll drop in to the control cavities that were made for the fernandes.
Assuming that it will, I still need a new pickguard made. Where is the best place for a custom pickguard? I'm obviously looking for quality, reasonable turn around time, and preferably the option to send them my current guard as a template, since the only thing I need changed is the neck pickup route.
Looking through my photobucket account, I can't seem to find any pictures that I've taken of the full guitar..
But I have one that I pulled from Chris Woods' site.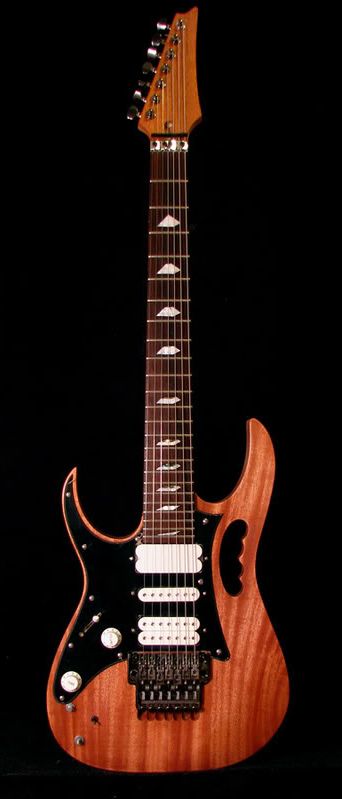 Too bad i'll have to go with Black pickups, since the 7 string sustainiac doesn't come in a white version.
Now that I look at this pic again, i'm thinking the trem and nut will need to be black this time around. Instead of cosmo and a chrome nut (The only available 7 string lefty nut back then) I also hate the extra control layout now.