Discussion Starter
·
#1
·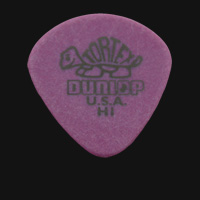 Dunlop Tortex Jazz Round Tip Heavy/Purple, bag of 36, 472RH1
I didn't even realize these existed, until I went to order more 1.0mm jazz sized Tortex picks (since I'm running low on MG.org picks) and accidently grabbed the round tip ones off Juststrings instead of the pointed tip ones.
They're essentially a Jazz pick with a standard tip - very interesting combination, where you have the smaller, more choked up playing position of a Jazz, but the feel on the strings of a larger pick. I actually kind of like how they sound - the attack seems both clearer and with more of those Paul Gilbert like "cello" sounding overtones he goes for, on alternate picking. Additionally, they feel like they slip across the strings a lot better for sweeping, while sharper Jazz picks tend to hang up a little more.
On the other hand, one of the things I like about Jazz picks is that they ARE sharp. So, I ordered a bag of 1.0 Tortex Pitch Black picks with sharp tips, which is what I should have done in the first place, since they're black.