Discussion Starter
·
#1
·
I'm recording a death metal band. We're doing all natural drums with the exception of the kick. All I have is really low end stuff. All of the mics on the kit combined are about $600.
I uploaded a short clip with the drums isolated. I will update this thread when I have the whole mix with a full length drum *** video.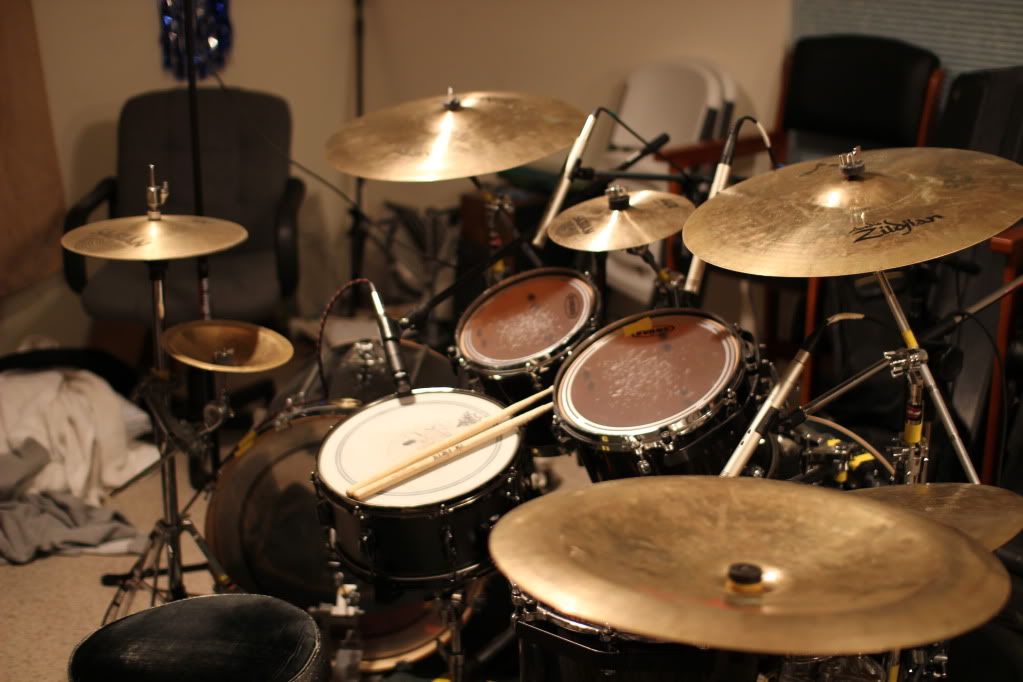 Here is everything from the YT description:
I'm recording a song for Thrown to Belial at my modest home studio. We used all natural drums other than the kick which we triggered with axis ekit triggers. The kick drum sound is the speed metal sample on the Alesis DM5 module.
The snare is my 6.5x13 inch Tama Metalworks with a remo powerstroke 3 batter head. I tuned it really tight. The head was about to break from the tension and the rim was almost level with the head. I knew that snare has what it takes to cut through well without any sample replacement or triggering. I used an sm57 close up on the snare to get the impact and the pitch of the ring. Not much of the snare wires get into the track like that. I depended on the bleed in the overheads and tome mics to give me the wires and space. It worked pretty well.The toms are Tama Starclassic with Evans EC1 batter heads. They were tuned really low.
I used two Audio Technica AT2020 condenser mics for the overheads. I used an sm57 dynamic mic for the snare. I used MXL 993 condensers for each of the toms.
All of the microphone signals were recorded with a TASCAM US1641 audio interface. I put a live feed of the dm5 and the guitar tracks to his headphones for monitoring.
The camera is a Canon t2i with a sigma 30mm f1.4 lens. I did the editing with Adobe premiere elements using a custom rendering preset