Discussion Starter
·
#1
·
Noticed some people asking about these and thought its own thread wouldn't be a bad idea.
Poulin
LePou Plugins
SoloC = Soldano SLO
Lextac = Bogner Ecstasy
Lecto = Mesa Rectifier
Hybrit = Marshall
Le456 = Engl
Legion = Original design
X50 = Peavey 5150
X30 = Engl e530
BOD = Sansamp
They also have a Very nice Tubescreamer
This is the best vid of the X50 I could find, this is NOT the current version of the plugin, the current version you can switch tubes 6550, kt88, 6l6, or el34 AND change the bias etc.
Nick Crow Lab
https://sites.google.com/site/nickcrowlab/
Acme Bar Gig
AcmeBarGig - Affordable and Free Amp and Cab Modeling Suites & VST Effects
I can't say I use these often, but I do have a bunch of VST's from them just in case i'd need them for something and they don't sound bad, I just prefer the TSE and Poulin stuff. You can download a whole bundle of Acmebargig VSTs here:
Shred 1.0 :: Free VST Amp Suite | AcmeBarGig
(Actually, this is the new one I don't have and am downloading now :lol
(Skip to 2:50 into vid to hear)
Ignite Amps
Guitar Amp Modeling • View forum - Ignite Amps
These are all original amp designs (to my knowledge) I also like their Tubescreamer because of the extra controls, but I think the TSE sounds better (matter of apples and oranges).
AuraPlug
AuraPlug VST PlugIn Site
Just found this company, they've got a bunch of freebies and their non-free products are very cheap, they've got one amp and a BUNCH of pedal clones, including a (free) whammy, and they also have a RAT (not free). :yesway:
------------------------------
Using amp sims in Reaper
Make sure you are set to Asio driver or you will more than likely have very bad latency issues.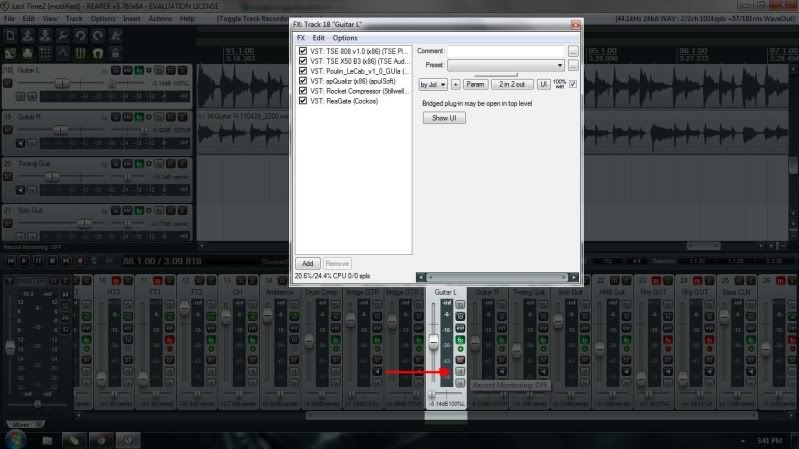 I'm going to make this as easy and simple as I can.
FX List
(top to bottom)
1)TSE 808 is the Tubescreamer, this is optional but I recommend it to tighten things up, I don't use much gain, actually the gain is usually on 0 or 1, but the level is almost full and the tone is tweaked to my liking.
2) This is where the actual amp sim head goes, in this window i'm using the TSE X50.
3)Impulse loader, I recommend the newest LePou loader, you can load many different impulses and A/B them to your liking. I often mix two different cabs with one cab at 80% volume, the other 20% volume.
4 & 5) This is where I like to put my EQ and Compressor, these are optional of course
6) Noise gate, I recommend this because these (as well as PODfarm etc) often create a lot of unwanted noise.
Hearing your playing
:
See that red arrow I drew? Click that button right beside it (looks like a speaker to me). You will now be able to hear your own playing on that track. Click it a second time to only be able to hear yourself on that track while the track is armed for recording, and click a third time to turn it off. I highly recommend clicking it twice so you don't forget to turn it off when you record multiple guitar tracks.
Once you've done this, you're all set. Just tweak your settings to your liking... there is a LOT of stuff to fool with and tone experiments are always fun. :metal:
Heres another pic for good measure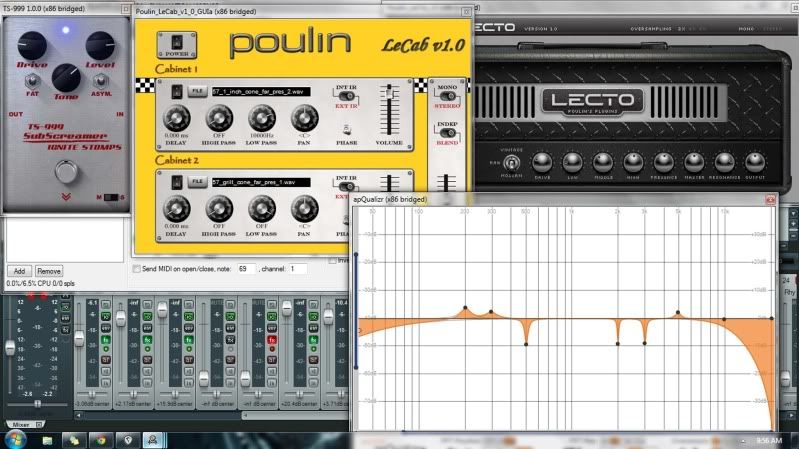 Here is a clip of some of these VST amps/Impulses:
http://soundcloud.com/7slinger/superfreakdemoiii
Not my best work to date, but the guitar tone sounds fairly decent.